Ayush Herbs Ayu-Dep 60 caps
by Ayush Herbs
Code: AYUSHDEP
Really good company. Good selection of products, prompt delivery.

fantastic product and service - will be ordering again

I bought biocidin liquid and biocidin LSF while fighting candida, lyme and parasites. It helped a lot. Change wasn't instantenious, but I progressed well. No reaction accoured while maximazing the dosage.

It was very easy to open an account and the order placed was promptly delivered.

Excellent well researched and well priced range of products. Quick delivery and always helpful if ever I have any questions pre purchase. Would highly recommend!

Helpful, quick replies when I was wondering which Quicksilver products to order, thank you.

Really like the science behind the products.

Supplements not available elsewhere in the UK. Prompt service. Will reorder from this Company.

Proactive Healthcare sell top of the range products which I have personally have benefited from, I have recovered totally naturally no drugs from aids. The deleveries and care of delivery are very good, eve packing them with freezer packs in height of summer. I also enjoy their updates

Superb selection of top quality supplements and always delivered promptly.
Product Description

Product Features

Suggested Use

Supplement Facts
Ayurvedic Stress & Cognitive Support
AYU-DEP™ is a proprietary blend based upon the herb Crocus sative, or saffron. Saffron has been used since antiquity for culinary, cosmetic, and medicinal purposes. Saffron finds many uses in Ayurvedic, Unani, Chinese, and Tibetan medicine. Saffron has mood-elevating effects, and was used extensively by mogul kings of India for this purpose. It is known to enhance memory as well as sexual desire. Withania somnifera (ashwagandha), Centella asiatica (brahmi or gotu kola), Bacopa monnieri, and Mucuna pruriens are considered to be brain tonics and are classified as rasayanas. Rasayanas are considered to rejunvenate the nervous system and promote tranquility. Berberis aristata supports and balances neurotransmitter production. Overall, Ayu-Dep™ has mood-lifting, soothing and rejuvenating properties.
✓ We're Here To Help!  0345 60 61 301 Mon-Fri (10am-4pm)
✓ FREE UK SHIPPING ON ALL ORDERS OVER £30!
✓ 5* Reviews Our Customers Love Us!
Provides non-habit forming mood support

Supports memory and sexual pleasure


Promotes tranquillity and mental function
1 capsule daily or as directed by your physician.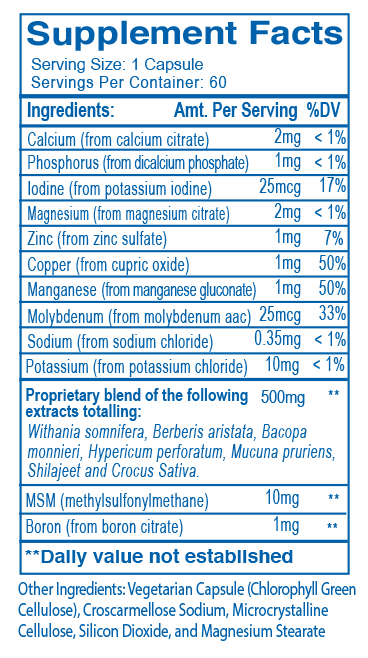 ---
Recommend this product to a friend or loved one
You will receive 400 Reward Points when your friend spends £30 or more on their order.
Your friend will get £4 off their first order.
LOGIN TO REFER YOUR FRIEND