Enzymedica, Candidase, 84 Capsules
by Enzymedica®
Code: CAN84
I encountered some minor problems before ordering and staff kindly helped me to place order for my favourite items.

Very reliable,trustworthy company. Only one little detail- delivery could off been quicker

I purchased Gaba and Lymphomyosot and was impressed at the speed of delivery, the packaging and the price. Packaging is an issue if mine - when goods come in inappropriate boxes. Your system is perfect. Good show.

Excellent customer service

Have been buying my Megaspore and other products from Proactive Healthcare regularly for a couple of years. Extremely efficient service, delivery always prompt and lovely people to deal with. Just wish other supplement suppliers were as good.

Excellent service

Great products and cheapest I've found on line. I particularly love the Biocidin range, these are amazing and really work. Would highly recommend these and this site. Quickly delivered and very helpful. 5 * service.

The great range of great quality products, makes Proactive Health an excellent company to do business with

Wide offer with affordable prices. Great customer service and also fast delivery. Highly recomended. Thank You.

Really good company. Good selection of products, prompt delivery.

fantastic product and service - will be ordering again

I bought biocidin liquid and biocidin LSF while fighting candida, lyme and parasites. It helped a lot. Change wasn't instantenious, but I progressed well. No reaction accoured while maximazing the dosage.

It was very easy to open an account and the order placed was promptly delivered.

Excellent well researched and well priced range of products. Quick delivery and always helpful if ever I have any questions pre purchase. Would highly recommend!

Helpful, quick replies when I was wondering which Quicksilver products to order, thank you.

Really like the science behind the products.

Supplements not available elsewhere in the UK. Prompt service. Will reorder from this Company.

Proactive Healthcare sell top of the range products which I have personally have benefited from, I have recovered totally naturally no drugs from aids. The deleveries and care of delivery are very good, eve packing them with freezer packs in height of summer. I also enjoy their updates

Superb selection of top quality supplements and always delivered promptly.
Product Description

Suggested Use

Ingredients

Additional Information

Reviews
Cellulase is the enzyme that breaks down fibre. It is also the only digestive enzyme our body does not make. Fungi (Candida) is a group of organisms formerly regarded as plants lacking chlorophyll. They can either exist as single cells or make up a multi-cellular body called a mycelium, which consists of filaments known as hyphae. The cell wall of yeast and fungi contains some fungal cellulose or a compound called chitin. Chitin is a polysaccharide, or carbohydrate, which is structurally very similar to cellulose. Supplemental cellulase may help break down this "cellulose-like chitin, aiding the bodys natural systems of purification and detoxification.*
Additionally, in individuals with Candida imbalance there is often a large amount of undigested fibre in the large intestine . It is believed that the mucus that the body naturally produces as a result of this impaired fibre (cellulose) digestion may protect the Candida from our body's immune system. By adding cellulase to the diet we provide support for fibre digestion, allowing it to be removed along with inappropriate mucus, allowing our body to achieve balance.*
Protease:
The inside of the cell of yeast is mostly protein. Proteases are proteolytic, meaning they have the ability to hydrolyse (digest) protein. Protease enzymes have a long history of beneficial use for detoxification and purification. The addition of protease to this formula helps the body deal with excess "die-off" or common symptoms of cleansing.
Candidase provides a powerful 1-2 punch to manage candida overgrowth while avoiding uncomfortable die-off.*
    1-2 week cleanse

    Prevents discomfort common to cleansing*
✓ We're Here To Help!  0345 60 61 301 Mon-Fri (10am-4pm)
✓ FREE UK SHIPPING ON ALL ORDERS OVER £30!
✓ 5* Reviews Our Customers Love Us!
Recommended Use: For moderate symptoms: 2 capsules on an empty stomach, one hour before or two hours after a meal three times daily for 7 days. 

 For acute symptoms: 2 capsules on an empty stomach, one hour before or two hours after a meal three times daily for 14 days. For more advanced support, Enzymedica's Candidase Extra Strength may be helpful. 

 For maintenance: 2 capsules daily. 

 For best results, 1 capsule of Enzymedica's Enzyme Defense™ may be added each time Candidase is taken.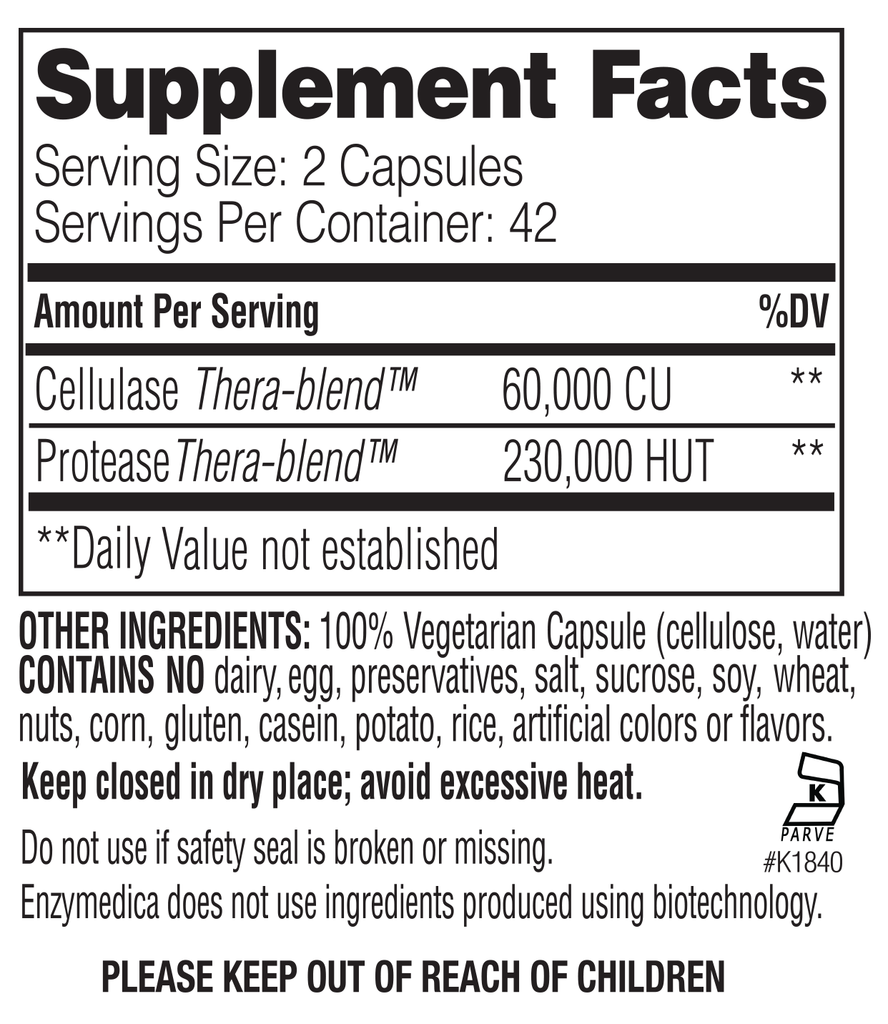 Contraindications: Candidase should not be taken with any timed-release medication that uses cellulose as its time-release mechanism. 

 Enzymedica does not use ingredients produced using biotechnology.
---
Recommend this product to a friend or loved one
You will receive 400 Reward Points when your friend spends £30 or more on their order.
Your friend will get £4 off their first order.
LOGIN TO REFER YOUR FRIEND