Children's Chewable Probiotic 3 Billion 30 CT
---
Recommend this product to a friend or loved one
You will receive 400 Reward Points when your friend spends £40 or more on their order.
Your friend will get £4 off their first order.
LOGIN TO REFER YOUR FRIEND
by Trace Minerals
Code: KPR01
Product Description

Usage Guide

Supplement Facts
Children's Chewable Probiotic is a delicious chewable your children will love! It has been specifically formulated for children and includes prebiotic inulin and 4 strains of viable organisms, including Bifidobacterium and Lactobacillus, the bacteria most dominantly found in the large and small intestines. 
It's well known that there are many factors that cause a decrease in intestinal flora. Some of these factors include poor diet, especially diets low in fibre and high in sugar, medications, stress, and even travel. Decreased intestinal flora can cause the digestive system to function incorrectly, allowing critical nutrients to pass through the digestive system without being broken down and absorbed.
Therefore, taking a probiotic like Children's Chewable Probiotic daily can help support a healthy balance of intestinal bacteria and maintain a healthy-functioning digestive system.
✓ We're Here To Help!  0345 60 61 301 Mon-Fri (10am-4pm)
✓ FREE UK SHIPPING ON ALL ORDERS OVER £30!
✓ 5* Reviews Our Customers Love Us!
✓ Same Day shipping on orders placed before 1pm
SUGGESTED USE
Children age 2 and over take 1 chewable daily on an empty stomach.
‍REFRIGERATE AFTER OPENING.
30 servings per bottle.
Great Taste!
Formulated especially for children
One-a-Day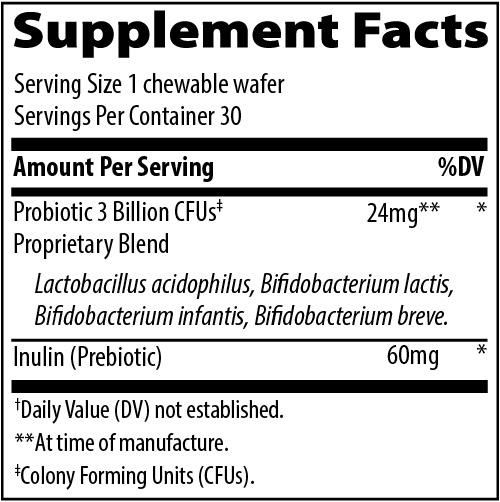 INGREDIENTS
Xylitol, natural grape flavour, stearic acid, citric acid, silica, magnesium stearate, steviol glycosides.
ALLERGEN INFO
NO KNOWN ALLERGENS. GLUTEN FREE.