Revive Active super food supplement
---
Recommend this product to a friend or loved one
You will receive 400 Reward Points when your friend spends £40 or more on their order.
Your friend will get £4 off their first order.
LOGIN TO REFER YOUR FRIEND
by Revive Active
Code: REVIVE7
Product Description

Nutritional information

Ingredients

Product Reviews
Revive Active is a premium product with a powerful formulation of 26 active ingredients offering natural energy all day long. Revive Active contributes to maintain the normal function of the immune system and contributes to the normal function of the heart and contributes to the reduction of tiredness and fatigue.
Revive Active  contains all your recommended daily allowance (RDA) of amino acids, vitamins and minerals.  It contains NO added stimulants, only natural ingredients so you have no highs and lows.
Contains NO artificial colours or flavours and uses a natural plant based sweetener, called Stevia.
It is suitable for diabetics, vegetarians and coeliacs.
Informed-Sport Certification:
Revive Active Super Food Supplement has gone through rigorous testing to become certified by Informed-Sport, who provide assurance to athletes around the world.
Amino Acid, Vitamin & Mineral Complex
Combining 26 amazing active nutrients in one daily sachet to help you look, feel and perform at your best
This product is manufactured in a factory that handles Dairy, Soya, Wheat, Egg and Peanut products.
✓ We're Here To Help!  0345 60 61 301 Mon-Fri (10am-4pm)
✓ FREE UK SHIPPING ON ALL ORDERS OVER £30!
✓ 5* Reviews Our Customers Love Us!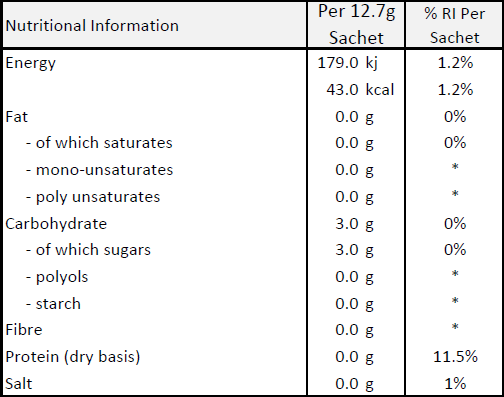 | | | |
| --- | --- | --- |
| Ingredients, Vitamins & Minerals | Per Sachet 12.7g | %NRV Per Sachet |
| | | |
| L-Arginine | 3.0g | * |
| L-Arginine Alpha Keto Glutarate | 1.0g | * |
| Citrulline DL Malate | 2.0g | * |
| CoEnzyme Q10 | 150mg | * |
| Taurine (Natural Sweetener) | 1.0g | * |
| L-Glutamine | 500mg | * |
| D-Ribose | 3.0g | * |
| Pomegranate Extract | 26mg | * |
| Vitamin D3 (Vegan) | 25µg | 500% |
| Vitamin E | 18mg | 150% |
| Vitamin K2-7 | 150µg | 200% |
| Vitamin C | 500mg | 625% |
| Thiamin (Vitamin B1) | 3.3mg | 300% |
| Riboflavin (Vitamin B2) | 5.6mg | 400% |
| Niacin (VitaminB3) | 48mg | 300% |
| Vitamin B6 | 4.2mg | 300% |
| Folic Acid (L-Methylfolate) | 300µg | 150% |
| Vitamin B12 | 2.5µg | 100% |
| Pantothenic Acid (Vitamin B5) | 18mg | 300% |
| Magnesium | 56.7mg | 15% |
| Zinc | 7.5mg | 75% |
| Copper | 0.2mg | 20% |
| Manganese | 2.0mg | 100% |
| Selenium | 55µg | 100% |
| Chromium | 60µg | 150% |
| Molybdenum | 37.5µg | 75% |
| | | |
| NRV Nutrient Reference Value | | * No Established NRV |
Paula Radcliffe                               
Women's World Record Marathon Holder                     
"I love Revive Active because it provides everything I need in one sachet….. All those nutrients I need to support my lifestyle, enabling me to run around with the kids all over the place, take flights when I need to and not get sick.  I know that my body is getting the right nutrients every day*. I know that each convenient sachet contains those 26 valuable nutrients in one glass and I just get on with my life."*
Noel Barrett                                       
Personal Fitness Trainer                                       
"I was training for my first triathlon, swimming 3 times a week, cycling 3-4 times & running twice a week. It started taking a toll on my body and had been taking other supplements and teas to help but none were helping. When someone recommended I try Revive Active I said what have I to lose! So for the month leading up to the race I started taking Revive Active.  After only one week my energy levels started to increase and I found my recovery was great, I felt my stamina improved and I found it a great support during my training. On race day I performed at a much higher level than I had anticipated and I felt comfortable throughout the race. I would highly recommend Revive Active to anyone at any level of activity. It's great to support an Irish company with such a brilliant product."*