Flax Hull Lignans - Rapha Global - 5.3oz
---
Recommend this product to a friend or loved one
You will receive 400 Reward Points when your friend spends £40 or more on their order.
Your friend will get £4 off their first order.
LOGIN TO REFER YOUR FRIEND
by Rapha Global
Code: FlaxHull
Product Description

Supplement Facts

Customer Reviews

Benefits
Original Flax Hull Lignans is a non-GMO, organic plant-based product produced from flax. Flaxseed is by far nature's most abundant source of plant lignans, providing 70 to 800 more lignans than any other plant. Lignans, found in the hull of flaxseed, are loaded with antioxidants to help fight free radicals and boost your immune system. Lignans are also an excellent source of fibre, omega-3 fatty acids, and phytoestrogens 
Each container of Rapha Global Original Flax Hull Lignans contains:
Cold milled processed, Non-GMO, gluten-free

Natural source of fibre 

Grown and Produced in the USA
Bulk Order Discount 
3-5 Pots - £37.95 each
6-11 Pots - £35.95 each
12 + Pots - £32.95 each
✓ We're Here To Help!  0345 60 61 301 Mon-Fri (10am-4pm)
✓ FREE UK SHIPPING ON ALL ORDERS OVER £30!
✓ 5* Reviews Our Customers Love Us!
✓ Same Day shipping on orders placed before 1pm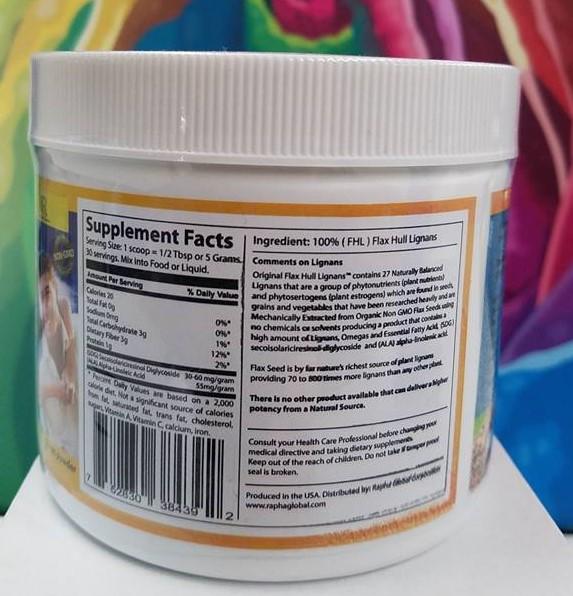 Customer Stories:
Here is what some of our customers are saying about our Flax Hull Lignans products.
"Before starting the Flax Hull Lignans, I would have a bad cough and would throw up stuff that I think was from my sinuses draining during the night.  I used to get bad headaches from sinus pressure also.  Now I don't cough as much in the morning and hardly ever seem to throw up.  The sinus headaches are not as frequent now.  I also seem to have a "better feeling" overall." – R.B.
"I have noticed a slight improvement in joint pain since I have been taking the Flax Hull Lignans.  I have had arthritis for years.  Also, I seem to be sleeping better at night.  I take a sleeping aid at bed time yet I still have some trouble sleeping" – M.J.
"Yes, I am delighted to be able to report the changes we have experienced by using the Concentrated Flax Hull Lignans. My husband and I are in our fifties, and are starting to show a little wear and tear from fifty years of living, so this is the time when we are looking everywhere for natural ways to prevent any serious problems before they strike. (We don't resort to Western medicine because we feel it is often more life-threatening than the diseases.)
We both started using the Lignans three months ago. My husband needs to urinate too often, and wanted to try the lignans for his prostate, and takes it every day. At this point, he can't really say that there has been a change, but he wants to continue because he feels that there is something happening, but just can't say exactly what. He just feels better. Mine is the really clear success story. One of my concerns had been much thickened, hardened breast tissue. I'm sure this must be a precursor of some very serious problems, because the circulation is restricted, and therefore toxins build up, leading to the dreaded cancer.
I had been taking the Barlean's High Lignan Flaxseed Oil, and noticed absolutely no changes. But in the VERY FIRST WEEK using your Concentrated Flax Hull Lignans, I noticed some softening around the hard edges of the breast tissue mass. This has continued progressively in an amazing way, and I know that in time, everything in that area will be completely normalized. I cannot tell you how relieved and happy I am!!! The lignans are probably a life-saver for me. I have also noticed an improvement in elimination regularity and consistency. This in itself must be improving the function of all other areas of the physiology. The bottom line is that we feel your Lignans are a vital part of our health regimen, and we will probably continue until we are in perfect health!
My husband mentioned one more benefit that he thinks may be from the Lignans. This is something that we weren't expecting, but it may be possible. Every winter he battles with attacks of severe bronchitis. He has found relief in the past with Lobelia and Grapefruit Seed Extract, but the bronchitis always gets started at some point. We have been taking the Lignans since October, and it's now January, but so far, no bronchitis! Could this be the Lignans? We are willing to believe it's possible. What do you think?" – A.W.
Health Benefits of Flax Hull Lignans (FHL)
Help boost the body's immune system 

May reduce excessive free radical activity in the body

Provide excellent dietary fiber

Help fight hair loss

May help support treatment of over 300 chronic diseases

May help support treatment of viral infections

Flax hulls provide the daily value (as recommended by FDA, USA) of vitamin B12 in the form of cobalamin

Enterolactone (EL) and enterodiol (ED) in flaxseed mimic estrogen in the body to help support women during menopause