pureAir 50 Small Space PLUG IN Purifier | Greentech Environmental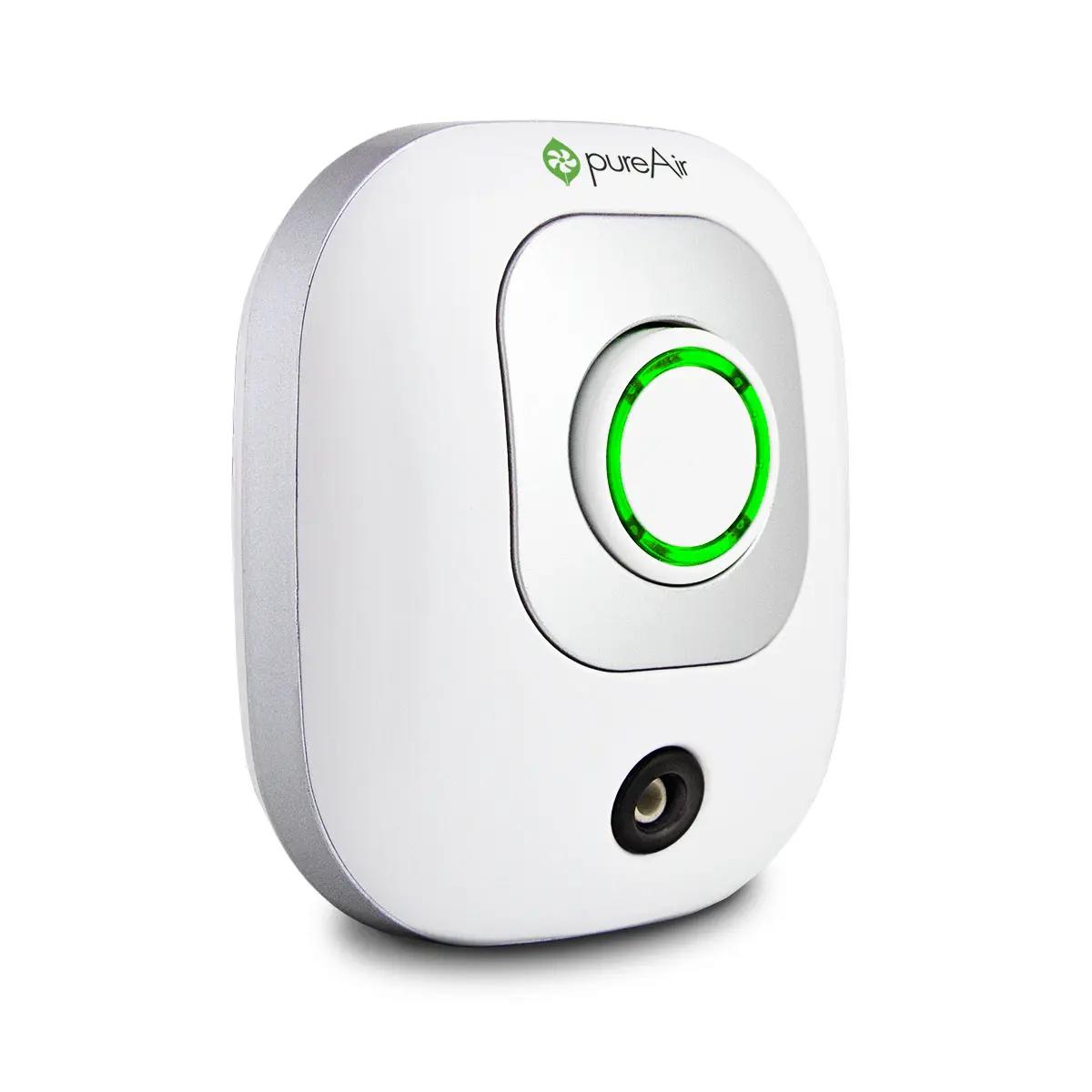 ---
Recommend this product to a friend or loved one
You will receive 400 Reward Points when your friend spends £40 or more on their order.
Your friend will get £4 off their first order.
LOGIN TO REFER YOUR FRIEND
by GreenTech Environmental®
Code: PUREAIR50
Overview

Product Description

Specifications
Combat some of the strongest odours in your small spaces with pureAir 50, a plug-in air purifier for your bedrooms, bathrooms, offices, or other small spaces. Bacteria, viruses, pet odours, cigarette smoke, mould, and mildew are all kept in check with the effective purifying combination of activated oxygen and ionization.
Portable purification! Its small size is perfect for travel, allowing you to take fresh air anywhere. Simply plug it in and turn the dial to your desired level of purification. The solution for stale, stinky air is just an outlet away!
THIS PRODUCT HAS A USA PLUG (TWO PIN) AND WILL COME WITH A UK ADAPTOR
✓ We're Here To Help!  0345 60 61 301 Mon-Fri (10am-4pm)
✓ FREE UK SHIPPING ON ALL ORDERS OVER £30!
✓ 5* Reviews Our Customers Love Us!
✓ Same Day shipping on orders placed before 1pm
Clean air throughout your space
Unlike passive filters that affect only air that passes through them, pureAir 50 projects powerful purification to the sources of pollution inside your home, continuously cleaning the air and surfaces, covering up to 325 ft2 of living space.  
Harness mother nature's purification power – indoors!
Our pureAir product family harnesses the power of activated oxygen to kill surface and airborne germs. Activated oxygen is nature's first line of defence in fighting pollution of all types. Powered by natural forces such as lightning, sunlight, and waterfalls, oxygen becomes positively charged and able to destroy a whole host of harmful contaminants. 
Kill 

mould

, mildew, bacteria, viruses, and odours – without lifting a finger!
While the naked eye can't see most of these environmental contaminants, you can rest assured that your pureAir 50 is working overtime on your behalf to significantly reduce all types of indoor pollution as well as eliminate odours of all kinds, including those from pets, cooking, and smoking. 
Remove allergens from your breathing space – and rest well!
The ionic power of pureAir 50 knocks out allergens by causing them to clump together until they fall out of the breathing space and can be swept up or caught in your HVAC filter.  
Easy to set up, easy to use
With easy setup and use, improving the air quality of your living environment is a breeze. pureAir 50 does not require frequent air filter replacements. Simply clean your unit regularly to keep your home clean and healthy.
Product Specifications
Performance
Effective Area of 325 ft2
Warranty: 1 Year Limited Warranty
Unit
Dimensions: 4.25″ H (108mm) x 3.50″ W (89mm) x 2.50″ D (64mm)
Weight: 6.35 oz (180g)
Scalable Purification Power
Power: 100V-240V; 50-60 Hz
Power Consumption: 3.0 W (at 120 VAC)