Hista Aid™ Nanoemulsified - Quicksilver Scientific
by QuickSilver Scientific®
Code: QSHISTA
Really good company. Good selection of products, prompt delivery.

fantastic product and service - will be ordering again

I bought biocidin liquid and biocidin LSF while fighting candida, lyme and parasites. It helped a lot. Change wasn't instantenious, but I progressed well. No reaction accoured while maximazing the dosage.

It was very easy to open an account and the order placed was promptly delivered.

Excellent well researched and well priced range of products. Quick delivery and always helpful if ever I have any questions pre purchase. Would highly recommend!

Helpful, quick replies when I was wondering which Quicksilver products to order, thank you.

Really like the science behind the products.

Supplements not available elsewhere in the UK. Prompt service. Will reorder from this Company.

Proactive Healthcare sell top of the range products which I have personally have benefited from, I have recovered totally naturally no drugs from aids. The deleveries and care of delivery are very good, eve packing them with freezer packs in height of summer. I also enjoy their updates

Superb selection of top quality supplements and always delivered promptly.
Product Description

Benefits

Supplements Facts


Nanoemulsified Hista-Aid™ by Quicksilver Scientific 
This elegant formula can provide support for seasonal sufferers through an innovative blend of flavonoids, Vitamin C and Diindolylmethane (DIM).
Each 1 mL of NanoEmulsified Hista-Aid™ delivers 85 mg of Quali™-C Vitamin C (from European Sodium Ascorbate) , 11 mg of sodium (as Sodium Ascorbate) 8 mg of quercetin dihydrate, 10 mg of luteolin extract, 60 mg of phospholipids from purified sunflower seed lecithin and 5 mg of Diindolylmethane (DIM). A serving size is 2 pumps. Each bottle contains 50 one ml servings.
Mast cells play a powerful role in allergies. Flavonoids are polyphenolic plant compounds that can inhibit mast cell activity and resulting histamine release.  Two of the most effective flavonoids are quercetin and luteolin.
Vitamin C can support normal immune system function and diamine oxidase (DAO), an enzyme that metabolizes and inactivates excess histamine.
A key centerpiece of this innovative formula is its novel focus on Nrf2, our body's master antioxidant switch, which regulates over 200 genes involved in detoxification. Both DIM and quercetin have been shown to help support Nrf2 activity.
Because the uptake of the molecules in this formula can be limited by breakdown in the digestive tract, or in the case of Vitamin C, by gastrointestinal saturation, Dr. Shade developed our NanoEmulsified Hista-Aid. Liposomal delivery systems have been shown to lead to more immediate effects and more stable plasma concentrations. In addition to exceptional absorption rates, small liposomal and nanoemulsified particles enhance lymphatic circulation, helping to bypass digestive enzymes and breakdown in the liver.
Support for seasonal sufferers            

Can help inhibit excess histamine release

 Can support the body's own master antioxidant switch

Can assist the body's ability to break down histamine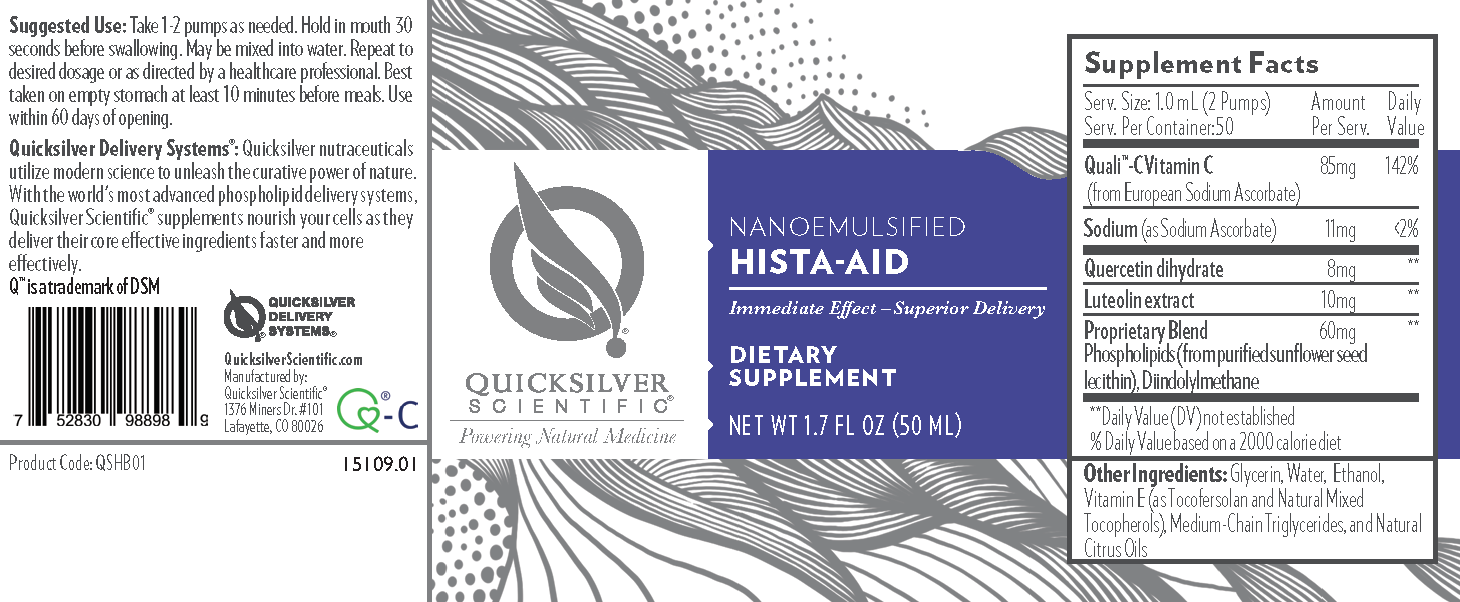 ---
Recommend this product to a friend or loved one
You will receive 400 Reward Points when your friend spends £30 or more on their order.
Your friend will get £4 off their first order.
LOGIN TO REFER YOUR FRIEND