ConcenTrace® Kid's Trace Mineral Drops | 118ml | Trace Minerals
---
Recommend this product to a friend or loved one
You will receive 400 Reward Points when your friend spends £40 or more on their order.
Your friend will get £4 off their first order.
LOGIN TO REFER YOUR FRIEND
by Trace Minerals
Code: TMDK01
My daughter loves the taste of these drops and I'm happy knowing she gets a daily dose of essential minerals
Product Description

Supplement Facts
ConcenTrace® Kid's Trace Mineral Drops is an all natural mineral concentrate that has been specifically formulated for the nutritional needs of children. Trace Minerals have also added all natural flavours for a great taste that your kids will love!
SHAKE VIGOROUSLY. For children ≥ age 4, add ½ tsp. to 4oz. of water once or twice daily. Children age 1-3: Add ¼ tsp. to 2 oz. of water once or twice daily. Refrigeration not necessary. Minor crystallization may occur, but this does not affect the quality of the product.
ConcenTrace® is a unique mineral complex that contains is a full spectrum of over 72 naturally occurring ionic trace minerals from the Great Salt Lake. Most of these minerals are in ultra trace amounts, but are still necessary for optimum health during your child's developmental years.
Consider this: Ideally, minerals should come from eating a raw food diet. However, even eating a raw food diet isn't enough since researchers have proven that most soils have been depleted of minerals. Therefore, if it's not in the soil, it's not in the food. Here's where ConcenTrace® comes in–taking ConcenTrace® every day ensures you're getting a full spectrum of ionic trace minerals, which are the same kind of bio available ionic trace minerals that are found in foods!
✓ We're Here To Help!  0345 60 61 301 Mon-Fri (10am-4pm)
✓ FREE UK SHIPPING ON ALL ORDERS OVER £30!
✓ 5* Reviews Our Customers Love Us!
✓ Same Day shipping on orders placed before 1pm
‍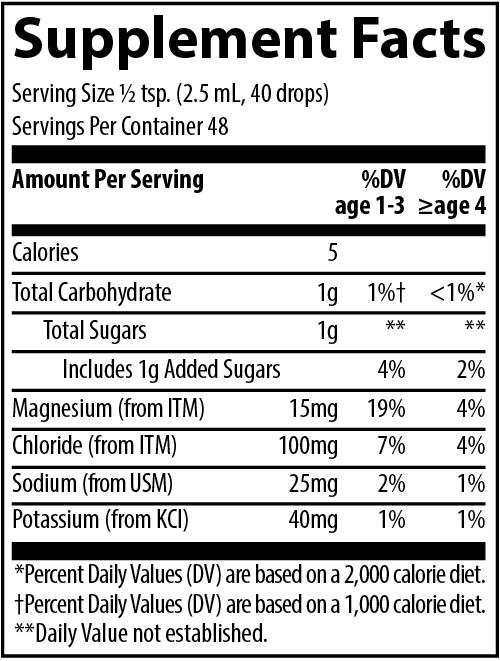 INGREDIENTS
Purified water, Utah Sea Minerals (USM), Ionic Trace Minerals (ITM), natural flavor, steviol glycosides, potassium sorbate (for freshness), citric acid.
ALLERGEN INFO
NO KNOWN ALLERGENS. GLUTEN FREE. VEGAN. NON GMO