Glutathione (GSH) 50ml - Quicksilver Scientific - Liposomal - Dr Chris Shade
by QuickSilver Scientific®
Code: QSGSH
Love Proactive Healthcare. I think they sell some of the best supplements on the market. Some of these products cannot be bought anywhere else in the UK and you certainly won't find Quicksilver Scientific products at a better price. There delivery is always fast and problem-free and the one time they sent me the wrong product, their customer care team were easy to get hold of and sorted the issue straight away. They cannot be faulted.

I encountered some minor problems before ordering and staff kindly helped me to place order for my favourite items.

Very reliable,trustworthy company. Only one little detail- delivery could off been quicker

I purchased Gaba and Lymphomyosot and was impressed at the speed of delivery, the packaging and the price. Packaging is an issue if mine - when goods come in inappropriate boxes. Your system is perfect. Good show.

Excellent customer service

Have been buying my Megaspore and other products from Proactive Healthcare regularly for a couple of years. Extremely efficient service, delivery always prompt and lovely people to deal with. Just wish other supplement suppliers were as good.

Excellent service

Great products and cheapest I've found on line. I particularly love the Biocidin range, these are amazing and really work. Would highly recommend these and this site. Quickly delivered and very helpful. 5 * service.

The great range of great quality products, makes Proactive Health an excellent company to do business with

Wide offer with affordable prices. Great customer service and also fast delivery. Highly recomended. Thank You.

Really good company. Good selection of products, prompt delivery.

fantastic product and service - will be ordering again

I bought biocidin liquid and biocidin LSF while fighting candida, lyme and parasites. It helped a lot. Change wasn't instantenious, but I progressed well. No reaction accoured while maximazing the dosage.

It was very easy to open an account and the order placed was promptly delivered.

Excellent well researched and well priced range of products. Quick delivery and always helpful if ever I have any questions pre purchase. Would highly recommend!

Helpful, quick replies when I was wondering which Quicksilver products to order, thank you.

Really like the science behind the products.

Supplements not available elsewhere in the UK. Prompt service. Will reorder from this Company.

Proactive Healthcare sell top of the range products which I have personally have benefited from, I have recovered totally naturally no drugs from aids. The deleveries and care of delivery are very good, eve packing them with freezer packs in height of summer. I also enjoy their updates

Superb selection of top quality supplements and always delivered promptly.
Product Description

Storage Guidelines

Additional info

Reviews

Product Label


Glutathione (GSH) is the master detoxifier and the body's main antioxidant, protecting all of our cells and making our energy metabolism run properly. The Therasomal Glutathione formulation uses the Phospholipid Nanosphere Delivery System making this the most absorbable form of oral Glutathione available today and shown to increase blood serum levels of glutathione.
HOW THE QUICKSILVER SCIENTIFIC GLUTATHIONE WILL PROTECT YOUR BODY
Glutathione is a very simple molecule that is secreted by all the cells in the body. It is a combination of three amino acids -- cysteine, glycine and glutamine. The secret of Quicksilver Scientific Glutathione's power is the sulfur (SH) chemical groups it contains. Think of sulfur as a very sticky molecule. It acts sort of like fly paper helping trap free radicals and toxins like mercury and other heavy metals therefore making glutathione an integral part of your detoxification system. Normally glutathione should be recycled in the body, however this process becomes compromised the toxic load becomes too great. This causes a deficiency of glutathione which leads to increased toxins and insufficient detoxification.The liposomal form of Quicksilver Glutathione is what makes it so powerful and so absorbable.
QUICKSILVER SCIENTIFIC LIPOSOMAL GLUTATHIONE GSH REALLY MAKES THE DIFFERENCE
Liposomes and lipid nanoshperes (Therasomal products), are delivery systems for compounds that are hard to absorb or are altered in the intestines. Nanospheres (similar to liposomes but smaller and thus better absorbed) are passively absorbed in the small intestine like lipids and thus can bypass many intestinal absorption barriers. Due to the intestinal disassembly of glutathione by gamma glutamyl transferase, for example, oral supplementation of raw glutathione is nearly useless. Nanosphere GSH, however, is an ideal way to deliver this important supplement. 
Quicksilver Glutathione Main Features:
High-grade phosphatidyl choline - from Sunflower Lecithin

Small size for rapid intra-oral absorption

No hydrogen sulfide smell

Glass bottles - no leachable liners
Variable dosing - 50mg GSH per pump One 50-ml glass bottle has 100 50-mg pumps, or 11.111 450-mg doses….or 10 500-mg doses 
✓ We're Here To Help!  0345 60 61 301 Mon-Fri (10am-4pm)
✓ FREE UK SHIPPING ON ALL ORDERS OVER £30!
✓ 5* Reviews Our Customers Love Us!
Please read the Storage Guidelines tab before ordering this product
Quicksilver Scientific Glutathione should be stored in the Fridge and used within 30 days of being opened.
Whilst this product needs to be kept cool to maintain potency it will maintain potency when exposed to warm temperatures for up to 7 days. If your product arrives warm, it is NOT damaged as it was cold when it left our warehouse. 
We recommend that customers outside of the UK do not select standard shipping for this product.
For best results keep out of direct sunlight.
Shelf Life unopened is 1 year 
*This is a refrigerated product and is not eligible for refunds or replacements.
Liposomal Glutathione with Lemon Mint comes with a precision pump to accurately deliver 50 mg of reduced glutathione per 0.5 mL pump.  Each bottle delivers 50, 100 mg servings of the Opitac™ Glutathione Reduced.


Quicksilver Delivery Systems™ optimizes the bioavailability of glutathione with this liposomal format. The phospholipids delivered with glutathione nourish the membranes of the cells, ensuring proper function for the absorption of nutrients and the excretion of cellular waste products and toxins.*
The pleasant lemon-mint taste is suitable for intraoral delivery for the best systemic availability. May be dispersed in water or other liquid when desired. May be applied topically to cold sores or viral lesions.
If pregnant, consult physician before use.
Liposomal Glutathione
I've used this product several times this year as I've been working to help my gut, support my skin and just over-all detoxify. I've been pleasantly surprised at how gentle it is on my system and continue to use it. Great product!  Johnny 15/09/2018                            
Noted Difference In ..... Disorder
A young, 12 year old male used Liposomal Glutathione for 1 month prior to starting school.  School teacher and TA unaware of supplement trial sent mom a communication on the first day of school reflecting noticeable improvement from baseline in social skills, ability to follow complex directions, improved ability to complete new tasks, more natural problem-solving and improved ability to stay on task.  Remarkable! Randy Vawdrey NP-C, ID 03/09/2018                            
The only product I use
I use this glutathione to help with detox. Very effective. FCook 30/08/2018                    
Better than IV glutathione
This is the only glutathione that I use and feel immediate physiologic results. I use it "on the fly" to mitigate ....... related to environmental exposures. Jamie Wright DO, MS 07/08/2018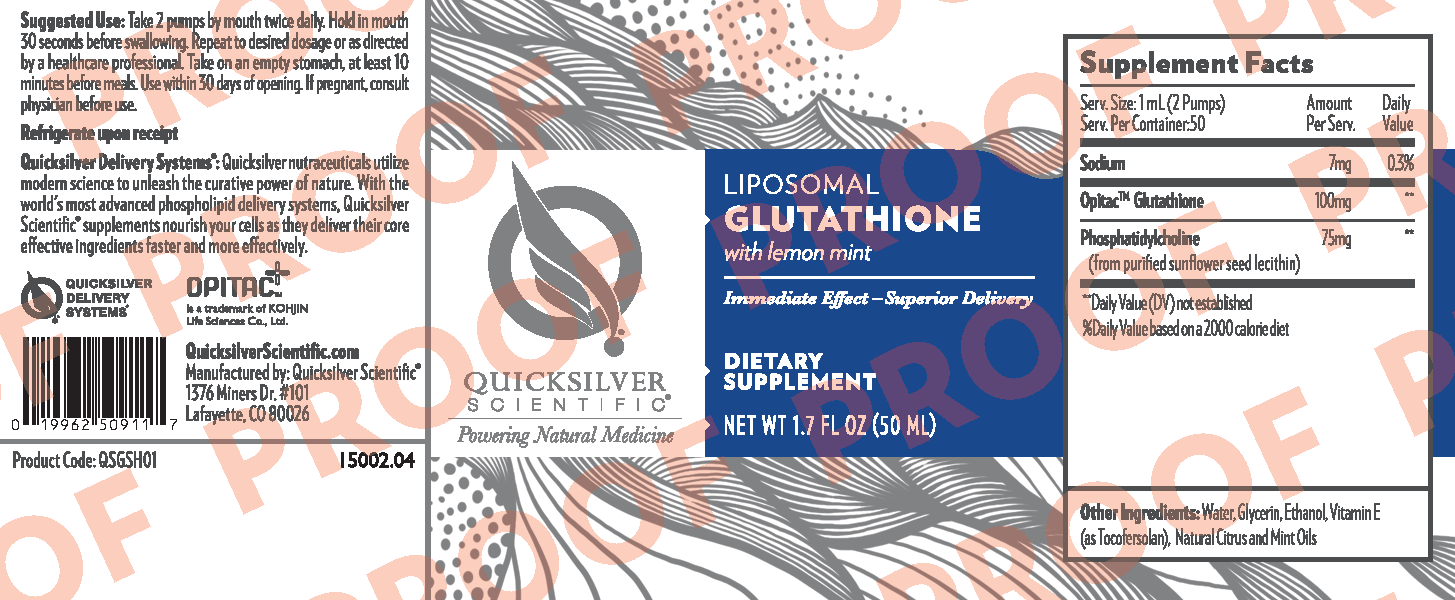 ---
Recommend this product to a friend or loved one
You will receive 400 Reward Points when your friend spends £30 or more on their order.
Your friend will get £4 off their first order.
LOGIN TO REFER YOUR FRIEND