Liquid Cal/Mag/Zinc | Strawberry | 946 ml | Trace Minerals
---
Recommend this product to a friend or loved one
You will receive 400 Reward Points when your friend spends £40 or more on their order.
Your friend will get £4 off their first order.
LOGIN TO REFER YOUR FRIEND
by Trace Minerals
Code: LCM04
Product Description

Supplement Facts

Usage Guide
Liquid Cal/Mag/Zinc is a complementary blend of premium forms of calcium, magnesium, and zinc that has been supercharged with Ionic Trace Minerals to help support the assimilation and absorption of these minerals in the body.† We've also included vitamin D to create a formula that provides complete nutrition to maintain bone, muscle, and connective tissue health 
✓ We're Here To Help!  0345 60 61 301 Mon-Fri (10am-4pm)
✓ FREE UK SHIPPING ON ALL ORDERS OVER £30!
✓ 5* Reviews Our Customers Love Us!
✓ Same Day shipping on orders placed before 1pm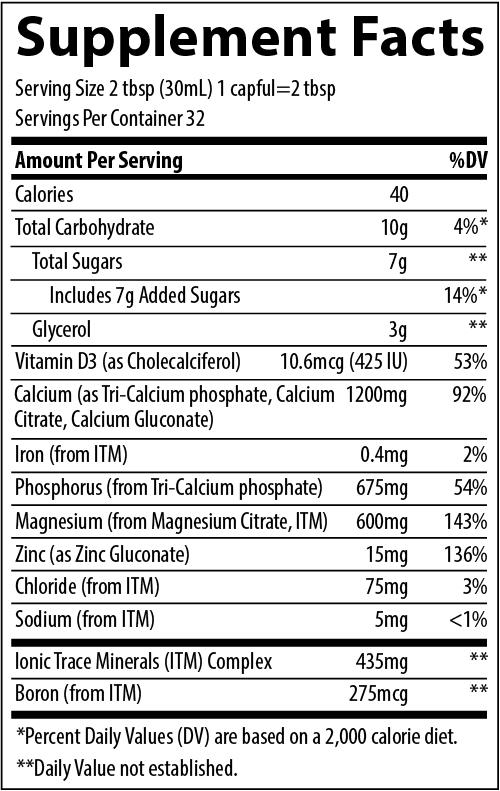 INGREDIENTS:
Purified water, natural vegetable glycerin, natural strawberry flavour, citric acid, phosphoric acid, xanthan gum, potassium benzoate, potassium sorbate (for freshness).
ALLERGEN INFO:
NO KNOWN ALLERGENS. GLUTEN FREE.
SUGGESTED USE:
SHAKE VIGOROUSLY. Take 1 to 2 tbsp. daily (one capful = 2 tbsp.), to top off or fully supplement your diet. As this is a highly concentrated product, we recommend starting with 1 tbsp. and increase as needed, ideally spread throughout the day. We also recommend taking this product mixed into or with a large glass of liquid for the best isotonic balance. Excess magnesium may cause a laxative effect. Rinse cap after each use. REFRIGERATE AFTER OPENING.
32 servings per bottle.
200 mg Calcium
600 mg Magnesium
15 mg Zinc
Vitamin D3
ConcenTrace®
Recent research highlights the important health benefits of maintaining proper bone mass for a lifetime. Proper exercise and supplementation of calcium and vitamin D for those not getting enough in their diet can help promote healthy bones.
This fast-absorbing ionic liquid formula has a great strawberry flavour. It also contains ConcenTrace®, a full spectrum ionic trace mineral complex of over 72 trace minerals and elements that help to aid in the absorption process.†
As an additional benefit, calcium, magnesium and zinc play an integral role in the body's energy generation and enzyme production at the cellular level.