Optimal Electrolyte Stick Packs | Sample Packs | Trial Size |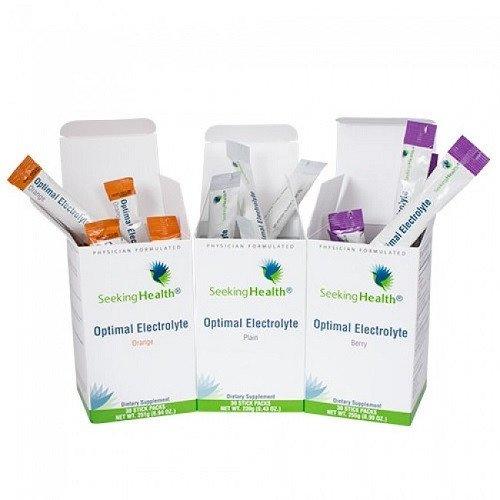 ---
Recommend this product to a friend or loved one
You will receive 400 Reward Points when your friend spends £40 or more on their order.
Your friend will get £4 off their first order.
LOGIN TO REFER YOUR FRIEND
Optimal Electrolyte by Seeking Health provides key nutrients in an easy-to-use powder form to support peak physical performance. With no artificial flavours or colours, 
Optimal Electrolyte offers a healthy alternative to high-sugar sports drinks. 
Available in - 
Click the links above for supplements facts for each variation
Sample Packs contain 8 Sachets of your desired flavour or a mix pack containing two of each!
✓ We're Here To Help!  0345 60 61 301 Mon-Fri (10am-4pm)
✓ FREE UK SHIPPING ON ALL ORDERS OVER £30!
✓ 5* Reviews Our Customers Love Us!
✓ Same Day shipping on orders placed before 1pm
Electrolytes carry electrical charges and play a key role in maintaining cell membrane stability, enabling proper muscle function. With added creatine, D-ribose and niacin, Optimal Electrolyte supports cellular maintenance as well as energy production.*

Creatine can be naturally produced in the human body and helps to supply energy to all cells as an integral component in ATP (adenosine triphosphate) regeneration. Creatine may support muscular health, strength and speed training by providing cells with immediate ATP. This function is also vitally important for supporting healthy cells in the heart muscle.*

D-ribose is a ubiquitous pentose sugar that may help support energy production and muscle recovery. This is due to the critical role it plays in generating energy for cells. Like creatine, D-ribose may support healthy cardiovascular function, as healthy heart function depends on a steady supply of ATP and nucleotides for energy.*

Niacin is added to support healthy blood flow, circulation, and metabolism. This B vitamin is important for proper functioning of all cells, including the cells of the brain and nervous system. Niacin has the well-known effect of causing vasodilation, often called the niacin "flush," which is an opening of the small blood vessels (capillaries) for increased blood flow.*