Oradix EDTA 1.0 (1000mg EDTA) Suppositories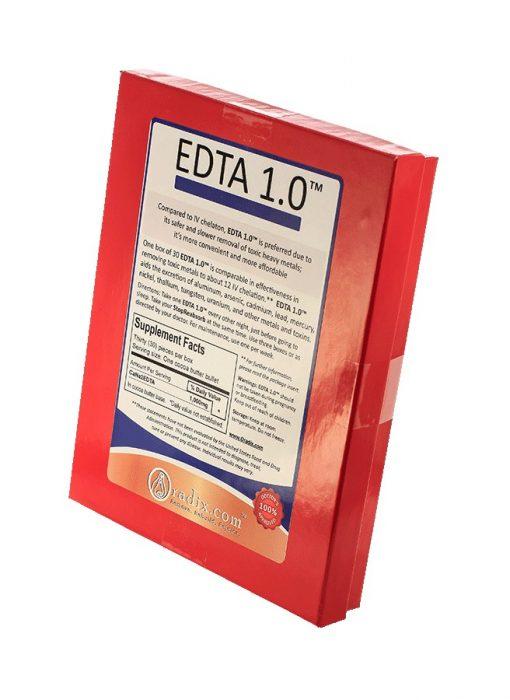 ---
Recommend this product to a friend or loved one
You will receive 400 Reward Points when your friend spends £40 or more on their order.
Your friend will get £4 off their first order.
LOGIN TO REFER YOUR FRIEND
by Oradix
Code: ORADIXEDTA
Product Description

Dosage Guide

How to Use
EDTA 1.0 by Oradix  are cocoa butter based rectal suppositories. EDTA 1.0™ is superior in effectiveness in removing toxins to other methods of Ca-EDTA chelation, such as IV chelation or oral chelation. 
30 Pieces per box 
✓ We're Here To Help!  0345 60 61 301 Mon-Fri (10am-4pm)
✓ FREE UK SHIPPING ON ALL ORDERS OVER £30!
✓ 5* Reviews Our Customers Love Us!
✓ Same Day shipping on orders placed before 1pm
Dosage The recommended therapy is a minimum of three boxes of EDTA 1.0™. The total number of suppositories required depends on your toxicity level and exposure to toxic metals. Learn more about your toxic load with a Hair Test or a before and after challenge Urine Test. An EDTA 1.0™ suppository is recommended every third days in the evenings over the first two weeks for a 'slow start', and one every other evening afterwards at bedtime, or as recommended by your health care professional. EDTA has a profound role in toxic metal detoxification, in de-calcification of organs and the blood vessels, and in dispersing biofilms. Take Activated Charcoal caps whenever you take a suppository. For maintenance, use one full suppository weekly. 
EDTA 1.0™ suppositories have the highest level of professional strength CaNa2EDTA in any chelation suppository currently on the market, and are safer and more cost effective than IV chelation and Ca-EDTA oral chelation. CaNa2EDTA has been safely and widely used since the 1950s, to bind and remove toxic heavy metals from the body. After the insertion of a suppository, the calcium in the CaNa2EDTA is replaced by heavy metals, such as lead, mercury, cadmium, manganese, iron, uranium, etc., and these are thus excreted from the body. Suppositories provide similar results to IV methods of administration since the ingredients in the suppository are absorbed by the wall of the rectum and carried straight into the systemic circulation (circumventing the entero-hepatic portal system where ingredients are broken down). Rectal absorption could be also compared to transdermal (through the skin) absorption. Mounting evidence suggests that clinical or even sub-clinical levels of environmental toxins are responsible for the exponential growth of chronic diseases, affecting our children, the elderly and others with compromised detoxification capabilities
Keep out of reach of children. Store at either room temperature or refrigerate. Never freeze.


How to Use EDTA 1.0™
it is recommended to eat your dinner and drink a glass of water two to three hours before your bedtime

empty your bowels before inserting the suppository

remove the plastic wrapping from one suppository

use one plastic glove (supplied in the box) for cleaner insertion with your finger

insert it gently into the rectum past the sphincter muscles

discard the plastic glove and wash your hands

try not to empty your bowels overnight (or for a few hours)

take Activated charcoal caps

 nightly when you take an EDTA 1.0™

take your daily vitamins as usual

take your minerals at least five hours before taking the suppository (to avoid mineral-toxin competition)

keep yourself hydrated while detoxifying

preferably eat organic, non-GMO, and 50% raw food

try to reduce/avoid EMF (Electro Magnetic Field) radiation, emitted by cell phones, computers and Wi-Fi, to increase the rate of metal excretion from your body

do daily high intensity, intermittent bouts of exercises to improve blood and lymph circulation (and spike your HGH levels). Ideally, these high-intensity interval trainings consist a total of 10 minutes of very intense exertion (swimming, sprinting, jumping) with short recovery periods in between

reduce your calorie (and sugar) intake and/or fast a day weekly to open up your fat cells to release more (fat soluble) toxins.