Prenatal Essentials | Methyl Free | Seeking Health | 60 Caps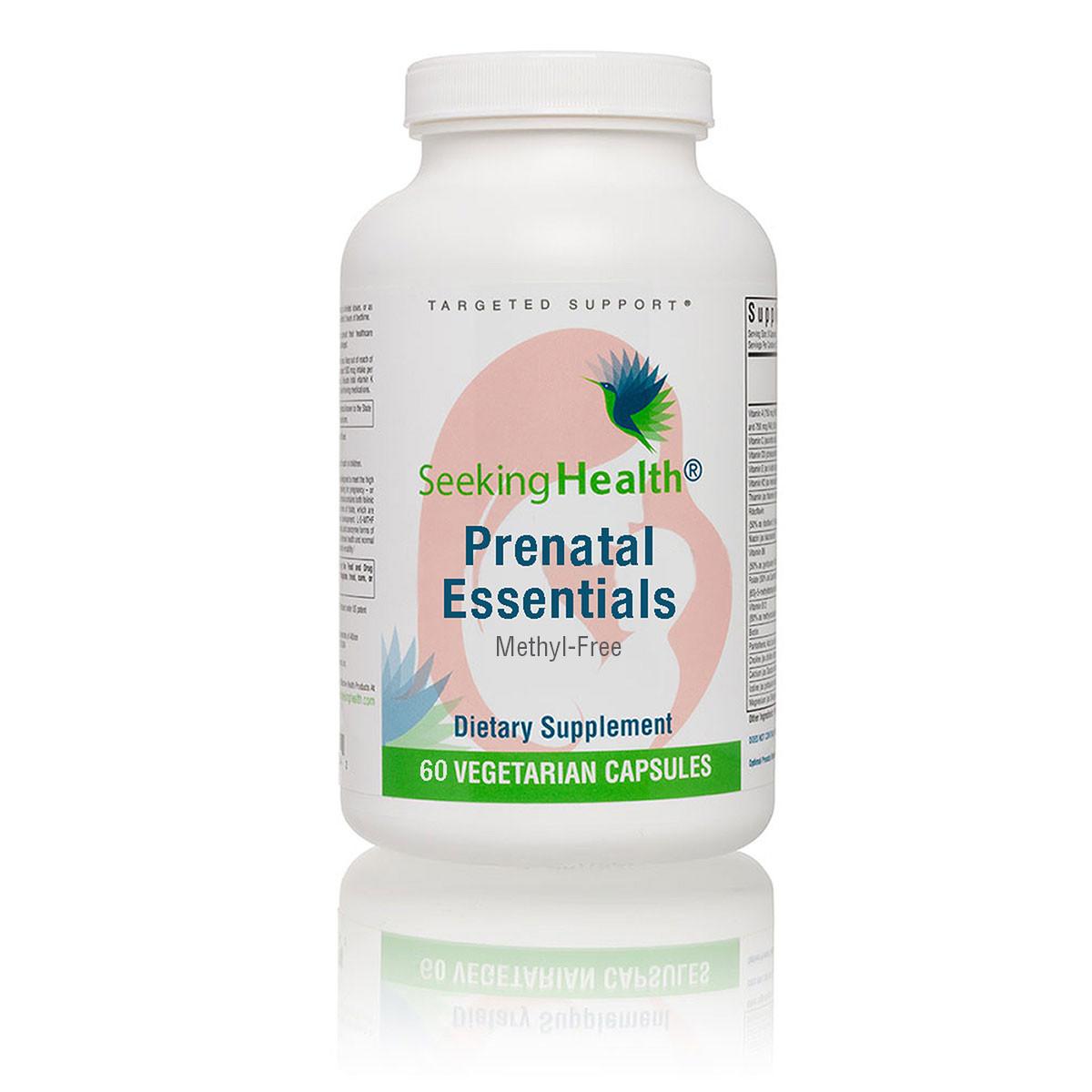 ---
Recommend this product to a friend or loved one
You will receive 400 Reward Points when your friend spends £40 or more on their order.
Your friend will get £4 off their first order.
LOGIN TO REFER YOUR FRIEND
by Seeking Health
Code: PEMF60CAPS
Product Description

Key Nutrients

Usage Guide

Complementary Products
Prenatal Essentials Methyl Free is a concise, yet powerful prenatal multivitamin that contains no methylated nutrients to support those who are sensitive to them. This formula is perfect for those who do not need a comprehensive prenatal vitamin, such as our Optimal Prenatal, and just want the basic nutrients that are needed, and nothing more. 
Prenatal Essentials Methyl Free is a synergistic prenatal vitamin. Its bioavailable vitamins and minerals support:
Genetic development
Brain development
Vision
Bone growth and development
Healthy immune system
Pregnant or lactating women should consult their healthcare practitioner prior to use.  
✓ We're Here To Help!  0345 60 61 301 Mon-Fri (10am-4pm)
✓ FREE UK SHIPPING ON ALL ORDERS OVER £30!
✓ 5* Reviews Our Customers Love Us!
✓ Same Day shipping on orders placed before 1pm
The following key nutrients make this the perfect prenatal multivitamin to support your healthy pregnancy:
Folate - Contains bioavailable, non-methylated folate in the form of folinic acid. This form supports optimal methylation processes and genetic development while still being suitable for those sensitive to methyl groups. You'll never see man-made folic acid in any of our Seeking Health products because it can actually block folate absorption!*
Vitamin B12 - Folate needs vitamin B12 to properly transport methyl groups through the methionine cycle. The forms of B12 contained in this formula can convert to methylcobalamin in the body and are provided as hydroxocobalamin and adenosylcobalamin.*
Vitamin A - Needed for adequate vision, mucus membranes, and immune support. Vitamin A is provided as both the precursor to vitamin A, beta carotene, and as the bioavailable form, retinyl palmitate to support those who may have trouble converting beta carotene into its active form.* 

 

Do not exceed 5,000 IU intake per day of preformed vitamin A. 
Vitamin B6 - Supports healthy digestion and stomach comfort for occasional nausea, and is provided in this formula as its active form, P-5-P.*
Lutein and zeaxanthin - Derived from Tagetes erecta L. flower extract for your baby's optimal eye and vision development.*
Chelated minerals - Calcium, magnesium, and potassium are included in forms that the body recognizes and utilizes for optimal absorption.*
Free of iron - Iron competes with calcium absorption and many women do not need to supplement with it. If you need iron, consider our Optimal Iron Chewable and consume 2 hours separately from your Prenatal Essentials formula for optimal absorption.
Free from methyl donors - To support those sensitive to methyl groups, this product is free from methylated B12, methylated folate and other methyl donors.
Suggested Use:
Take two capsules daily, with a meal, or use as directed by your healthcare professional. Do not take within 5 hours of bedtime as it may interfere with sleep. Dr. Ben Lynch suggests taking 1 capsule with breakfast and 1 capsule with lunch for more consistent nutrition throughout your day. He always recommends following the Pulse Method as outlined in his national bestselling book, Dirty Genes, to find the optimal dose for you.
Allergy & Diet Information
Prenatal Essentials is suitable for vegetarians
Prenatal Essentials is free of milk, egg, fish, shellfish, tree nuts, peanuts, wheat, soy, gluten, GMOs, artificial colours, artificial flavours
Prenatal Essentials meets or exceeds cGMP Quality Standards


Warnings
Consult healthcare professional prior to use. Do not use if tamper seal is damaged.

Your body naturally produces glutathione. Dr. Ben Lynch recommends starting out small and increasing your dosage only as needed. Dr. Lynch recommends following the Pulse Method as outlined in his national bestselling book, Dirty Genes.*
Storage
Keep closed in a cool, dry place out of reach by children.

Glutathione can raise glutamate levels in the brain in some sensitive individuals.
When taking Prenatal Essentials, consider these complementary products as recommended by Dr. Ben Lynch: