ProBiota Infant | 60 Servings | Seeking Health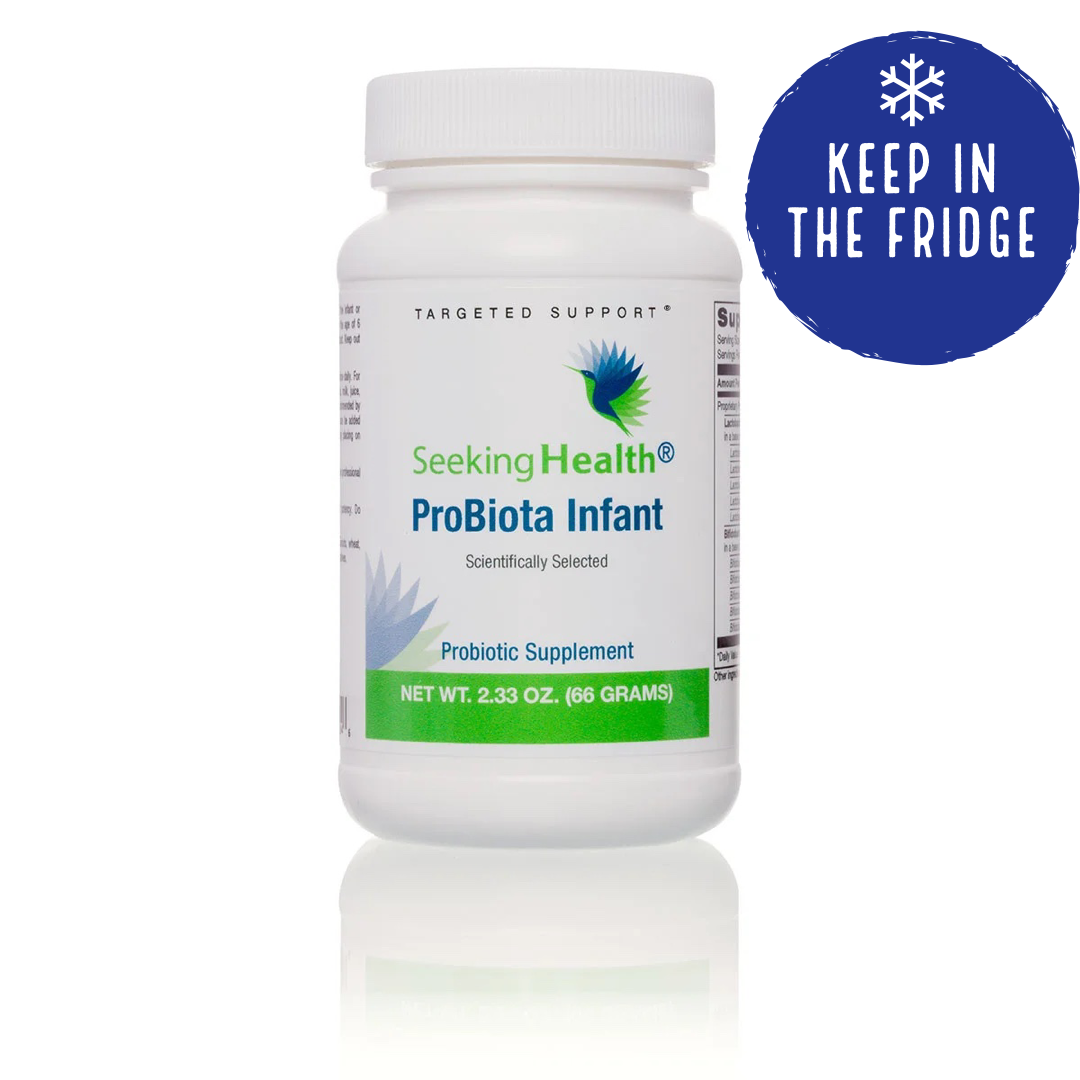 ---
Recommend this product to a friend or loved one
You will receive 400 Reward Points when your friend spends £40 or more on their order.
Your friend will get £4 off their first order.
LOGIN TO REFER YOUR FRIEND
by Seeking Health
Code: PBIN60SPOW
Product Description

Usage Guide

Shipping
ProBiota Infant by Seeking Health provides 10+ billion organisms per quarter-teaspoon to support gastrointestinal and immune system health, providing a blend of probiotic species that may be particularly well-suited for children up to the age of 2. As young children have sensitive dietary needs, we recommend consulting with a qualified healthcare professional to determine whether this product is suitable for your child. ProBiota Infant is specially formulated to support healthy digestion and absorption of nutrients in breastmilk, formula or other foods. Developing a healthy balance of probiotic bacteria in the digestive tract is an important part of early development. Healthy intestinal microorganisms may support a lifetime of digestive health.

This blend of probiotic organisms may help support development of a healthy intestinal microflora and immune system. Beneficial strains of bacteria may support immune health by competing with unwanted or harmful microbes for space and nutrients in the intestinal tract. Lactobacillus bacteria are thought to be essential for the healthy development of the infant immune system. These bacteria may also produce certain enzymes and fermentation products that help the body resist potentially harmful bacteria, yeasts and viruses. Five Bifidobacterium species normally predominant in an infant's gastrointestinal tract are also included to help support the body's healthy defences against intestinal invaders and normal digestion of dietary proteins and complex carbohydrates. Probiotic species included in this formula may also help support healthy skin.

To be effective, the living organisms in probiotic supplements must survive traveling through the upper digestive tract and stomach acids on the way to the small intestine and colon. ProBiota Infant uses probiotic species that are selected for their ability to survive this journey through the digestive system. This formula also contains inulin, a natural prebiotic fibre from chicory, which may help nourish and support bacterial colonization within the GI tract.

An infant's gastrointestinal tract is not fully mature and may not be able to process the D(-) isomer of lactic acid produced by certain Lactobacillus species often found in adult probiotic formulas. ProBiota Infant contains only those species that solely or primarily produce the L(+) lactic acid form that can be metabolized by healthy infants.
✓ We're Here To Help!  0345 60 61 301 Mon-Fri (10am-4pm)
✓ FREE UK SHIPPING ON ALL ORDERS OVER £30!
✓ 5* Reviews Our Customers Love Us!
✓ Same Day shipping on orders placed before 1pm
PLEASE READ THE SHIPPING TAB BEFORE ORDERING THIS PRODUCT



Suggested Use
For children over 12 months: 1 scoop, once or twice daily. For infants 6 to 12 months: 1 scoop daily. Mix product in infant formula, milk, juice, or sprinkled on food such as yogurt, apple sauce or cereal or as recommended by your healthcare professional. For breast feeding mothers, product can be added to expressed milk, or small amounts at a time can be dispensed by placing on nipple or finger.
Warnings
DO NOT feed powder directly to infants or children. If the infant or child has a medical condition, taking prescription drugs, or under the age of 6 months, consult your healthcare professional before using this product.
Do not use if full-bottle shrink-wrap is broken or missing. Keep out of reach of children.
Storage
Refrigerate and keep tightly closed to maintain product potency. Do not freeze. The probiotics in our ProBiota products are freeze-dried to increase shelf life. These products will maintain or exceed label potency through the expiration date printed on each bottle if kept refrigerated. If kept at average room temperature, ProBiota products will remain potent for 4 - 6 months. At higher temperatures (86 F), they will maintain potency for 1 - 2 months. We recommend that this product is stored tightly sealed in the refrigerator after opening for optimal potency.
Probiota Infant does not need to be shipped with an ice pack as Seeking Health performed testing on the products, please see official statement below - 
" Testing was performed on our ProBiota line to determine how long probiotics could be exposed to high temperatures and remain at label claim. Our probiotics are able to withstand temperatures of 104 degrees Fahrenheit for up to 6 days without losing label claim potency...  Warm Temperatures: We recommend refrigerating the ProBiota products to ensure maximum potency and shelf life, however the ProBiota products may be left at room temperature for days and even weeks without a great loss of viable organisms.  If kept at average room temperature, ProBiota products will remain potent for 4 - 6 months. At higher temperatures (86 F), they will maintain potency for 1 - 2 months"
We recommend customers select an expedited shipping method to avoid delays in delivery times to countries outside the UK & Ireland 
Product will ONLY be shipped with an ice pack if requested as shipping note at checkout