PureAir SOLO Rechargeable Personal Air Purifier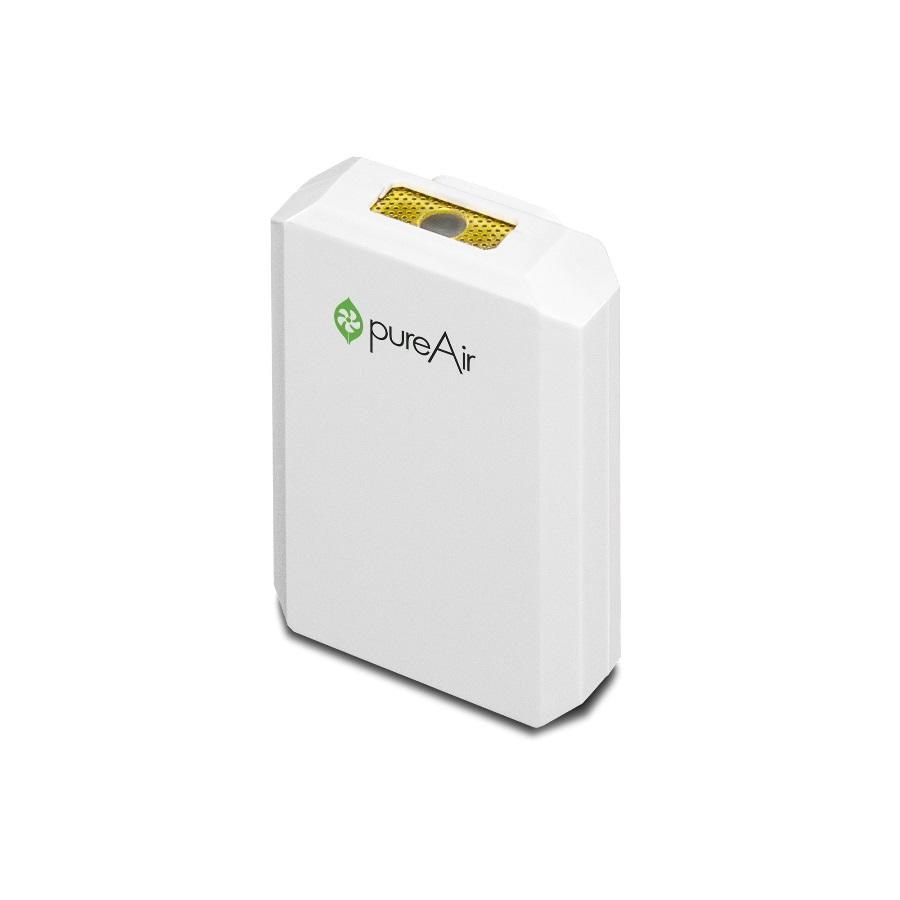 ---
Recommend this product to a friend or loved one
You will receive 400 Reward Points when your friend spends £40 or more on their order.
Your friend will get £4 off their first order.
LOGIN TO REFER YOUR FRIEND
by GreenTech Environmental®
Code: SOLOAIR
Wearing this makes me feel much more comfortable when I go shopping or pretty much anywhere. I haven't been without it since I bought it in January and find its quite a conversation starter! Easy to charge and lightweight too
Product Description

Specifications

Features
The pureAir SOLO is a slimline, wearable air purifier that creates a safe and clean personal breathing space by repelling particles from your breathing area. This "clean-air zone" acts as a barrier against pathogens such as mould spores, bacteria, and viruses, as well as VOCs from harmful chemicals. Once it is around your neck, you will immediately begin breathing in safe, clean air.
The pureAir SOLO is best used when the user is exposed to indoor or outdoor air pollution. The SOLO will effectively repel allergens to allow those that suffer from allergies to enjoy the outdoors or their pets. The SOLO shields the user from airborne viruses and bacteria that can be spread during cold and flu season to allow the user to enjoy the experience of visiting friends and family without the negative effects of others' perfumes, colognes, lotions, or THEIR COLDS!! You can also travel worry free on planes, trains, buses, or other methods of public travel!!
The pureAir SOLO will deliver all-day protection with a rechargeable battery providing over 24 hours of use per charge. The SOLO includes a micro USB charging cable and a breakaway neck cord for comfort and convenience.
Features:
Easy To Use: Simply place around your neck using the included breakaway lanyard styled cord and turn it on to experience your personal pure air zone. Suitable for ages 3+.
pureAir SOLO provides up to 28 hours of powerful purification bliss before needing 3 to 5 hours to recharge its lithium battery.
Convenient Purification with the solid platinum permanent emitter and gold plated stainless steel collectors produce ion density of 50 million at an ion wind of 90 feet per minute.
Use pureAir SOLO to enhance your other healthy habits. pureAir SOLO is not a medical device 
✓ We're Here To Help!  0345 60 61 301 Mon-Fri (10am-4pm)
✓ FREE UK SHIPPING ON ALL ORDERS OVER £30!
✓ 5* Reviews Our Customers Love Us!
✓ Same Day shipping on orders placed before 1pm
Unit Specifications:
O3 output: Less than 0.03 ppm
Ion Density: 50 Million Ions/cc
Power Source: Rechargeable Lithium Battery
Power Usage: 0.2 W • Battery Life: 28 Hours Operating Time
Charge Time: 3-5 Hours (Micro USB)
Dimensions: 2.95 inches H x 1.94 inches W x .67 inches D
Weight: 2.22 oz (64g)
Accessories: Breakaway Neck Lanyard
Warranty: 1 Year Manufacturer's Warranty
Creates a 4-foot
clean air zone
Lightweight,
wearable design
Lasts 24+ hours on
a single charge
1 year manufacturer's
warranty