PureHMO Synbiotic | Prebiotic + Probiotics | 60 Capsules | Layer Origin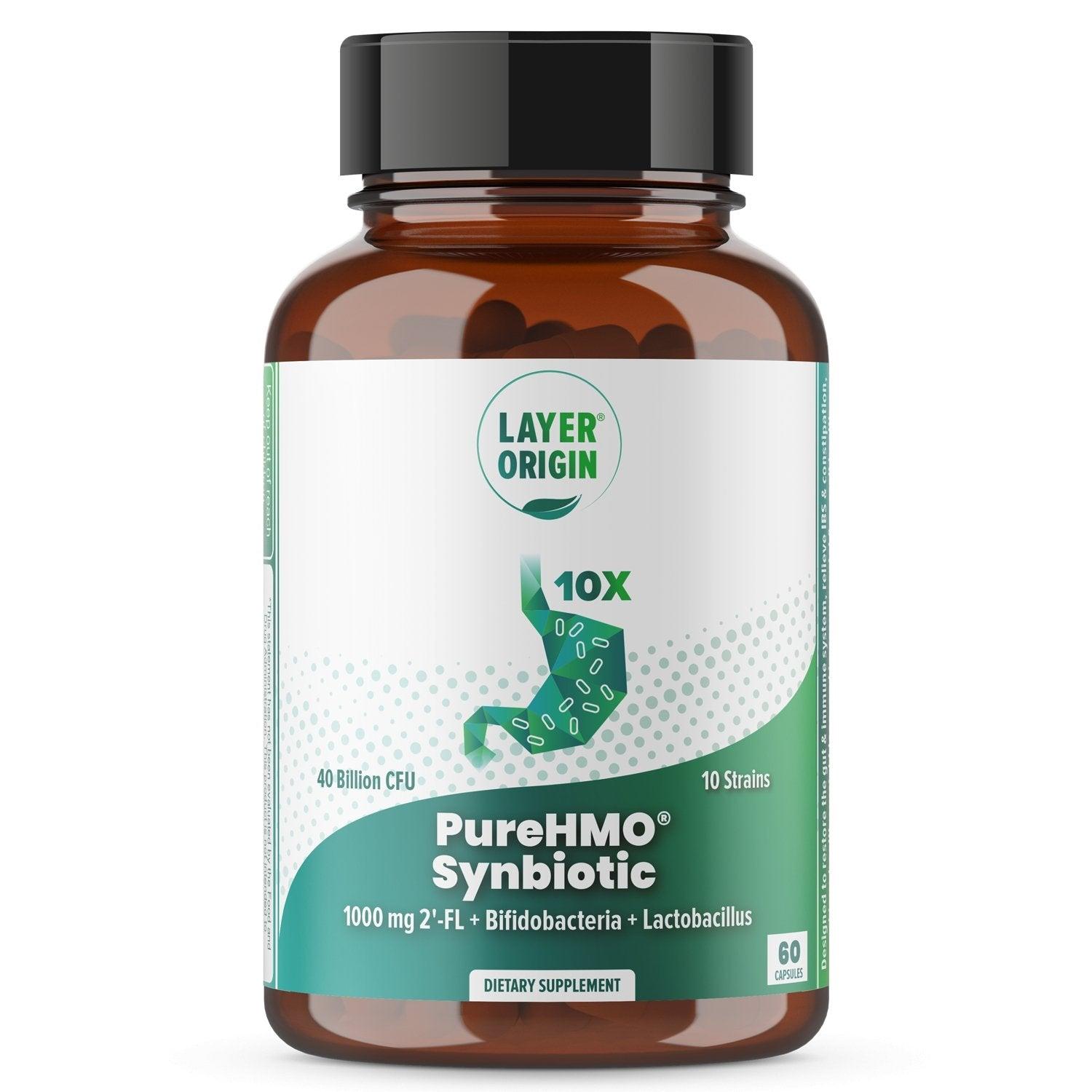 ---
Recommend this product to a friend or loved one
You will receive 400 Reward Points when your friend spends £40 or more on their order.
Your friend will get £4 off their first order.
LOGIN TO REFER YOUR FRIEND
by Layer Origin
Code: HMOSYNB
Description

Features

Ingredients

Usage Guide
BEST PREBIOTIC + PROBIOTIC COMBO: most other probiotic supplements contain just a small amount (<50 mg) of prebiotics. By comparison, Layer Origin's formula contains a potent 1000 mg of the best prebiotic - Human Milk Oligosaccharide
MAXIMIZED SYNERGY: PureHMO® human milk oligosaccharide helps infants build a healthy digestive system from scratch. There is no better prebiotic than HMO to feed the probiotics and restore your gut
SHELF-STABLE: Max Synergy Prebiotic + Probiotic contains 100 BILLION CFU of live probiotics cultures at the time of production. The HMO encapsulates and provides a shelf-stable environment for probiotics
PROBIOTICS FOR WOMEN & MEN: Max Synergy Probiotic/Prebiotic is designed to restore the gut & immune system, relieve IBS & constipation, achieve healthy weight loss, and improve mental & overall health
✓ We're Here To Help!  0345 60 61 301 Mon-Fri (10am-4pm)
✓ FREE UK SHIPPING ON ALL ORDERS OVER £30!
✓ 5* Reviews Our Customers Love Us!
✓ Same Day shipping on orders placed before 1pm
Synbiotic: HMO Prebiotic + HMO Probiotics
Each serving provides 1000 mg of HMO and billions of bifidobacteria that feed on HMO

Promote Diversity of Gut Microbiome
10 strains of probiotics help promote the diversity of gut microbiota
Regain Gut Balance
HMO feeds the bifidobacteria in your gut, where the metabolites of those bacteria feed other probiotic bacteria and restore gut balance
Stronger Gut Functions
HMO super prebiotics feed Akkermansia and strengthen gut barriers
Nutritional Information

Serving Size: 2 capsules

Servings Per Container: 30





Amount Per Serving

%Daily Value

Lactobacillus acidophilus

Lactobacillus casei

Lactobacillus gasseri

Lactobacillus paracasei

Lactobacillus plantarum

Lactobacillus reuteri

Lactobacillus rhamnosus

Bifidobacterium bifidum

Bifidobacterium lactis

Bifidobacterium longum

Total Probiotic (100 Billion CFU)

100 Billion CFU

†

Human Milk Oligosaccharide 2'-Fucosyllactose (98%)

1000 mg

†

† Daily Value not established.

Other Ingredients: Vegetable capsule (hydroxpropyl methylcellulose), vegetable magnesium stearate, silica.

Contains: Trace amount of lactose (milk)

Free from: Eggs, fish, crustacean shellfish, tree nuts, peanuts, and wheat.
Suggested use:-
For best results, please take 1 capsule per day in the first 3-5 days and increase to 2 capsules per day as directed by your healthcare professional.
Do not exceed 3 capsules per day
Warnings:-
Do not use this product if you are pregnant or breastfeeding or under the age of 18
If you have a medical condition or are taking prescription drugs, consult your physician prior to use
Keep out of reach of children