Quicksilver Scientific Energy & Longevity bundle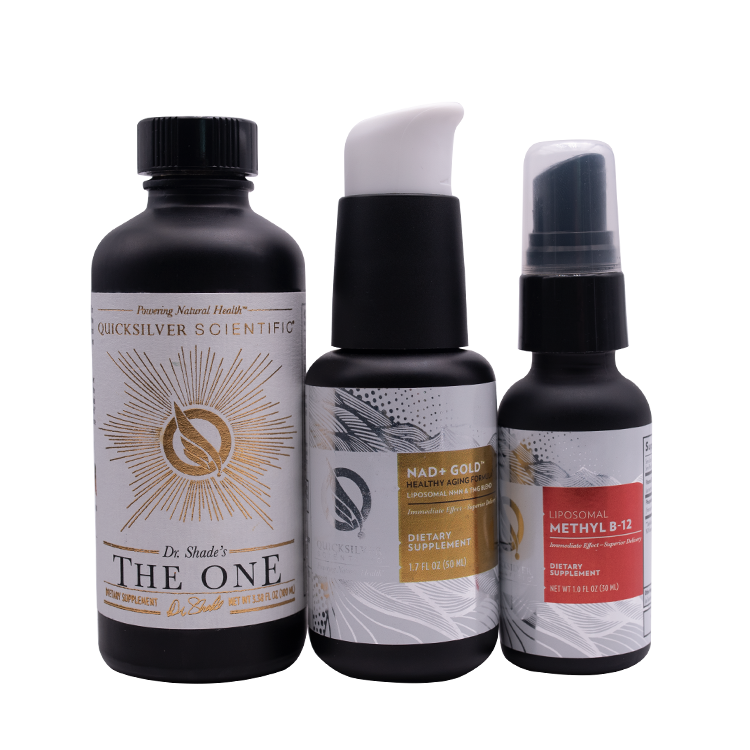 ---
Recommend this product to a friend or loved one
You will receive 400 Reward Points when your friend spends £40 or more on their order.
Your friend will get £4 off their first order.
LOGIN TO REFER YOUR FRIEND
by QuickSilver Scientific
Code: QSENERBUND
Product Description

Usage guide

Benefits
This trio of formulas supports energy, detoxification and longevity thanks to Quicksilver Scientific's most powerful energy-generating, de-aging formulas: NAD+ Gold™, The ONE™ and Liposomal Methyl B12.
NAD+ Gold™ is our game-changing age management tonic, offering liposomal nicotinamide mononucleotide (NMN), a potent activator and direct precursor to NAD+, along with trimethylglycine (TMG) to support the methylation demands of NAD+. NMN has its own dedicated transporter to shuttle it straight into the interior of the cell, where it can be immediately transformed into NAD+. TMG is a methyl donor that provides support to NAD+ production and activity. NAD+ is known to enhance lifespan, boost energy production, revitalize the brain, de-age metabolism, increase detoxification capacity, and help protect against age-associated weight gain. This bundle comes with a 50 ml bottle of NAD+ Gold™. 
The ONE™ supports mitochondrial function and the body's fundamental restorative pathways. This unique formula blends the proprietary, globally-sourced adaptogenic herbal blend with Pyrroloquinoline Quinone (PQQ), CoQ10, resveratrol, and delta tocotrienols. This formula supports transcription of Nrf2, anti-aging sirtuin action and AMPK, a central regulator of metabolism, growth and energy. The adaptogenic blend promotes resilience and offers a foundation of support for the upregulation of restorative and energy pathways.
Liposomal Methyl B12 offers foundational support to meet the increased metabolic demand activated by NAD+ Gold™ and The ONE™. Boosting NAD+ production turns up key metabolic processes, increasing the need for additional methyl donors. Methylation regulates gene expression, protein function, and detoxification.
✓ We're Here To Help!  0345 60 61 301 Mon-Fri (10am-4pm)
✓ FREE UK SHIPPING ON ALL ORDERS OVER £30!
✓ 5* Reviews Our Customers Love Us!
✓ Same Day shipping on orders placed before 1pm
NAD+ Gold™: 4 pumps
The ONE™: 1 tsp
Methyl B12: 2 pumps
Take once daily on an empty stomach

Liposomal delivery of next-generation age management compounds

Fast-acting NAD+ production

AMPK and sirtuin activation

Healthy, balanced methylation