Cat's Claw Elite™ Nanoemulisifed - Quicksilver Scientific
by QuickSilver Scientific®
Code: QSCATSCL
Love Proactive Healthcare. I think they sell some of the best supplements on the market. Some of these products cannot be bought anywhere else in the UK and you certainly won't find Quicksilver Scientific products at a better price. There delivery is always fast and problem-free and the one time they sent me the wrong product, their customer care team were easy to get hold of and sorted the issue straight away. They cannot be faulted.

I encountered some minor problems before ordering and staff kindly helped me to place order for my favourite items.

Very reliable,trustworthy company. Only one little detail- delivery could off been quicker

I purchased Gaba and Lymphomyosot and was impressed at the speed of delivery, the packaging and the price. Packaging is an issue if mine - when goods come in inappropriate boxes. Your system is perfect. Good show.

Excellent customer service

Have been buying my Megaspore and other products from Proactive Healthcare regularly for a couple of years. Extremely efficient service, delivery always prompt and lovely people to deal with. Just wish other supplement suppliers were as good.

Excellent service

Great products and cheapest I've found on line. I particularly love the Biocidin range, these are amazing and really work. Would highly recommend these and this site. Quickly delivered and very helpful. 5 * service.

The great range of great quality products, makes Proactive Health an excellent company to do business with

Wide offer with affordable prices. Great customer service and also fast delivery. Highly recomended. Thank You.

Really good company. Good selection of products, prompt delivery.

fantastic product and service - will be ordering again

I bought biocidin liquid and biocidin LSF while fighting candida, lyme and parasites. It helped a lot. Change wasn't instantenious, but I progressed well. No reaction accoured while maximazing the dosage.

It was very easy to open an account and the order placed was promptly delivered.

Excellent well researched and well priced range of products. Quick delivery and always helpful if ever I have any questions pre purchase. Would highly recommend!

Helpful, quick replies when I was wondering which Quicksilver products to order, thank you.

Really like the science behind the products.

Supplements not available elsewhere in the UK. Prompt service. Will reorder from this Company.

Proactive Healthcare sell top of the range products which I have personally have benefited from, I have recovered totally naturally no drugs from aids. The deleveries and care of delivery are very good, eve packing them with freezer packs in height of summer. I also enjoy their updates

Superb selection of top quality supplements and always delivered promptly.
Product Description

Benefits

Supplements Facts


Cat's Claw (Uña de gato) is the centrepiece of this innovative immune supportive formula, which is enhanced with plant-derived essential oils and extracts, Vitamin D and the fatty acid monolaurin, all designed to maximally protect the immune system. 
Each 1 mL of Nanoemulsified Cat's Claw Elite delivers 1000 IU of Vitamin D3 and 350 mg of a proprietary blend of Liquid Cat's Claw bark extract (Uncaria tomentosa), phospholipids (from purified sunflower seed lecithin), monolaurin (as Glycerol monolaurate), Liquid Lemon Balm leaf extract, Lemon Balm leaf oil, Rose flower oil, Natural Mint oil. A serving size is 2 pumps.  Each bottle contains 50 one ml servings. 
Cat's Claw is a climbing vine that thrives in the Peruvian rainforest—stretching as tall as a thousand feet. Medicinal use of the inner bark dates back 2000 years to the Inca civilization, and to this day South American Ashaninka priests regard the plant as sacred, using it for healing and in religious ceremonies.  
The most widely utilized strain of cat's claw, Uncaria tomentosa, boasts a treasure trove of phytonutrients thought to be responsible for the vine's reputed healing powers and ability to strengthen immune defenses. 
The fatty acid monolaurin is derived from lauric acid, and is formed naturally in the human body in small quantities.  Monolaurin works by binding directly to the lipid-protein envelope of invaders, preventing them from attaching and entering cells. Vitamin D is added to aid normal immune system function and bone health
Plants all over the world protect themselves from pests by developing volatile oils that permeate their leaves, bark, or peel. These can offer many benefits to humans.  Essential oils derived from spearmint, rose and lemon balm (Melissa officinalis) round out and fortify this unique formula. The fragrant extract of lemon balm is added as well.
Because many herbs have low bioavailability when taken orally, Dr. Shade developed our Nanoemulsified Cat's Claw Elite. Liposomal delivery systems have been shown to lead to more immediate effects and more stable plasma concentrations.  In addition to exceptional absorption rates, small liposomal and nanoemulsified particles enhance lymphatic circulation, helping to bypass digestive enzymes and breakdown in the liver. The liposomes in this formula contain pure phosphatidylcholine, a lipid that is the primary building block of all cell membranes.
✓ We're Here To Help!  0345 60 61 301 Mon-Fri (10am-4pm)
✓ FREE UK SHIPPING ON ALL ORDERS OVER £30!
✓ 5* Reviews Our Customers Love Us!
Supports immunity


Utilizes the preferred strain of cat's claw

Includes a medley of beneficial essential oils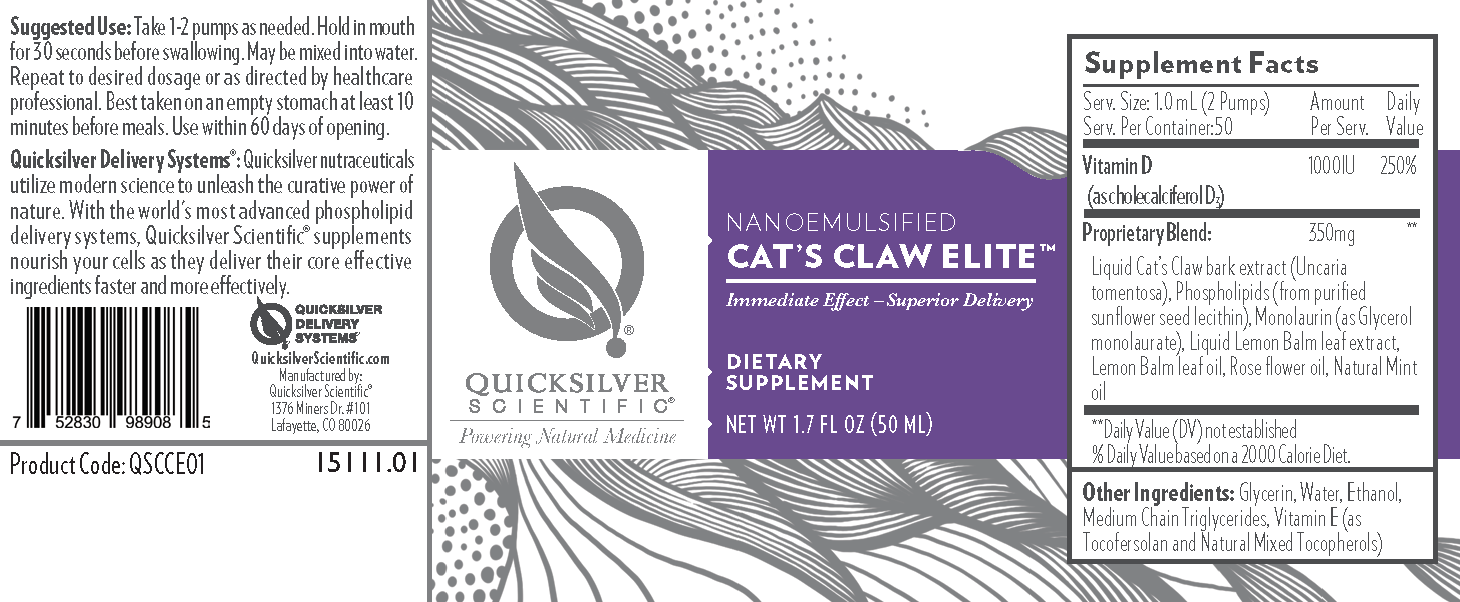 ---
Recommend this product to a friend or loved one
You will receive 400 Reward Points when your friend spends £30 or more on their order.
Your friend will get £4 off their first order.
LOGIN TO REFER YOUR FRIEND