NanoMojo - Quicksilver Scientific - Liposomal Adaptogenic Blend - 50ml
by QuickSilver Scientific®
Code: QSNANO
Really good company. Good selection of products, prompt delivery.

fantastic product and service - will be ordering again

I bought biocidin liquid and biocidin LSF while fighting candida, lyme and parasites. It helped a lot. Change wasn't instantenious, but I progressed well. No reaction accoured while maximazing the dosage.

It was very easy to open an account and the order placed was promptly delivered.

Excellent well researched and well priced range of products. Quick delivery and always helpful if ever I have any questions pre purchase. Would highly recommend!

Helpful, quick replies when I was wondering which Quicksilver products to order, thank you.

Really like the science behind the products.

Supplements not available elsewhere in the UK. Prompt service. Will reorder from this Company.

Proactive Healthcare sell top of the range products which I have personally have benefited from, I have recovered totally naturally no drugs from aids. The deleveries and care of delivery are very good, eve packing them with freezer packs in height of summer. I also enjoy their updates

Superb selection of top quality supplements and always delivered promptly.
Product Description

Product Features

Supplement Facts

Quicksilver Delivery systems

Suggested Use
Each 1 mL of NanoMojo® Liposomal Adaptogenic Blend delivers 174 mg of a proprietary herbal blend. A serving size is 2 pumps. Each bottle contains 50 174- mg servings.
The NanoMojo® proprietary blend was crafted and refined over decades by master herbalist Dan Moriaty of Sun Horse Energy, and is the first formula in his trinity that includes Thrivagen and Ultra Energy. The blend is a male-specific formula that supports adrenal gland function, and then spreads its action through the entire body. Two phytonutrients, Tribulus and Epimedium, uniquely support male endocrine function.
NanoMojo® is intentionally formulated to act across all four seasons as well as a range of altitudes and climates. The powerful botanicals are sourced globally, from Russia, America, South America, Asia and the Indian subcontinent, to create a formula that draws on the best adaptogenic traditions in each region.
Because uptake and absorption of herbs varies, Dr. Christopher Shade, PhD, developed our liposomal NanoMojo®. All nineteen herbs are encapsulated in tiny, highly absorbable liposomes. The result is a nontoxic liposomal adaptogenic tonic where a fraction of the amount of a traditional herbal formula offers rapid uptake and equal or greater potency than standard dry herbs or tinctures. 
✓ We're Here To Help!  0345 60 61 301 Mon-Fri (10am-4pm)
✓ FREE UK SHIPPING ON ALL ORDERS OVER £30!
✓ 5* Reviews Our Customers Love Us!
Supports general resilience

Helps maintain endurance and vigour


Contains nineteen unique herbs

Quicksilver Delivery Systems® allows full efficacy with a fraction of a standard dose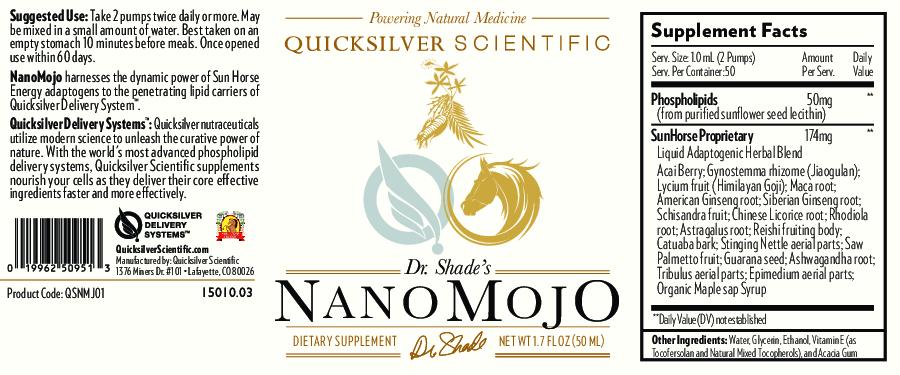 Quicksilver Delivery Systems® utilize modern science to unleash the curative power of nature. With the world's most advanced phospholipid delivery systems, Quicksilver Scientific supplements actually nourish your cells with phosphatidylcholine as they deliver their core effective ingredients faster and more efficiently.
Serving size is 2 pumps, 50 servings per container
For best results, take two pumps under the tongue twice a day. If possible, before swallowing, hold for 30 seconds, which enables these herbs to penetrate into the bloodstream, and into the cells.
---
Recommend this product to a friend or loved one
You will receive 400 Reward Points when your friend spends £30 or more on their order.
Your friend will get £4 off their first order.
LOGIN TO REFER YOUR FRIEND