Push Catch Liver Detox - Quicksilver Scientific - Dr Chris Shade
---
Recommend this product to a friend or loved one
You will receive 400 Reward Points when your friend spends £40 or more on their order.
Your friend will get £4 off their first order.
LOGIN TO REFER YOUR FRIEND
by QuickSilver Scientific
Code: QSPUSH
This was a great protocol for preparing me for the Detox Qube. Quicksilver Products are top quality and highly recommend them. I am usually someone who struggles to detox and get many unpleasant symptoms when I try to, even with lots of Liver Support Supplements. However, since using Quicksilver Detox Products I haven't had a problem at all.

This is probably one of the most well thought out approaches to detox to date. It's complex in its delivery, yet simple to administer. It's mild enough to not disrupt your daily life with unwanted "herx" reactions. I personally still have 5 amalgams in my mouth, but 1 month of this protocol has made a noticeable difference in a few areas I was struggling with. I still have a long road ahead of me but will be using this product on and off at different levels from now on. One thing I noticed was the timing of the "Push" and "Catch" are pretty important. Don't wait too long past 30 min to "Catch" or you will start to feel a little "Crappy". This is an excellent product and an excellent value! The delivery and the individual components can not be matched or replicated without spending 100s on individual products. And, you still would be lacking the same delivery and effectiveness. If you are worried about the binders causing constipation, I wouldn't. I went into this mildly constipated and ended it with more consistent stools than before.
Product Description

Reviews

Contents

Suggested Use

Supplement Facts


Quicksilver Scientific Push Catch Liver Detox Programme
Double-edged program for detoxification of the liver
The PushCatch™ LiverDetox integrates two unique Quicksilver Scientific products:
Dr. Shade's Liver Sauce™: A premier liver support combination that simultaneously supports all phases of detoxication and toxin elimination. Contains a blend of four classic drainage botanicals with a potent effect on bitter receptors, along with a synergistic medley of powerful phytonutrients to control inflammatory response and support the organ's detoxification.
UltraBinder™: A comprehensive, broad-spectrum binder that works across the gut to intercept and neutralize an array of toxins. Because binders can be constipating, soothing and fluidizing acacia gum and aloe vera are included in the blend.
This system is highly flexible and can be used as a gentle, daily standalone detox, or as an intensive program.
Effective detoxification respects the fact that our body has built-in, highly evolved defence mechanisms that include adaptation, habituation, and a tendency to tilt toward homeostasis. Botanicals and phytonutrients that promote detoxification, drainage and elimination can be highly effective, but over time, the body may habituate to stimulation and become less responsive. Cycling between on and off periods, and titrating doses from low to high over time are both key concepts essential for effective, safe detoxification. Cycling will give the body a necessary rest, and allow it to reset during the off period, so that detoxification can be resumed with full effect. Titrating dosages and schedules up over time offers a scalable, flexible, and tolerated approach that is suitable for all, from the highly sensitive to the highly robust and resilient. The PushCatch™ LiverDetox can be adapted for very light frequent detoxification and can also be slowly scaled up for more intensive, deeper cleanses.
Simple, Flexible, Scalable Detoxification System         

Supports the elimination of toxins from the body

LiverSauce™pushes toxins out of the liver
UltraBinder™ catches toxins in the gut and safely removes them from the body
✓ We're Here To Help!  0345 60 61 301 Mon-Fri (10am-4pm)
✓ FREE UK SHIPPING ON ALL ORDERS OVER £30!
✓ 5* Reviews Our Customers Love Us!
Great Detox and easy to use!                                                 
I have used many detox products over the years for myself and my patients. Dr. Shade's Push Catch has been the most effective while being easy to use and gentle on the body. I highly recommend this detox protocol. Dr. K. 10/09/2018                  
Best Detox Ever
I've struggled over the years and tried a lot of different treatments and detox protocols.  Quicksilver's push catch has delivered the best results by far.  I was hesitant to try it at first because of my limited budget, but I can see now it has been well worth it. Timothy 30/08/2018                 
This Protocol Contains:
1 x Liver Sauce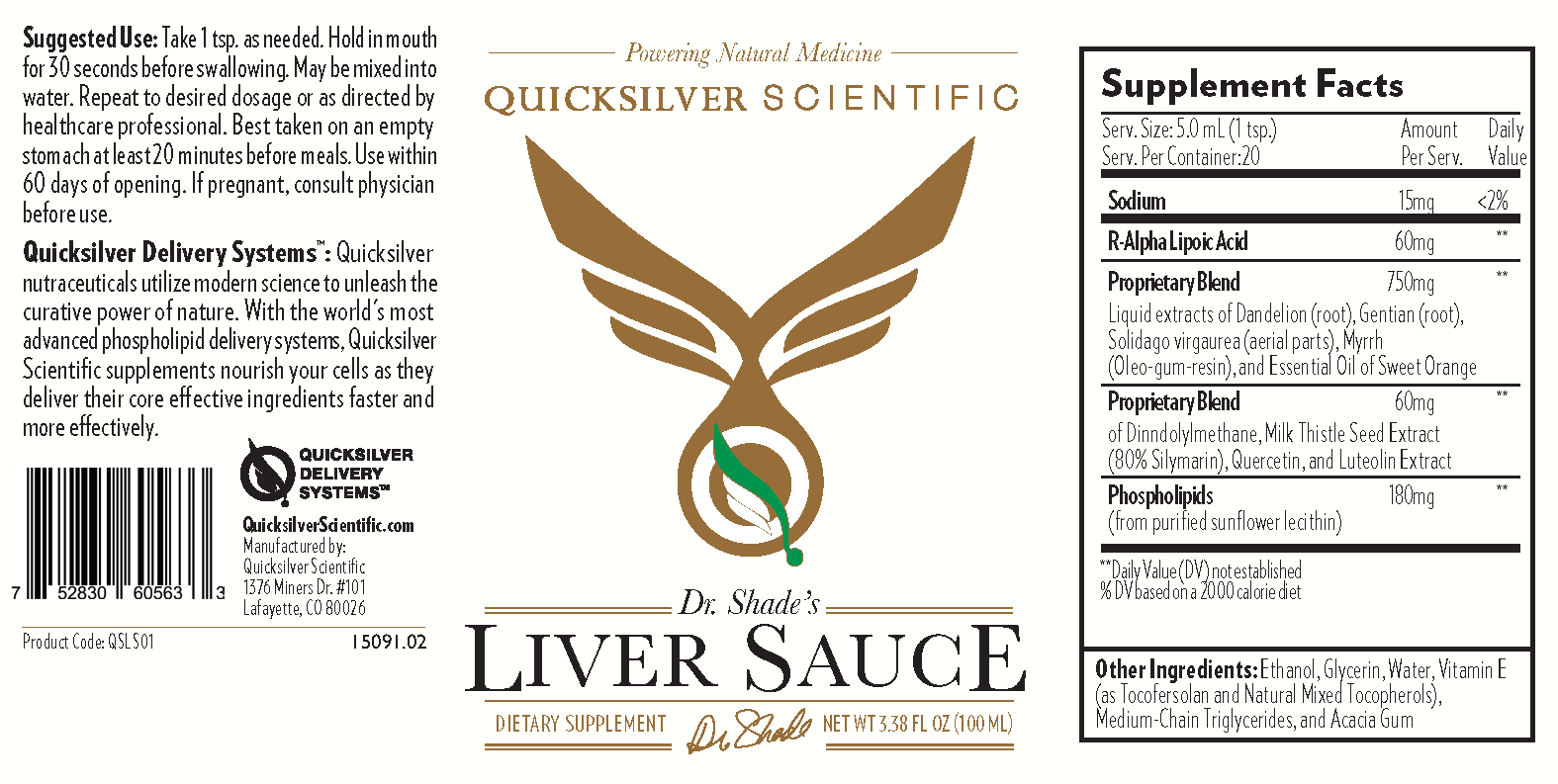 Take a dose of Dr. Shade's Liver Sauce, (remember to hold in mouth 30-60 seconds before swallowing).

30 minutes later take a dose of UltraBinder in 125-250 ml of water , then

Wait 30 minutes before eating
A dose is set at one teaspoon of Dr. Shade's Liver Sauce™, followed by one stick pack of Ultra Binder™ in four to eight ounces of water. PushCatch™ LiverDetox can be adapted for very light frequent detoxification (1 box per month required) and can also be slowly scaled up for more intensive, deeper cleanses (up to 3 boxes per month required).
We advise that you consult a medical practitioner before undergoing any detox protocol. Please contact us if you require a recommendation.
Liver Sauce, 100 ml • Box contains 1 container
Serving Size: 5 ml (1 tsp)

Servings Per Container: 20

Amount Per Serving

Sodium

15 mg

R-Alpha  Lipoic  Acid 

60 mg

Proprietary Blend

Liquid extracts of Dandelion (root), Gentian (root), Solidago virgaurea (aerial parts), Myrrh (Oleo-gum-resin), and Essential Oil of Sweet Orange

750 mg

Proprietary Blend

Diindolylmethane, Milk Thistle Seed Extract (80% Silymarin), Quercetin, and Luteolin Extract

60 mg

Phospholipids (from purified sunflower leciithin)

180 mg

Other ingredients: Ethanol, Glycerin, Water, Vitamin E (as Tocofersolan and Natural Mixed Tocopherols), Medium-Chain Triglycerides, and Acacia Gum.
Ultra Binder, 20 Sticks • Box contains 1 container
Serving Size: 4 grams (1 stick)

Servings Per Container: 20

Amount Per Serving

Proprietary Blend of: Sodium Bentonite Clay, Activated Charcoal, Chitosan, BiAloe® Aloe Vera, and IMD (proprietary functionalized silica)

2 g

Fibregum™ Bio (Gum Arabic)

2 mg

Total Soluble Fiber

1,8 g

BiAloe® is a registered trademark Lorand Laboratories LLC, Houston, Texas.