The One 100ml - Quicksilver Scientific - Mitochondrial Optimizer - Liposomal
by QuickSilver Scientific®
Code: QSONE
I encountered some minor problems before ordering and staff kindly helped me to place order for my favourite items.

Very reliable,trustworthy company. Only one little detail- delivery could off been quicker

I purchased Gaba and Lymphomyosot and was impressed at the speed of delivery, the packaging and the price. Packaging is an issue if mine - when goods come in inappropriate boxes. Your system is perfect. Good show.

Excellent customer service

Have been buying my Megaspore and other products from Proactive Healthcare regularly for a couple of years. Extremely efficient service, delivery always prompt and lovely people to deal with. Just wish other supplement suppliers were as good.

Excellent service

Great products and cheapest I've found on line. I particularly love the Biocidin range, these are amazing and really work. Would highly recommend these and this site. Quickly delivered and very helpful. 5 * service.

The great range of great quality products, makes Proactive Health an excellent company to do business with

Wide offer with affordable prices. Great customer service and also fast delivery. Highly recomended. Thank You.

Really good company. Good selection of products, prompt delivery.

fantastic product and service - will be ordering again

I bought biocidin liquid and biocidin LSF while fighting candida, lyme and parasites. It helped a lot. Change wasn't instantenious, but I progressed well. No reaction accoured while maximazing the dosage.

It was very easy to open an account and the order placed was promptly delivered.

Excellent well researched and well priced range of products. Quick delivery and always helpful if ever I have any questions pre purchase. Would highly recommend!

Helpful, quick replies when I was wondering which Quicksilver products to order, thank you.

Really like the science behind the products.

Supplements not available elsewhere in the UK. Prompt service. Will reorder from this Company.

Proactive Healthcare sell top of the range products which I have personally have benefited from, I have recovered totally naturally no drugs from aids. The deleveries and care of delivery are very good, eve packing them with freezer packs in height of summer. I also enjoy their updates

Superb selection of top quality supplements and always delivered promptly.
Product Description

Benefits

Supplement Facts

Storage Guidelines
The ONE®  offers a unique blend of state-of-the-art nutraceuticals. These synergistic super-nutrients are blended into a potent mix of adaptogenic herbs that serve as a broadly energizing plant base for the formula. The ONE is one supplement you won't want to be without.
Each 5 mL of The ONE® : Mitochondrial Optimizer delivers 400 mg of Sunhorse Proprietary Adaptogenic Herbal Blend, 7 mg of Bio PQQ (Pyrroloquinoline quinone disodium salt), 30 mg CoQ10, 15 mg Resveratrol, and 5 mg DeltaGOLD tocotrienols. A serving size is 1 teaspoon. Each bottle contains 20 servings.
Mitochondria are our cells' precious renewable batteries, producing the energy critical to cellular function. Breakthrough research has revealed a select group of exceptional molecules that can support mitochondrial function. 
Coenzyme Q10 can dramatically effect mitochondrial energy-producing capacity. Pyrroloquinoline quinone (PQQ) can support protection of the mitochondria from oxidative damage and may work to stimulate fresh growth of new mitochondria. Resveratrol has long been regarded as an healthy aging, antioxidant nutrient. Tocotrienols, part of the vitamin E family, can be strongly effective as free radical scavengers. These super nutrients are blended into the Sun Horse Adaptogenic Blend of herbs —offering a base that can increase overall resilience. Altogether, a one-of-a-kind formula that can support mitochondrial bioenergetics, health and longevity.
Because the bioavailability of nutrients like resveratrol can be low with typical oral formulations, Dr. Chris Shade developed our liposomal The ONE®. Liposomal delivery systems have been shown to lead to more immediate effects and more stable plasma concentrations.  In addition to exceptional absorption rates, these very small liposomal and nanoemulsified particles enhance circulation, and enhanced cellular support. 
✓ We're Here To Help!  0345 60 61 301 Mon-Fri (10am-4pm)
✓ FREE UK SHIPPING ON ALL ORDERS OVER £30!
✓ 5* Reviews Our Customers Love Us!
Please read the Storage Guidelines tab before ordering this product


Super nutrients that can offer state-of-the-art antioxidant power

Can support mitochondrial and cellular function

Can helps bolster mitochondria growth

Unique herbal blend that can supports resilience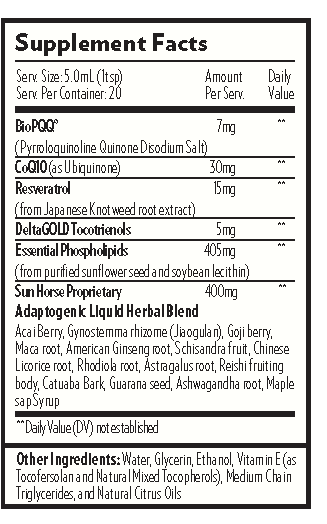 Quicksilver Scientific The One should be stored in the Fridge and used within 60 days of being opened.
Whilst this product needs to be kept cool to maintain potency it will maintain potency when exposed to warm temperatures for up to 7 days. If your product arrives warm, it is NOT damaged as it was cold when it left our warehouse. 
We recommend that customers outside of the UK do not select standard shipping for this product.
For best results keep out of direct sunlight.
Shelf Life unopened is 1 year 
*This is a refrigerated product and is not eligible for refunds or replacements.
---
Recommend this product to a friend or loved one
You will receive 400 Reward Points when your friend spends £30 or more on their order.
Your friend will get £4 off their first order.
LOGIN TO REFER YOUR FRIEND