Quicksilver Scientific Combined test - Mercury Tri Test AND Blood Metals Panel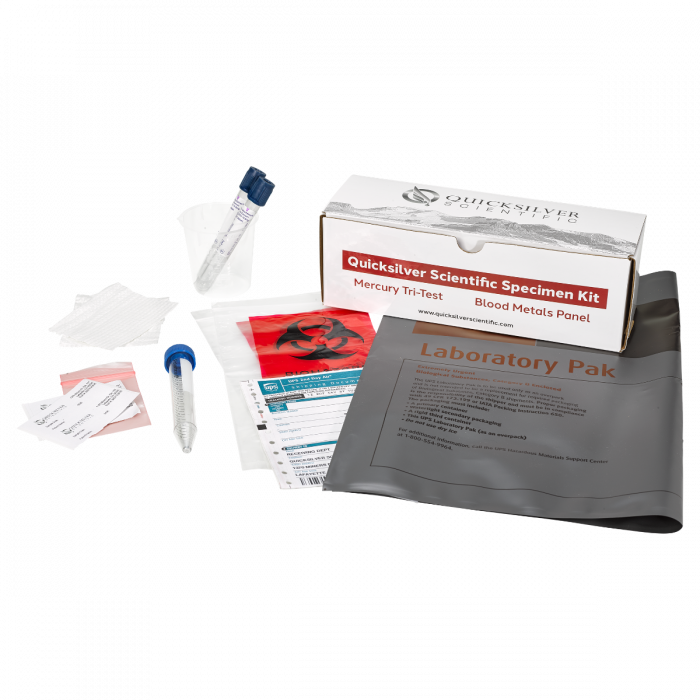 by QuickSilver Scientific®
Code: QSCOMBINED
Love Proactive Healthcare. I think they sell some of the best supplements on the market. Some of these products cannot be bought anywhere else in the UK and you certainly won't find Quicksilver Scientific products at a better price. There delivery is always fast and problem-free and the one time they sent me the wrong product, their customer care team were easy to get hold of and sorted the issue straight away. They cannot be faulted.

I encountered some minor problems before ordering and staff kindly helped me to place order for my favourite items.

Very reliable,trustworthy company. Only one little detail- delivery could off been quicker

I purchased Gaba and Lymphomyosot and was impressed at the speed of delivery, the packaging and the price. Packaging is an issue if mine - when goods come in inappropriate boxes. Your system is perfect. Good show.

Excellent customer service

Have been buying my Megaspore and other products from Proactive Healthcare regularly for a couple of years. Extremely efficient service, delivery always prompt and lovely people to deal with. Just wish other supplement suppliers were as good.

Excellent service

Great products and cheapest I've found on line. I particularly love the Biocidin range, these are amazing and really work. Would highly recommend these and this site. Quickly delivered and very helpful. 5 * service.

The great range of great quality products, makes Proactive Health an excellent company to do business with

Wide offer with affordable prices. Great customer service and also fast delivery. Highly recomended. Thank You.

Really good company. Good selection of products, prompt delivery.

fantastic product and service - will be ordering again

I bought biocidin liquid and biocidin LSF while fighting candida, lyme and parasites. It helped a lot. Change wasn't instantenious, but I progressed well. No reaction accoured while maximazing the dosage.

It was very easy to open an account and the order placed was promptly delivered.

Excellent well researched and well priced range of products. Quick delivery and always helpful if ever I have any questions pre purchase. Would highly recommend!

Helpful, quick replies when I was wondering which Quicksilver products to order, thank you.

Really like the science behind the products.

Supplements not available elsewhere in the UK. Prompt service. Will reorder from this Company.

Proactive Healthcare sell top of the range products which I have personally have benefited from, I have recovered totally naturally no drugs from aids. The deleveries and care of delivery are very good, eve packing them with freezer packs in height of summer. I also enjoy their updates

Superb selection of top quality supplements and always delivered promptly.
Product Description

Benefits

Shipment process
Quicksilver Scientific's Mercury Tri-Test™ screens for a broad range of potentially toxic and nutrient metals to show elevated exposure to toxic metals or imbalances of nutrient metals in whole blood. 
The Mercury Tri-Test™. requires a sample of blood, hair, and urine to perform mercury speciation analysis and assess both the body burden and ability to excrete each form of mercury. 
Quicksilver Scientific's Blood Metals Test screens for a broad range of potentially toxic and nutrient metals to show elevated exposure to toxic metals or imbalances of nutrient metals in whole blood. The elements evaluated with this test are:

Nutrient Elements: Calcium, Copper, Lithium, Magnesium, Manganese, Molybdenum, Selenium, Zinc

Potentially Toxic Elements: Antimony, Arsenic, Cadmium, Cobalt, Lead, Mercury, Silver, Strontium
Provides analysis for inorganic and methyl mercury

The only clinical testing suite that utilizes blood, hair, and urine

Utilizes mercury speciation analysis

Show elevated exposure to toxic metals

Measures levels for 15 metals

Screens for a broad range of nutrient and toxic metals
FedEx Collection is included in the price when you purchase your test from us within the EU (outside countries will have to ship it back themselves)
You will need to arrange to have your blood drawn for these tests. The first thing is to arrange this blood draw with your local clinic.
We recommend you do this Mon-Wed in the morning and have your test kit ready for collection before 12pm that same day.
You MUST contact us to arrange the FedEx collection allowing us a minimum 24 hours' notice of when your blood draw will be. 
You will need to be able to print the FedEx paperwork off to give to the driver.
When you have booked your blood test please email fedex@pahc.co.uk with the subject FedEx collection and provide your name, practitioners name who bought the test (if applicable) The pick up address, your telephone number and the time available (no later than 12pm) 
When you have received your paperwork please sign the bottom of the last three pages.
Put your kit into the FedEx pack and when the driver comes hand it to him along with the document pouch and the paperwork, he will do the rest for you.
Do not panic if for whatever reason FedEx do not reach you that day, your blood can be put into the fridge and collected the next day
Your results will take approx. 3-4 weeks. They will usually be sent to your practitioner or ourselves and then forwarded onto you.
---
Recommend this product to a friend or loved one
You will receive 400 Reward Points when your friend spends £30 or more on their order.
Your friend will get £4 off their first order.
LOGIN TO REFER YOUR FRIEND