Replacement Jupiter Filter Cartridge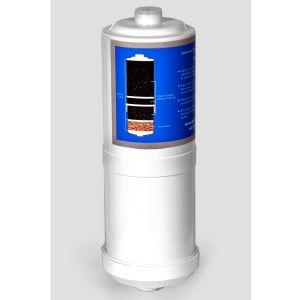 ---
Recommend this product to a friend or loved one
You will receive 400 Reward Points when your friend spends £40 or more on their order.
Your friend will get £4 off their first order.
LOGIN TO REFER YOUR FRIEND
by AlkaViva®
Code: JUPFILTER
REPLACEMENT JUPITER FILTER -  Composed of  Carbon, Calcium and Tourmaline  Layers separated by Hollow fibre layers.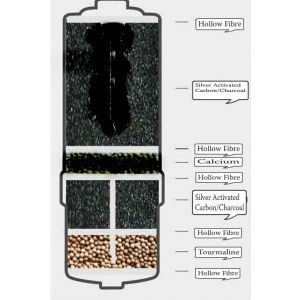 This filter has nine separate stages of filtration
The primary filtering media is Granulated Activated Carbon. There is silver impregnated into the carbon to make sure that bacteria does not grow. Because it is impregnated into the carbon, the silver does not leach into the water.
The Filter also includes five fibre layers. These layers provide extra effectiveness. The filter also includes calcium plus a layer of Bio ceramic Tourmaline. The calcium not only helps to slightly re-mineralise the water but also naturally sweetens the water and changes volatile fluorine molecules into a benign compound (calcium fluoride).

The tourmaline in this patented, state-of-the-art filter really makes a difference to the ability of the water to carry an ionized charge naturally. As the water passes over the tourmaline crystals the ORP is naturally decreased and the water made more bio-available. What this means is when water passes through your Jupiter even in "Purified mode the water will come out slightly ionized!

Replacement Filters are easy to fit, and on average need replacing on an annual basis (dependent on water quality and Ioniser usage).
✓ We're Here To Help!  0345 60 61 301 Mon-Fri (10am-4pm)
✓ FREE UK SHIPPING ON ALL ORDERS OVER £30!
✓ 5* Reviews Our Customers Love Us!