Biomic Sciences | Restore® non-toxic mineral supplement 8/16/32oz
---
Recommend this product to a friend or loved one
You will receive 400 Reward Points when your friend spends £40 or more on their order.
Your friend will get £4 off their first order.
LOGIN TO REFER YOUR FRIEND
by RESTORE® | Biomic Sciences LLC
Code: RESTORE
Product Description

Instructions for use:

Additional Information:

Contents

Reviews
Leading institutions, the doctors and scientist at Biomic Sciences LLC bring to market unique dietary supplement and health products that address basic dietary and health issues affecting a large percentage of the U.S. population.
Made in the U.S.A., RESTORE is a plant-derived mineral supplement that creates a firewall against toxins entering the gut wall. Restore creates a biological environment for good gut bacteria to grow and flourish to improve good gut health 
Gut Health
Restore is a new generation, earth-derived supplement. It is not a probiotic. It is not a prebiotic. Rather, it is a carbon rich, alkaline liquid, with lignite derived trace organics and essential trace amino acids, that promotes an optimal environment in the gut. With 70% of the immune system located in the gut, this optimal gut environment leads to great gut health.
The hallmark of Restore is that it is based in science. Research has shown Restore to be non-toxic and to support the tight junction cells of the gut lining.
Non-toxic
For example, we performed the "gold standard toxicology study on Restore gut supplement and showed that it is non-toxic on kidney cells even at high doses.
Gut Barrier
Additionally, Restore has been shown both in the laboratory and clinically to help support the functioning of the gut barrier and improve gut health. In experiments, toxins like herbicides and gluten have been shown to degrade the gut barrier. Restore has been shown to promote the strengthening of the tight junction gut barrier in small and large gut membrane cells for gut health.
Lignite Extract
One of the main elements in Restore is the lignite extract. Lignite comes from decomposed prehistoric matter. As plants decompose, they first form peat, which then turns into humate, then lignite, then leonardite and finally to coal. All of these are rich in carbon. One of the differences between all of these elements is the amount of time and pressure have been applied to them.
✓ We're Here To Help!  0345 60 61 301 Mon-Fri (10am-4pm)
✓ FREE UK SHIPPING ON ALL ORDERS OVER £30!
✓ 5* Reviews Our Customers Love Us!
Standard Usage: One teaspoon three times a day before or with meals for those over age 2, and 1/4 teaspoon three times a day typical usage for under two years old. Use can increase to 1 Tablespoon three times daily to support health goals, although 3 teaspoons per day is adequate for most individuals. At 3 teaspoons per day, an 8 oz bottle is a two-week supply, 16 oz a one-month supply, and 32 oz the best value as a two-month supply. Taking RESTORE before meals is preferred for maximum efficacy. Optimally 30 minutes before a meal because of RESTORE's protective effects versus gluten and especially glyphosate, but you can take it immediately before, with a meal, or after a meal, or on an empty stomach, and still receive benefit. 
RESTORE is vegan, naturally gluten-free, dairy-free, soy-free, latex-free, sulfite-free, preservative-free, non-GMO, and certified glyphosate residue free. It is produced in a facility free of allergens, including peanuts and tree nuts.
Handling and interactions: RESTORE does not need to be refrigerated, even after opening, although it can be refrigerated for long-term storage or for taste preference. Shelf life is minimum six years. RESTORE is quite stable — we recommend taking it alone or adding it to non-chlorinated water in most cases; fresh juices or whole foods can also be used to mix it with a dietary element, though in general for best efficacy we like it before food intake. It should be taken separately from iodine and ASEA. Please note — RESTORE supports healthy gut membranes. These returns expected drug absorption to normal levels and may improve bioavailability of your supplements and food nutrients. If you are on a medication that requires blood level testing to adjust the dose, such as blood thinners or seizure medications, you should discuss RESTORE with your doctor, who may want to get testing done within a week of taking RESTORE, as you would do with a diet change or adding other mineral supplements.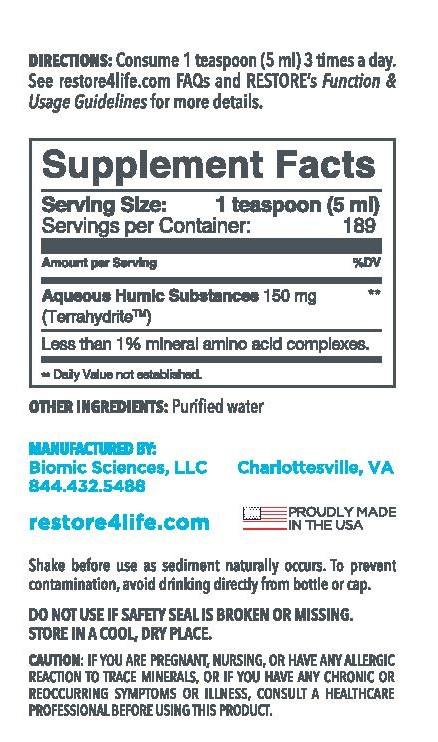 "Restore has helped me so much. I can actually eat things I was unable to eat before without feeling bloated and sick. I am on my third bottle and it took about halfway through the first bottle before I really noticed the big change. I have done a lot of research on the science behind this and I believe ultimately the proof is in how it works for each person. It has changed my life! I no longer have to worry about my stomach issues. That is crazy because I have had them for 30 years. I have tried a lot of things, but I stick with what works, and RESTORE works!!!"
— Valerie Friesen, January 2018