Sleep Aid Topical Patch for Kids | 30 Day Supply | PatchAid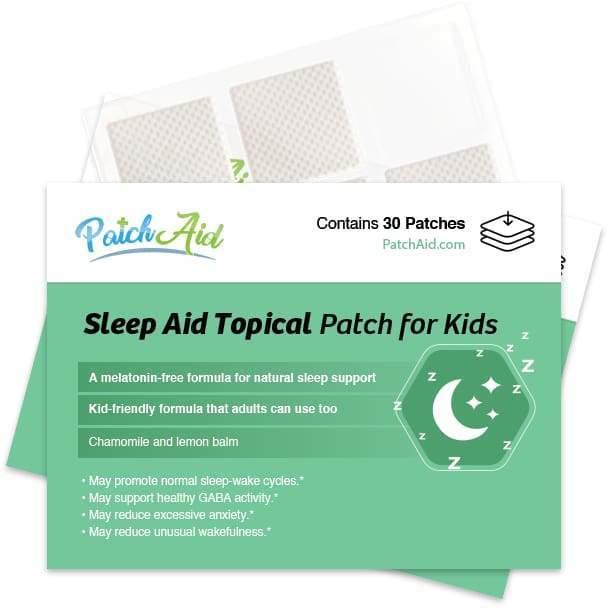 ---
Recommend this product to a friend or loved one
You will receive 400 Reward Points when your friend spends £40 or more on their order.
Your friend will get £4 off their first order.
LOGIN TO REFER YOUR FRIEND
by PatchAid
Code: PADKIDSLEEP
Overview

Description

Ingredients

Usage Guide
Kids need their sleep, and any parent knows that the effects of being low on sleep are real and severe. Sleep lets kids be more active, learn better, and be in a better mood during the day, while lack of sleep can lead to cranky kids who have trouble learning and even regulating their hunger levels! So what can you do when your kids are not sleeping well? Sleep Aid Topical Patch for Kids by PatchAid is designed to be safe for kids who need help with their shut-eye.
Getting enough sleep is not just an issue for kids. A third of American adults are chronically short on sleep, and many of the rest regularly experience nights without enough sleep. If you are one of them, you know that the results can include feeling tired during the day, having trouble thinking and concentrating, and even having accidents. Anxiety, overstimulation, and excitement can all lead to trouble sleeping.
✓ We're Here To Help!  0345 60 61 301 Mon-Fri (10am-4pm)
✓ FREE UK SHIPPING ON ALL ORDERS OVER £30!
✓ 5* Reviews Our Customers Love Us!
✓ Same Day shipping on orders placed before 1pm
Sleep Aid Topical Patch for Kids by PatchAid is suitable for adults and kids who are sensitive to melatonin. Sleep Aid Topical Patch for Kids by PatchAid contains natural remedies that do not include melatonin and are not known to cause dependency. Ingredients such as skullcap, purple passionflower, and valerian root have been used for improving mood and reducing anxiety. Lemon balm, lavender, California poppy, and chamomile are used to induce calm and relaxation, which can improve sleep.
Sleep Aid Topical Patch for Kids by PatchAid is free from melatonin and is non-habit-forming.
The Sleep Aid Topical Patch for Kids by PatchAid
May promote normal sleep-wake cycles.
May support healthy GABA activity.
May reduce excessive anxiety.
May reduce unusual wakefulness.
The Sleep Aid Topical Patch for Kids by PatchAid offers:
A melatonin-free formula for natural sleep support.
A kid-friendly formula that adults can use, too.
Chamomile and lemon balm.
| Patch Aid Sleep Aid Topical Patch for Kids (Melatonin-Free) | Amount Per Serving | % Daily Value |
| --- | --- | --- |
| Alfalfa (Medicago Sativa) | 5mg | * |
| Blue Skullcap (Scutellaria Lateriflora) | 5mg | * |
| California Poppy (Eschscholzia Californica) | 5mg | * |
| Chamomile (Matricaria Recutita L.) | 7.5mg | * |
| Lavender (Lavandula Angustifolia) | 7.5mg | * |
| Lemon Balm (Melissa Officinalis) | 5mg | * |
| Menthol | 2mg | * |
| Pasque Flower (Pulsatilla) | 5mg | * |
| Purple Passionflower (Passiflora Incarnate) | 5mg | * |
| Valerian Root (Valeriana Officinalis) | 10mg | * |
*Daily value not established.
Please Note:  This product is not intended to diagnose, treat, cure or prevent any disease.
To Use:
Select an area of skin. The patch will stick better if you choose an area of skin without hair, lotion, or oil residues such as your shoulder, back, or hip. Clean and dry the skin.
Remove the patch from the release liner.
Adhere the patch to your skin, pressing firmly.
For best results, it is recommended to wear PatchAid patches for 8 hours. There is no additional benefit of wearing the patch longer than 8 hours.
When finished, remove the patch, fold in half, and discard.
Repeat with a new patch the next day.
It is ok to wear multiple PatchAid patches at a time.