Sufficient-C® High Dose Lemon Peach Immune-Ade drink mix - 125 gram travel size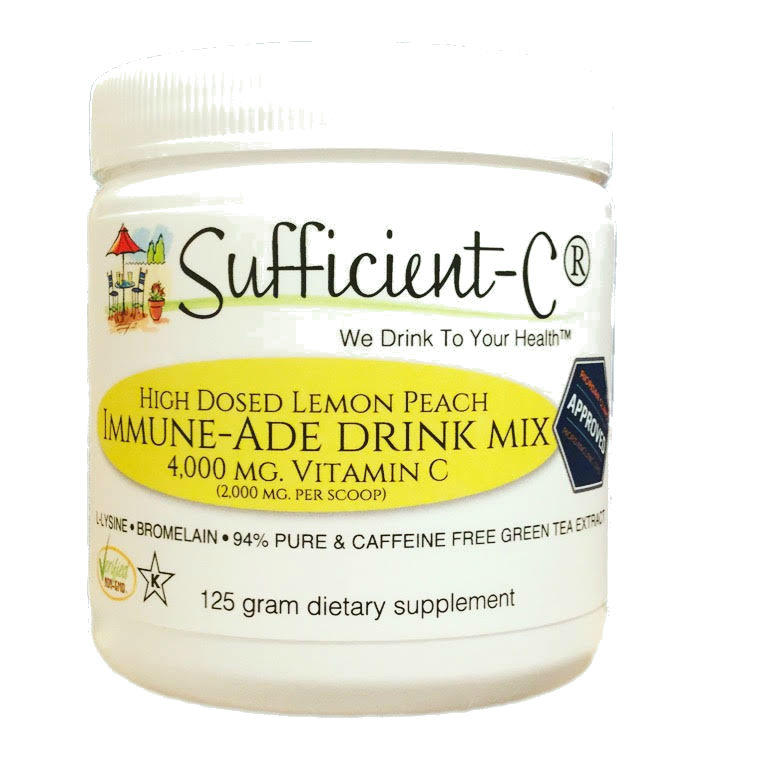 by Sufficient-C
Code: SUFFC
Really good company. Good selection of products, prompt delivery.

fantastic product and service - will be ordering again

I bought biocidin liquid and biocidin LSF while fighting candida, lyme and parasites. It helped a lot. Change wasn't instantenious, but I progressed well. No reaction accoured while maximazing the dosage.

It was very easy to open an account and the order placed was promptly delivered.

Excellent well researched and well priced range of products. Quick delivery and always helpful if ever I have any questions pre purchase. Would highly recommend!

Helpful, quick replies when I was wondering which Quicksilver products to order, thank you.

Really like the science behind the products.

Supplements not available elsewhere in the UK. Prompt service. Will reorder from this Company.

Proactive Healthcare sell top of the range products which I have personally have benefited from, I have recovered totally naturally no drugs from aids. The deleveries and care of delivery are very good, eve packing them with freezer packs in height of summer. I also enjoy their updates

Superb selection of top quality supplements and always delivered promptly.
Product Description

Size Variations
Lean on Sufficient-C® Lemon Peach Immune-ade drink mix for the immune and anti-inflammation support you need and the sweet, satisfying flavour you crave!  We understand that Vitamin C is the foundation of health. However ingesting large amounts of vitamin C and other beneficial immune boosting nutrients can be daunting, particularly in the higher doses or for that unforeseen emergency when your immune system needs the EXTRA immune and inflammation fighting support the most.

Sufficient-C® has uniquely and naturally combined refreshing flavour with high dosed function. In fact, nothing about Sufficient-C® is hard to swallow!  
Now you can enjoy the unusual ease of getting up to 4,000 mg. of non-GMO vitamin C ( 2,000 mg. per scoop ) plus generous doses of L-lysine, Bromelain and a 94% pure green tea extract in a refreshing, great tasting, highly immune supportive drink mix!  Sufficient-C® goes well with meals, is a thirst quenching treat after a hot workout and is simply satisfying to drink just because! It is 100% water soluble so there are no particles floating about making it aesthetically pleasing and a surprising way to support your immune system throughout your day. It can be very challenging in modern times, getting ample amounts of vitamin C and other beneficial nutrients through diet alone especially when encountering a health emergency. This is unfortunate since Vitamin C is the foundation of immune health. History has proven that the higher, more effective doses are what the immune system needs for the strength required for less susceptibility to viruses and bacteria.  In the higher doses, vitamin C is a natural antibiotic,  natural antiviral, natural anti-inflammatory and even natural antihistamine.  However for medicinal effect, sufficient fortification, spread throughout the day is key.  No sugar or sugar derivative has been added to Sufficient-C®.
 Sugar impedes vitamin C absorption! Rather an organic, premium grade of stevia has been used for a satisfying, compelling sweetness! Now you can kick back and enjoy high dosed flavour with function rather than experience the daunting task of swallowing many pills and capsules. We've made it easy for you to get the high dosed, hydrating support your body needs. Flavour with function doesn't get sweeter than this!
Non-GMO • Gluten-Free • Vegan • Sugar-Free • Truly Natural  • Organic Stevia Sweet!
✓ We're Here To Help!  0345 60 61 301 Mon-Fri (10am-4pm)
✓ FREE UK SHIPPING ON ALL ORDERS OVER £30!
✓ 5* Reviews Our Customers Love Us!
You are viewing the Sufficient-C Travel size option 125 gram pot.
This product is also available to buy in 250 grams by clicking here
---
Recommend this product to a friend or loved one
You will receive 400 Reward Points when your friend spends £30 or more on their order.
Your friend will get £4 off their first order.
LOGIN TO REFER YOUR FRIEND