Ultimate Pain Balm | 50ml | Cymbiotika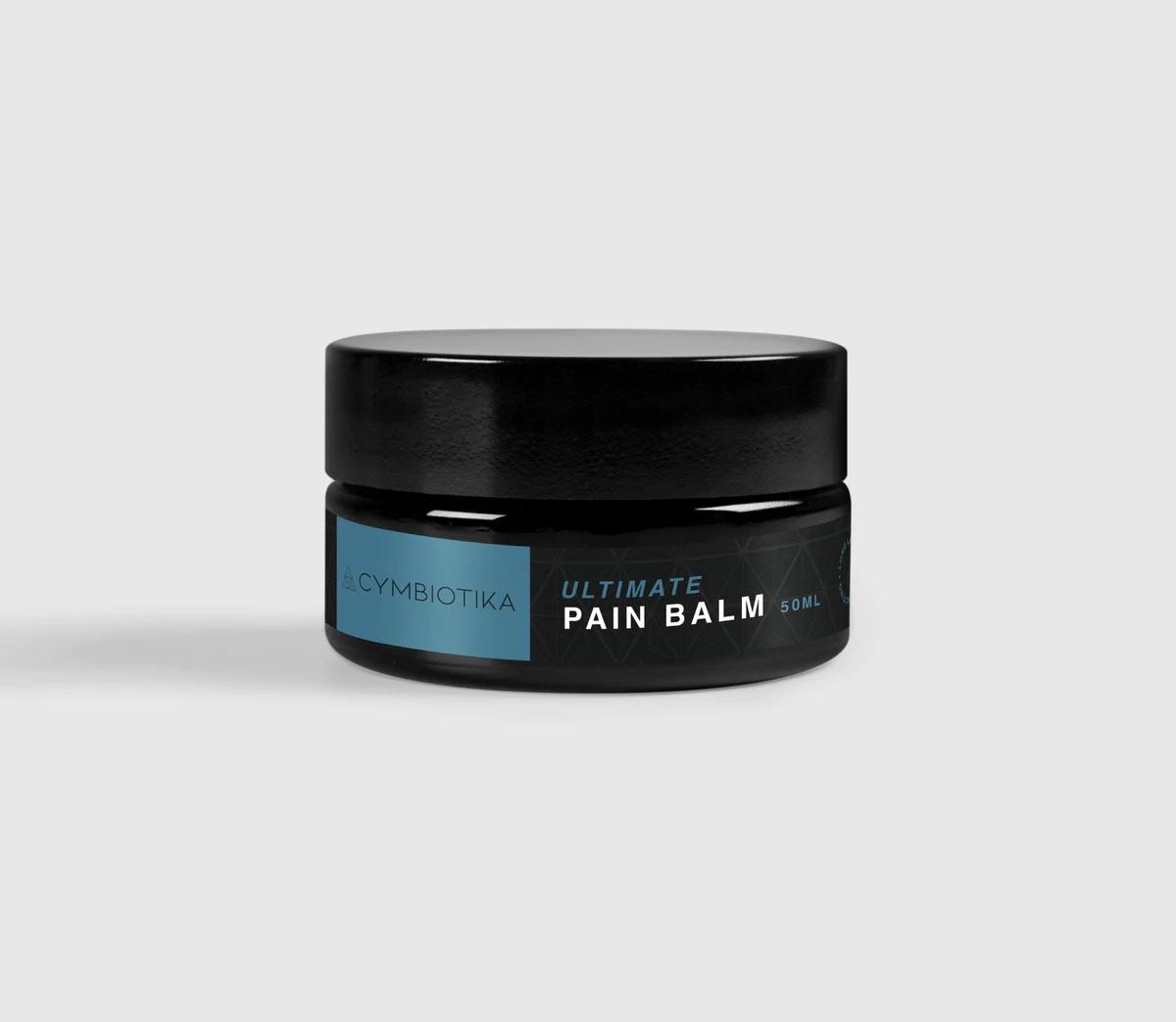 ---
Recommend this product to a friend or loved one
You will receive 400 Reward Points when your friend spends £40 or more on their order.
Your friend will get £4 off their first order.
LOGIN TO REFER YOUR FRIEND
by Cymbiotika
Code: CYMPBALM
Description

Ingredients

Usage Guide
Infused with powerful plant compounds and stem cells that are believed to soothe aches and pains, this medicinal balm penetrates deep below the skin's surface to help relax and warm the muscles while assisting with the reduction of inflammation.
Our formula helps relieve pain associated with tension headaches, menstrual pain, rheumatoid arthritis, neck, back, and joint pain, and gout.

Fast-acting formula
Supports healing and gives potential long-lasting relief and comfort

Stimulates blood flow and increases circulation

Made with natural ingredients and botanical extracts
MCT Oil: Medium-chain triglycerides derived from coconut oil.
Beeswax: Sustainably harvested from bees. High in antioxidants and considered beneficial topically for healing.
Menthol Crystals: Also known as Mentha arvensis (Japanese Peppermint) used topically to help relieve sore muscles and may help to relieve nasal congestion.
White Camphor: Used topically to help alleviate pain and swelling by making sensory nerves feel numb, thereby easing pain and inflammation.
Peppermint Oil: Used topically for headaches, muscle aches, and joint pain.
Spearmint Oil: Used topically to help relieve skin irritations, such as itchiness and insect bites.
Cinnamon Oil: Known to have antioxidant and antibacterial properties, which may accelerate wound healing.
Arnica Oil: Used topically for a wide range of conditions, including bruises, sprains, muscle aches, wound healing, superficial phlebitis, joint pain, inflammation from insect bites, and swelling from broken bones.
Turmeric Oil: Powerful Ayurvedic herb used to help relieve inflammation.
Calendula Oil: Extracted from marigold flowers, used topically to help reduce inflammation and speed healing.
Vitamin E Oil: Used to support wound healing.
Blue Tansy Oil: Suggested to help reduce inflammation while providing a relaxing scent.
Lavender Oil: Powerful potential anti-inflammatory and relaxation properties.
Ginger Oil: Warms with considered anti-inflammatory properties.
Grape Seed Oil: Contains fatty acids that may help reduce inflammation.
Eucalyptus Oil: Research suggests that eucalyptus helps ease joint pain and soothes pain and inflammation associated with many conditions, including rheumatoid arthritis.
Meadowfoam Seed Oil: Hydrates the skin by creating a barrier to prevent moisture from escaping.
Argan Oil: Contains a large number of potential healing properties, including antioxidant and anti-inflammatory properties.
Pineapple Enzymes: Has been shown to aid in healing and help reduce inflammation.
Malus Domestica Fruit Stem Cells: Have suggested antioxidant and anti-inflammatory properties. Also rich in fatty acids and phytonutrients.
Argania Spinosa Sprout Stem Cells: Antioxidant and potential anti-inflammatory properties. Also rich in fatty acids and phytonutrients.
Black Pepper Extract: Used to help reduce inflammation and arthritis.
Bearberry Oil: Supports the healing process of the skin.
Ginger Root Extract: Potentially reduces inflammation and soothes irritated skin.
Calendula Oil: Soothing for the skin. Considered anti-inflammatory, antibacterial properties useful for helping heal wounds, soothing eczema, and used as an antiseptic.
Prickly Pear Oil: A wonderful hydrator with potential antibacterial, and antioxidant properties.
Marula Oil: A lightweight oil that absorbs easily.
Apply balm liberally and gently massage over the affected area.
Do not use it on broken skin or mucous membranes. Wash hands after application and avoid contact with eyes.

Repeat daily, as needed.
Pro-Tip
Relax and restore. Apply pain balm to areas in need and enjoy a warm glass of Shilajit while the balm begins to soak in and relax the muscles. Shilajit works synergistically, removing acids from the body and replacing them with essential minerals required for healing.