Vitamin C+ Elderberry | Quicksilver Scientific | 100ml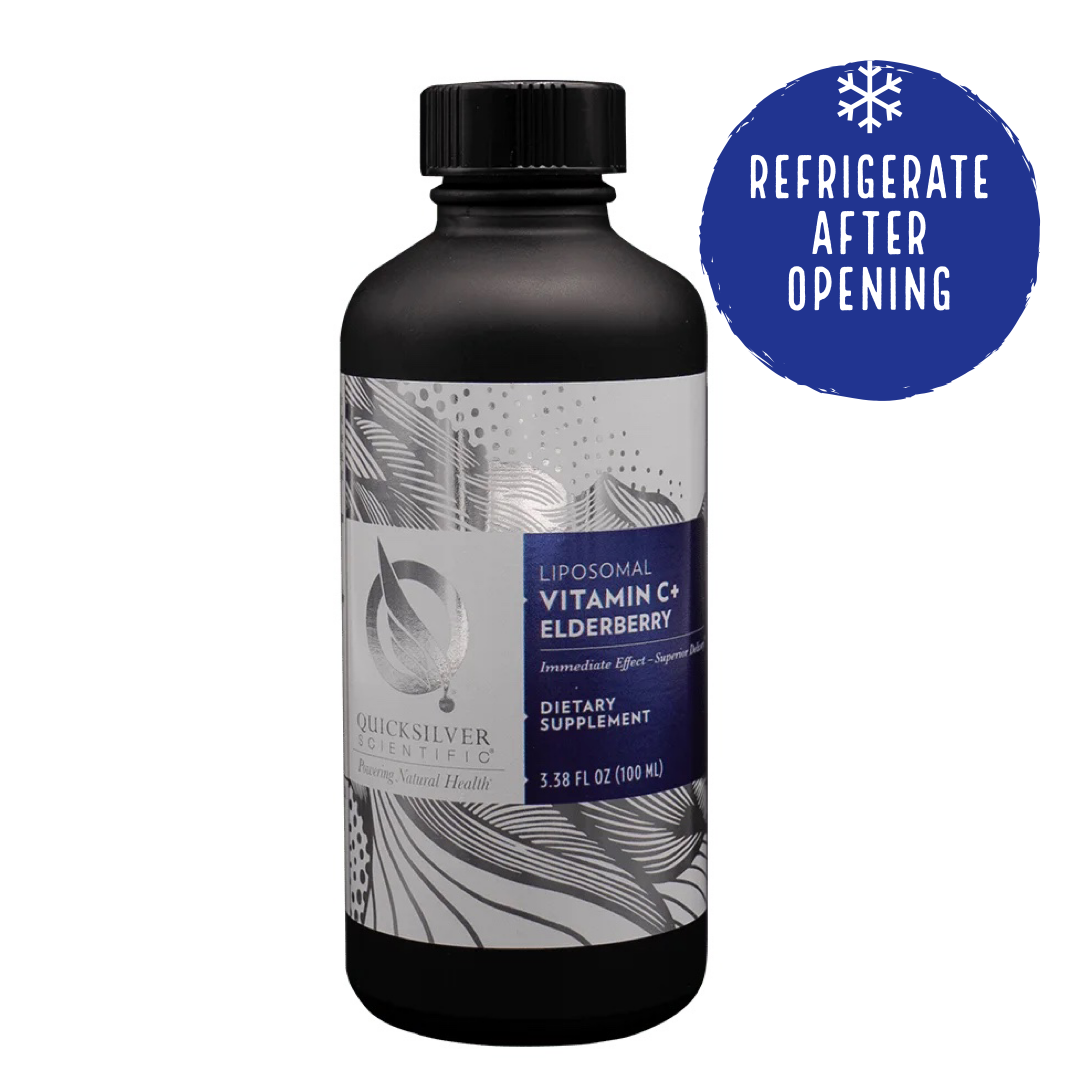 ---
Recommend this product to a friend or loved one
You will receive 400 Reward Points when your friend spends £40 or more on their order.
Your friend will get £4 off their first order.
LOGIN TO REFER YOUR FRIEND
by QuickSilver Scientific
Code: QSELDERC
Product Description

Benefits
Liposomal Vitamin C+ Elderberry 
Liposomal Vitamin C+ Elderberry contains 1000 mg vitamin C, 100 mg ElderCraft® European black elderberry (Sambucus nigra L.) of the Haschberg variety, and 8 mg vitamin E as DeltaGold® tocotrienols. This potent combination is designed to synergistically fortify the body's natural defenses to maintain optimal health.  
Vitamin C is a powerful water-soluble nutrient with antioxidant and immunity-enhancing properties that has been shown to strengthen and build resiliency in the body. It is an essential component in the immune response, supporting the production of white blood cells to keep common seasonal bugs in check.
Black elderberry of the Haschberg variety is abundantly rich in anthocyanin flavonoids. This berry is known for its ability to help bolster immune defences against microbial invaders and shorten the duration of common health disruptions. It is able to help coordinate an efficient immune response by promoting the production of vital immune signaling molecules while deterring unwanted bodily irritations.
The lungs are highly susceptible to seasonal bugs along with the resulting elevation in free radicals. Vitamin C supports lung cell defences to optimize respiratory health. Vitamin E also safeguards your delicate cell membranes to reduce the negative impact caused by seasonal challenges. Together, vitamin C, elderberry, and vitamin E support cellular antioxidant potential to diminish the effects of free radical caused by invaders.
✓ We're Here To Help!  0345 60 61 301 Mon-Fri (10am-4pm)
✓ FREE UK SHIPPING ON ALL ORDERS OVER £30!
✓ 5* Reviews Our Customers Love Us!
✓ Same Day shipping on orders placed before 1pm


Promotes immune defences
Supports respiratory health
Enhances antioxidant potential
Supports healthy barrier integrity of the airways, skin and GI tract