Waveex | EMF Protection Chip for mobile devices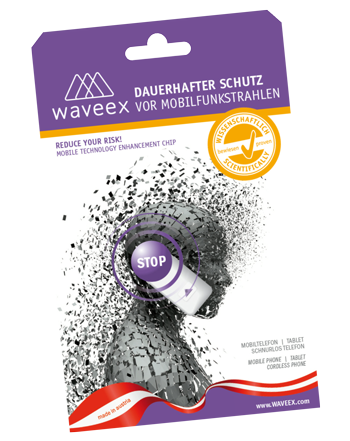 ---
Recommend this product to a friend or loved one
You will receive 400 Reward Points when your friend spends £40 or more on their order.
Your friend will get £4 off their first order.
LOGIN TO REFER YOUR FRIEND
Overview

Effects

How it Works
PERMANENT PROTECTION AGAINST MOBILE PHONE RADIATION
Every day we spend more and more time using our tablets, mobile and smart phones. We are constantly sharing information, networking and communicating with our friends, our business partners, or using these devices just for fun.
The legally defined specific absorption rate (SAR) only protects our bodies against the influence of high- (radio-)frequency radiation. WAVEEX is the only technology in the world that expands this protection to a biological level. This is possible by positively changing the low-frequency electromagnetic fields that are formed
WAVEEX is based on a unique and revolutionary technology that was developed and perfected by married couple Sonja and Helmut Theuretzbacher. The couple, who now live back in Austria, have been researching the modification of the harmful effects of low-frequency radiation that arise when using mobile devices for years.
With their method of smoothing out the harmful magnetic field peaks of electromagnetic fields, they finally achieved a breakthrough: the creation of a digital protective shield that permanently protects the human organism from harmful radiation.
WAVEEX consists of seven layers. The two outer layers are made of plastic. The inner layers contain a wide variety of circuits, which are post-processed after production using a special process. These circuits smooth out the resulting magnetic field gradients in the ELF frequency range (0 – 100 Hz) and thereby make the transmission signal compatible with our body
✓ We're Here To Help!  Tel - 0345 60 61 301 
✓ FREE UK SHIPPING On all orders over £30!
✓ 5* Reviews Our Customers Love Us!
✓ Same Day shipping on orders placed before 1pm
BIOLOGICAL EFFECT
Mobile phones and W-Lan devices create an artificial, low-frequency electromagnetic field. Our body also communicates at the cellular level using electromagnetic signals that are disrupted by mobile phone emissions. This leads to changes in the blood count and DNA and entails numerous health risks. WAVEEX normalizes hormone and protein production, rebuilding DNA protection and preventing blood count changes.
PHYSICAL EFFECT
The physical effect of WAVEEX can be traced exactly and in detail in a number of studies and reports. The physical effect consists of the smoothing effect of the WAVEEX technology, which neutralizes the harmful magnetic field peaks (gradients) in the electromagnetic field. This creates a natural digital protective shield that permanently shields the human organism from low-frequency radiation.
WHEN DOES WAVEEX HELP?
Do you know that feeling? Does your ear feel numb, do you have a mild to severe headache or just feel dull when you talk on the phone a lot every day?
PC, tablet, laptop and mobile phone - all of this makes our daily life quick and easy. However, the effects of the resulting electromagnetic fields (EMF) are not harmless and cause various stress symptoms.
SYMPTOMS OF ELECTROMAGNETIC EXPOSURE:
Poor concentration or memory
DNA damage through to the development of cancer cells
HOW IT WORKS USING THE EXAMPLE OF TELEPHONING
Active telephoning creates a low-frequency electromagnetic field in the vicinity of the mobile phone. However, this is not equally strong everywhere: it contains dips and peaks, the so-called gradients. Abrupt changes in the magnetic field irritate our body. Gentle gradients, on the other hand, are compatible and harmonious for our bio-organism. WAVEEX breaks down these peaks into gentle gradients, making these electromagnetic fields tolerable for our body.