Ayush Herbs Rentone 90
by Ayush Herbs
Code: AYUSHREN
I encountered some minor problems before ordering and staff kindly helped me to place order for my favourite items.

Very reliable,trustworthy company. Only one little detail- delivery could off been quicker

I purchased Gaba and Lymphomyosot and was impressed at the speed of delivery, the packaging and the price. Packaging is an issue if mine - when goods come in inappropriate boxes. Your system is perfect. Good show.

Excellent customer service

Have been buying my Megaspore and other products from Proactive Healthcare regularly for a couple of years. Extremely efficient service, delivery always prompt and lovely people to deal with. Just wish other supplement suppliers were as good.

Excellent service

Great products and cheapest I've found on line. I particularly love the Biocidin range, these are amazing and really work. Would highly recommend these and this site. Quickly delivered and very helpful. 5 * service.

The great range of great quality products, makes Proactive Health an excellent company to do business with

Wide offer with affordable prices. Great customer service and also fast delivery. Highly recomended. Thank You.

Really good company. Good selection of products, prompt delivery.

fantastic product and service - will be ordering again

I bought biocidin liquid and biocidin LSF while fighting candida, lyme and parasites. It helped a lot. Change wasn't instantenious, but I progressed well. No reaction accoured while maximazing the dosage.

It was very easy to open an account and the order placed was promptly delivered.

Excellent well researched and well priced range of products. Quick delivery and always helpful if ever I have any questions pre purchase. Would highly recommend!

Helpful, quick replies when I was wondering which Quicksilver products to order, thank you.

Really like the science behind the products.

Supplements not available elsewhere in the UK. Prompt service. Will reorder from this Company.

Proactive Healthcare sell top of the range products which I have personally have benefited from, I have recovered totally naturally no drugs from aids. The deleveries and care of delivery are very good, eve packing them with freezer packs in height of summer. I also enjoy their updates

Superb selection of top quality supplements and always delivered promptly.
Product Description

Key Features

Suggested Use

Supplement Facts
Ayurvedic Urinary Tract Support
RENTONE™ is a unique formula for kidney and urinary support that we have put together at Ayush using a combination of Eastern and Western herbs, in addition to other nutrients that improve the effect of the elimination system. Didymocarpus pedicellata is an Ayurvedic herb also known as pathar phori. Saxifraga ligulata, Tribulus terrestris, and Rubia cordifolia are known for having kidney supporting function. Ocimum sanctum (holy basil) is used in the formulation for its immune-supportive properties. Shilajit is an asphaltum (mineral pitch) obtained in the Himalayan region of India and is considered a rasayana (adaptogen). Shilajit contains at least 85 minerals in ionic form and has been used traditionally for centuries for genitourinary and immune support, as well as for its aphrodisiac properties. Arctostaphylos uva-ursi is a European herb, the leaves of which contain 10% of the bioavailable principle, arbutin, which splits into glucose and hydroquinone in the kidneys.
Cranberry has also traditionally been used to support the bladder and urethra. Mimosa pudica (also known as lajja, or lajwanti) is traditionally used for urinary system support. Beans of Dolichos biflorus, or kulatha beans, are used traditionally in support of urinary health. Cyperus rotundus produces tubers known as soucher, which support the renal, digestive and integumentary systems. Crataeva religiosa or varuna (three-leaved caper), contains saponins and tannins in its bark. In Ayurvedic medicine, varuna supports the bladder, helps support a healthy inflammatory response, and supports the genitourinary tract. Achyranthus aspera (apamarg) is traditionally used to normalize pH. Altogether, this is one of our most complex and powerful combinations to provide support to urinary and kidney health.
*These statements have not been evaluated by the Food and Drug Administration. These products are not intended to diagnose, treat, cure or prevent any disease.
Kidney and urinary support


Immune-supporting properties 

Improves effect of elimination system*
1 caplet one time daily or as directed by your physician.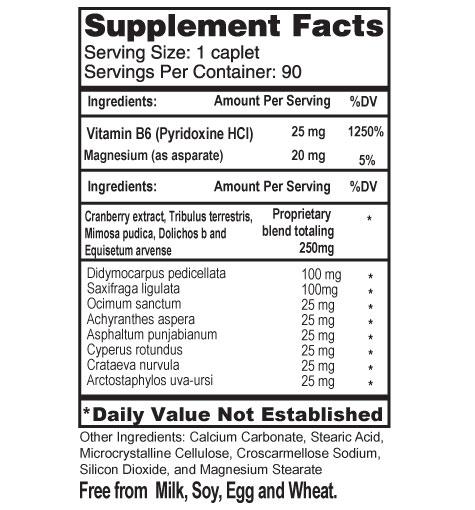 ---
Recommend this product to a friend or loved one
You will receive 400 Reward Points when your friend spends £30 or more on their order.
Your friend will get £4 off their first order.
LOGIN TO REFER YOUR FRIEND