Complete Cleansing Fibre | 240g | Trace Minerals
---
Recommend this product to a friend or loved one
You will receive 400 Reward Points when your friend spends £40 or more on their order.
Your friend will get £4 off their first order.
LOGIN TO REFER YOUR FRIEND
by Trace Minerals
Code: TMRCLC
Product Description

Ingredients

Usage Guide
Complete Cleansing Fibre provides a blend of whole and powdered psyllium seed husk, the amazing natural fibre with significantly higher soluble fibre than even oat bran. The fibre allows for a thorough cleanse without the discomfort of diarrhoea. We also added natural soluble acacia fibre and apple fruit fibre to round out the fibre complex.‡ We then added a high potency 10 strain probiotic complex to aid in the establishment of healthy intestinal flora and to promote healthy function in the intestinal tract. Best of all, it's completely natural so you can cleanse your body without interrupting your lifestyle. It's a great way to begin the road to optimum health.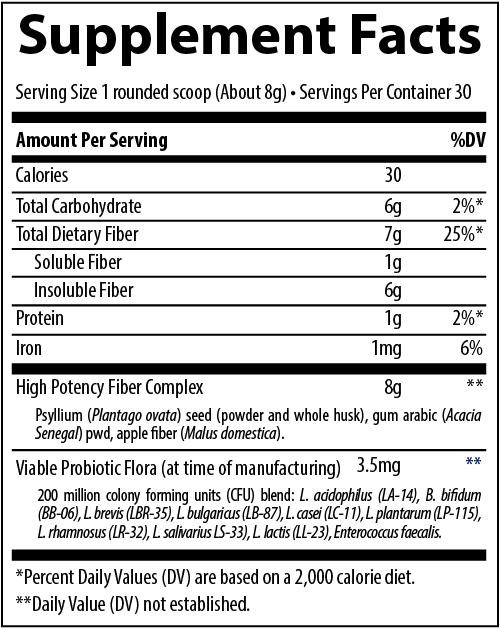 INGREDIENTS
Silicon dioxide.
ALLERGEN INFO
NO KNOWN ALLERGENS. GLUTEN FREE.
SUGGESTED USE
Mix 1 rounded scoop (8g) with 6-8 oz of water or juice. Stir and drink immediately. Follow with a full glass of water and drink plenty of ­Fluids throughout the day. Do not take less than 5 hours before bedtime for best results.
30 serving per container.
Soluble & insoluble fibre + prebiotics
Supports digestion, regularity, and healthy gut function
Heart healthy
Helps maintain healthy blood sugar levels
FIBER BLEND – Insoluble fibre acts as a carrier to assure the safe arrival of the probiotics past the harsh digestive tract to the lower bowel where it can flourish.‡ When the soluble fibre reaches the large intestine, the prebiotic fibres begin to ferment and yield short chain fatty acids, which support the function of many regulatory systems in the body.†
PROBIOTICS – 200 million colony forming units (CFU's) per serving of 10 complementing strains support healthy digestion, intestinal tone, and maintain healthy flora balance.†
PREBIOTICS – They benefit the body by boosting production of the beneficial cultures that naturally reside in the digestive tract and help aid digestion.†
† FOOD SUPPLEMENTS SHOULD NOT BE USED AS A SUPPLEMENT FOR A VARIED DIET AND HEALTHY  LIFESTYLE