Enzyme Science - Critical Digestion
by Enzymedica®
Code: CRITDIG
Really good company. Good selection of products, prompt delivery.

fantastic product and service - will be ordering again

I bought biocidin liquid and biocidin LSF while fighting candida, lyme and parasites. It helped a lot. Change wasn't instantenious, but I progressed well. No reaction accoured while maximazing the dosage.

It was very easy to open an account and the order placed was promptly delivered.

Excellent well researched and well priced range of products. Quick delivery and always helpful if ever I have any questions pre purchase. Would highly recommend!

Helpful, quick replies when I was wondering which Quicksilver products to order, thank you.

Really like the science behind the products.

Supplements not available elsewhere in the UK. Prompt service. Will reorder from this Company.

Proactive Healthcare sell top of the range products which I have personally have benefited from, I have recovered totally naturally no drugs from aids. The deleveries and care of delivery are very good, eve packing them with freezer packs in height of summer. I also enjoy their updates

Superb selection of top quality supplements and always delivered promptly.
Product Description

Instructions for use:

Additional Information:

Contents

Reviews
Enzymes are the most effective tools made by the body to aid digestion and metabolism. They turn the food we eat into energy (ATP) and unlock the energy for use in the body. A tremendous amount of energy is required to produce the metabolic, biochemical and digestive enzymes necessary for health and maintenance. When we fail to properly break down foods, the digestive process is disrupted. When there is an insufficient quantity of digestive enzymes present in the body, undigested food may pass into the large intestine and be acted upon by intestinal flora. The resulting reaction produces gas and discomfort. Enzyme supplementation encourages healthy digestion of proteins, fats, fibers and carbohydrates, in addition to promoting an optimally functional GI tract. Providing the body with a sufficient supply of enzymes decreases the amount of energy required to complete the digestive process. Enzymes provide therapeutic benefits beyond the GI tract by increasing physical vitality and general wellbeing.
Probiotics support regularity, aid the immune system, product digestive enzymes and manufacture essential vitamins B and K. When we consume probiotics, we promote an environment where beneficial microflora thrive. Critical Digestion contains one billion active probiotic cultures in each capsule.
Guaranteed potency at room temperature, the probiotics in Critical Digestion fuel the digestive process to produce additional lactase, protease and amylase enzymes to the lower GI tract. The enzymes offer synergistic benefits to the full spectrum formula, supporting optimal digestive health.
Adenosine triphosphate (ATP) produced in every cell, is found in all raw foods and is the body?s natural source of energy. Supplementing with ATP complements a healthy diet by increasing the energy potential of foods consumed. It is a primary signaling molecule for healthy cellular processes. One such process is the necessary production of Hydrochloric Acid (HCl) in the stomach, which supports protein digestion. ATP is also instrumental for the cells to benefit from the nutrition found in food. Without ATP no nutrients would be able to pass through the stomach?s membrane.
Stressors like age and exercise can diminish ATP levels. Supplementing with ATP and nutraceuticals that support ATP production may complement the body?s natural energy production. Supplementation may also decrease the energy demand of the digestive process, support nutrient absorption and improve HCl availability in the upper GI.
✓ We're Here To Help!  0345 60 61 301 Mon-Fri (10am-4pm)
✓ FREE UK SHIPPING ON ALL ORDERS OVER £30!
✓ 5* Reviews Our Customers Love Us!
Servings Per Container: 30
                  
Take 1 capsule per meal with the first bite of food. More may be taken as recommended by your healthcare practitioner.
Contains NO: Dairy, egg, preservatives, salt, sucrose, soy, wheat, yeast, nuts, corn, gluten, casein, potato, rice, artificial colours or flavours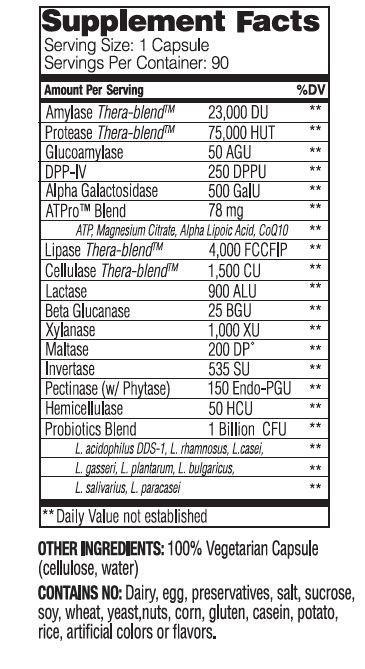 I implemented this product with my clients a few months ago. There is no question that the results are astounding. We've had not one single client continue to have gastro issues after starting CRITICAL DIGESTION as part of their daily regimen. We are overjoyed at the results in our practice. Dr. Marie Pace 
---
Recommend this product to a friend or loved one
You will receive 400 Reward Points when your friend spends £30 or more on their order.
Your friend will get £4 off their first order.
LOGIN TO REFER YOUR FRIEND