Enzyme Science - Intolerance Complex, Gluten, Dairy, Casein, and Phenol Digestive Enzyme Formula,
by Enzymedica®
Code: INTCOM
Really good company. Good selection of products, prompt delivery.

fantastic product and service - will be ordering again

I bought biocidin liquid and biocidin LSF while fighting candida, lyme and parasites. It helped a lot. Change wasn't instantenious, but I progressed well. No reaction accoured while maximazing the dosage.

It was very easy to open an account and the order placed was promptly delivered.

Excellent well researched and well priced range of products. Quick delivery and always helpful if ever I have any questions pre purchase. Would highly recommend!

Helpful, quick replies when I was wondering which Quicksilver products to order, thank you.

Really like the science behind the products.

Supplements not available elsewhere in the UK. Prompt service. Will reorder from this Company.

Proactive Healthcare sell top of the range products which I have personally have benefited from, I have recovered totally naturally no drugs from aids. The deleveries and care of delivery are very good, eve packing them with freezer packs in height of summer. I also enjoy their updates

Superb selection of top quality supplements and always delivered promptly.
Product Description

Ingredients

Suggested Use

Additional Information

Reviews
 90 Vegetarian Capsules
Food intolerance typically manifests in the digestive tract as occasional diarrhea, cramping, bloating, gas or upsets stomach. In contract to food allergies, the symptoms food intolerance are often delayed and may not occur until several hours or even a day intolerable food is ingested.
Identifying the particular food or food groups that cause sensitivity is a primary goal for addressing intolerance. Elimination diets are a common practice but not always possible or practical. Restaurant meals frequently contain ingredients containing gluten, lactose, and other common triggers, Reducing or eliminating trigger foods can be helpful, but dietary modification in combination with enzymes supplementation provides peace of mind and complete digestive support.
As an alternative to elimination, enzymes supplementation may assist and enhance the digestion of foods, therefore allowing greater availability of nutrients for the body. Enzymes are capable of breaking down dietary constituents small enough to minimize encounters of intolerance and maximize absorbability.
A full spectrum digestive enzymes formula, such as intolerance Complex, provides support for both more and less common food intolerances.  As lactose and gluten intolerance are the most widespread concern, intolerance Complex contains lactase for digesting the dairy sugar Lactose and DPP-IV activity for digesting gluten proteins found in wheat and other grains. Alpha Galactosidase is included for digesting gas-forming complex starches found in beans, grains and fibrous vegetables. Support for protein, fat and carbohydrate digestion rounds out the formula in order to expand the body?s capacity to liberate nutrients from foods eaten. By doing so, the fuel available for metabolism, repair and cellular health is increased.
Adenosine Triphosphate (ATP), produce in every cell, is founded in all raw foods and is the body?s natural source of energy. Supplementing with ATP complements a healthy diet by increasing the energy potential of the foods consumed. It is also a primary signaling molecule for healthy digestive processes. One such process is the necessary production of Hydrochloric Acid (HCI) in the stomach, which supports protein digestion. ATP in the intestinal contents also binds to receptors that stimulated proper peristalsis and mucosal integration.
✓ We're Here To Help!  0345 60 61 301 Mon-Fri (10am-4pm)
✓ FREE UK SHIPPING ON ALL ORDERS OVER £30!
✓ 5* Reviews Our Customers Love Us!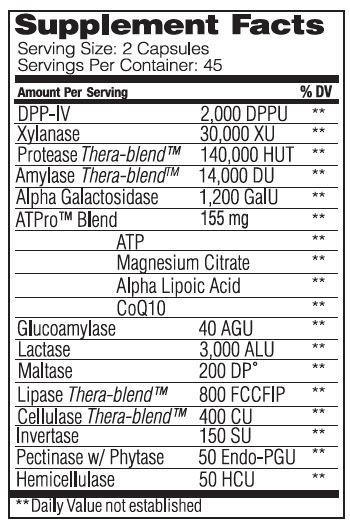 Take 1 capsule per meal (first bite of food). More may be taken as recommended by your healthcare practitioner.
Corn Free   

Dairy Free 

Egg Free     

Gluten Free      

Made in the USA       

Nut Free       

Salt Free      

Soy Free       

Wheat Free   

Yeast Free
This product has been tremendously helpful for our family in dealing with food intolerance issues.  We have tried several products, but we have felt better using Intolerance Complex than any other digestive enzyme formula.  Thank you! Cheryl Lindsey
---
Recommend this product to a friend or loved one
You will receive 400 Reward Points when your friend spends £30 or more on their order.
Your friend will get £4 off their first order.
LOGIN TO REFER YOUR FRIEND