PC Liposomal Encapsulation Technology by Robert D Milne, MD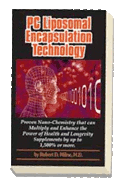 by Health Books
Code: BOOKPC
Of all the exciting biotech developments in the news, PC Liposomal Encapsulation Technology (LET) may offer the greatest benefit to the most people. 
✓ We're Here To Help!  0345 60 61 301 Mon-Fri (10am-4pm)
✓ FREE UK SHIPPING ON ALL ORDERS OVER £30!
✓ 5* Reviews Our Customers Love Us!