PureHMO® Prebiotic Powder | 87.75g | Layer Origin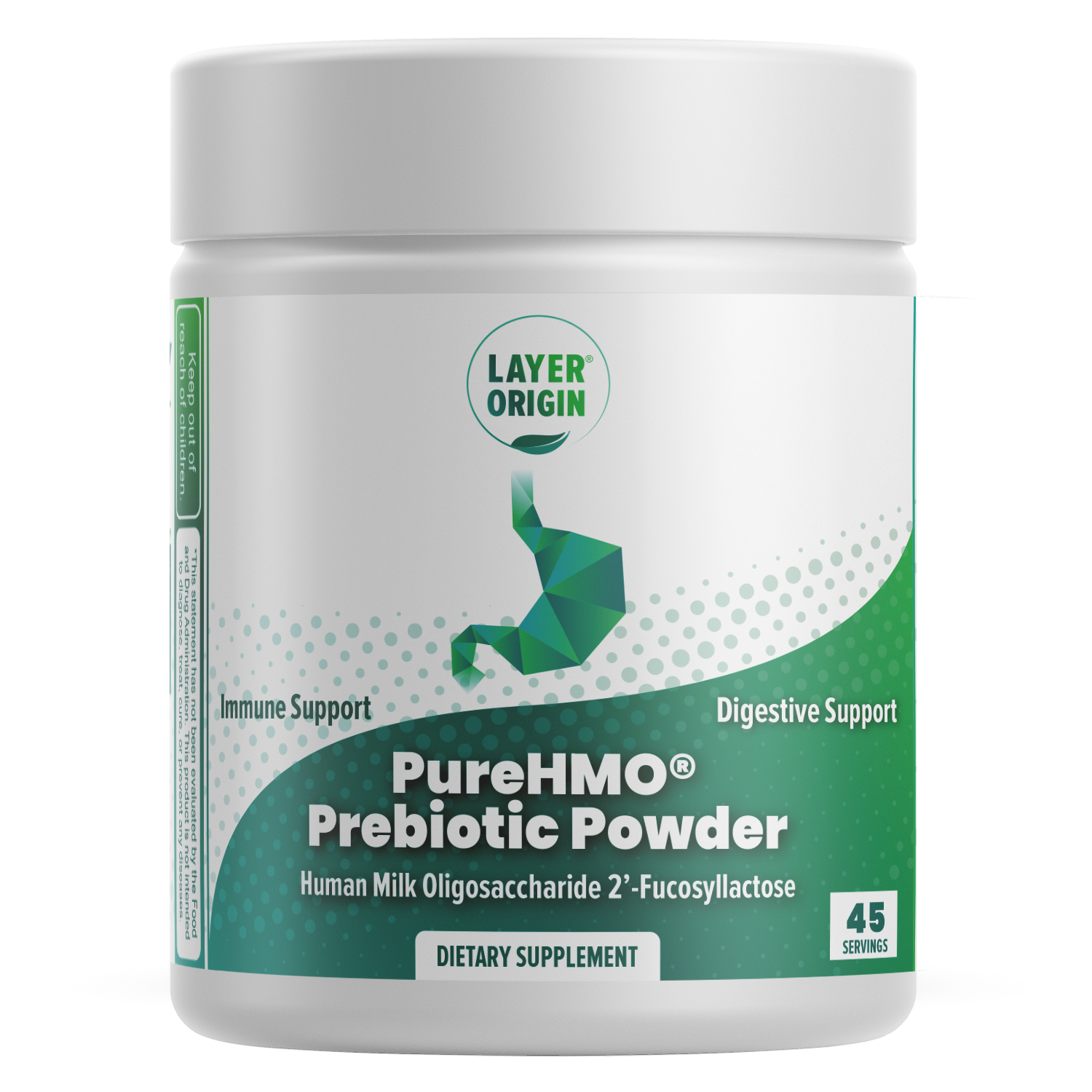 ---
Recommend this product to a friend or loved one
You will receive 400 Reward Points when your friend spends £40 or more on their order.
Your friend will get £4 off their first order.
LOGIN TO REFER YOUR FRIEND
by Layer Origin
Code: HMOPREPOW
Description

Features

Ingredients

Usage Guide
Prebiotic Fibre Based on Mother's Milk: Human milk oligosaccharides (HMO) are prebiotics initially found in mother's milk. HMO helps build a healthy gut and immune system for human from scratch.
Produced with Highest Purity: PureHMO powder from Layer Origin is 98% 2'-Fucosyllactose (2'-FL), the most abundant HMO in human milk, produced by fermentation technology, It is not isolated from human milk.
Promote Digestive Health: HMO prebiotic powder promotes the growth of probiotics like Lactobacillus, Bifidobacterium, and supports a healthy gut environment.
Support Immune Functions: HMOs are more effective than non-human prebiotics in stimulating the innate immune system, inhibiting pathogens and viruses, and blocking inflammation.
Improve Cognitive Function: Unlike other prebiotic and probiotic products for adults, HMO metabolites by the probiotics in your gut can promote brain development, neuronal transmission, and cognition.
✓ We're Here To Help!  0345 60 61 301 Mon-Fri (10am-4pm)
✓ FREE UK SHIPPING ON ALL ORDERS OVER £30!
✓ 5* Reviews Our Customers Love Us!
✓ Same Day shipping on orders placed before 1pm
Super Prebiotic Fibre
Feed Bifidobacteria and Akkermansia, increase beneficial bacteria in gut, build a healthy gut ecosystem.
Cognitive Function
The metabolites of HMO support brain development, neural transmission, cognitive functions, and motor skills

Healthy Gut Microbiome
Boost the number of probiotics in the gut; help with food digestion and weight management
IBS Relief
Clinically proven to reduce key symptoms of IBS such as gas, bloating, constipation, and stomach pain
Nutritional Information

Serving Size: 1 scoop

Servings Per Container: 45





Amount Per Serving

%Daily Value

Human Milk Oligosaccharide 2'-Fucosyllactose (98%)

1950 mg

†

† Daily Value not established.
Contains: Trace amount of lactose (milk)
Free from: Eggs, fish, crustacean shellfish, tree nuts, peanuts, and wheat.
Suggested use:-
For best results, please take half a scoop per day with your drink of choice (water, milk, coffee, juice, etc.) in the first 3-5 days and increase to 1 scoop per day as directed by your healthcare professional
Do not exceed 3 scoops per day
Warnings:-
Do not use this product if you are pregnant or breastfeeding or under the age of 18
If you have a medical condition or are taking prescription drugs, consult your physician prior to use
Keep out of reach of children