Pure PC - Quicksilver Scientific - Phosphatidylcholine - Liposomal - 120ml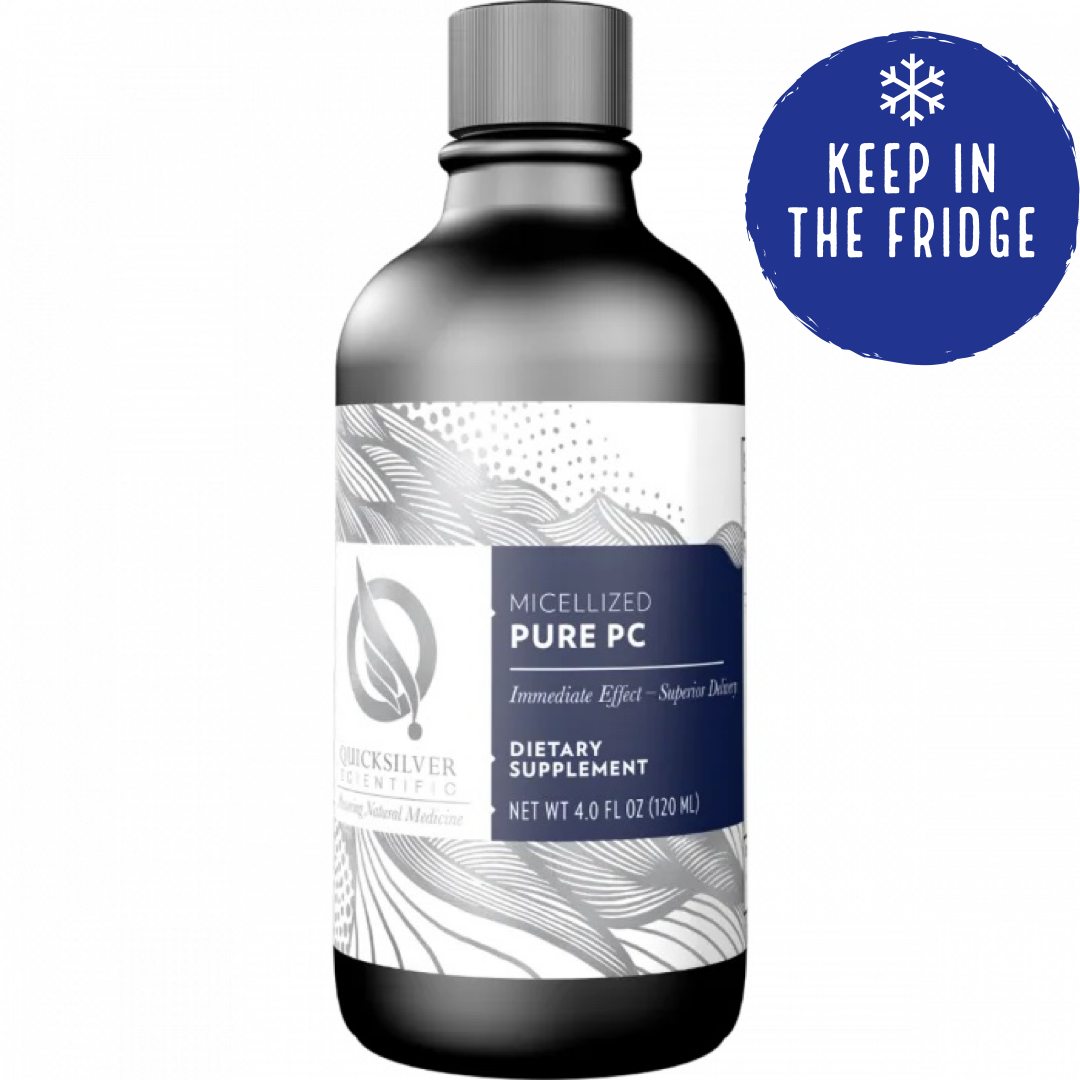 ---
Recommend this product to a friend or loved one
You will receive 400 Reward Points when your friend spends £40 or more on their order.
Your friend will get £4 off their first order.
LOGIN TO REFER YOUR FRIEND
by QuickSilver Scientific
Code: QSPC
I am genetically predisposed to a lack of choline. This product works wonders for my memory and concentration. Highly recommenced.
Overview

Product Description

Supplement Facts

Suggested Use

Storage Guidelines
4.0 oz. (120mL), screw-top
Quicksilver Scientific Pure PC provides 700mg Phosphatidylcholine (from purified soybean lecithin) 
Easy to dispense and consume directly from the bottle
 
✓ We're Here To Help!  0345 60 61 301 Mon-Fri (10am-4pm)
✓ FREE UK SHIPPING ON ALL ORDERS OVER £30!
✓ 5* Reviews Our Customers Love Us!
✓ Same Day shipping on orders placed before 1pm
Please read the Storage Guidelines tab before ordering this product 
Metabolism of PC provides choline to the body, and  while choline can be synthesized from methionine or serine, it is often considered an essential nutrient and must be obtained from the diet. Sufficient levels of Phosphatidylcholine have been shown to support many biochemical pathways, enhance physiology, and restore critical functions such as, liver detoxification of chemicals, heavy metals, and xenobiotics; fat metabolism, improved cholesterol levels, and reduced platelet aggregation risk; increased endurance for physical performance and improved post-exercise recovery. PC supplementation has demonstrated increased availability of the important neurotransmitter acetylcholine within the brain, leading to improved memory, cognition, and mood in disorders such as dementia, Alzheimers disease (2,3,4), and bipolar disorder. 
Other health-supporting mechanisms supported by PC include blood sugar regulation, cellular anti-inflammatory and regulatory messaging, lung surfactant health, protection of gastric mucosa from NSAID (5,6) use, and therapeutic potential for the treatment of Inflammatory Bowel Disease. PC is a powerful antioxidant and has been shown to have anti-aging benefits (7), in addition to improved joint mobility and reduced pain associated with rheumatoid arthritis. Choline is also a major source of methyl groups via its metabolite trimethylglycine (TMG), which is important for Phase II hepatic detoxification.
Quicksilver's Etheric Delivery Phospholipid Encapsulation System brings the power of intravenous therapy into a convenient oral delivery. Etheric Delivery improves upon liposomal technology with smaller, more stable, single-layer spheres made from the highest-grade ingredients available. In addition to exceptional absorption rates, the nanospheres of Etheric Delivery have demonstrated the ability to cross the blood-brain barrier, deposit their cargo intracellularly, and enhance lymphatic circulation of nutrients. Also, the phospholipids that compose the liposome shell feed the cell membranes. This ensures the proper function for the absorption of nutrients and the excretion of cellular waste and toxins.
Benefits
May replenish all cell membranes        

Can help metabolize cholesterol and fat

Can support cognitive function

Can support liver detoxification
Serving Size: 5 mL (1 tsp)
Servings Per Container: 24

Amount Per Serving

Phosphatidyl Choline (From purified soybean lecithin)

700 mg

 % Daily Value not established




Other Ingredients: water, Glycerine, ethanol,  vitamin E (As Tocofersolan)
General Suggested Usage: Take 1 teaspoonful (5ml) directly by mouth 1 to 3 times daily. Hold in mouth 3060 seconds and swallow. Best taken on an empty stomach. Phosphatidylcholine has also been shown to be useful while taking detoxification products to enhance fat metabolism and liver regeneration. Refrigerate after opening.

Quicksilver Scientific Glutathione should be stored in the Fridge and used within 30 days of being opened.
Whilst this product needs to be kept cool to maintain potency it will maintain potency when exposed to warm temperatures for up to 7 days. If your product arrives warm, it is NOT damaged as it was cold when it left our warehouse. 
We recommend that customers outside of the UK do not select standard shipping for this product.
For best results keep out of direct sunlight.
Shelf Life unopened is 2 years from Manufacturing Date 
*This is a refrigerated product and is not eligible for refunds or replacements.