Quinton Isotonic Marine Plasma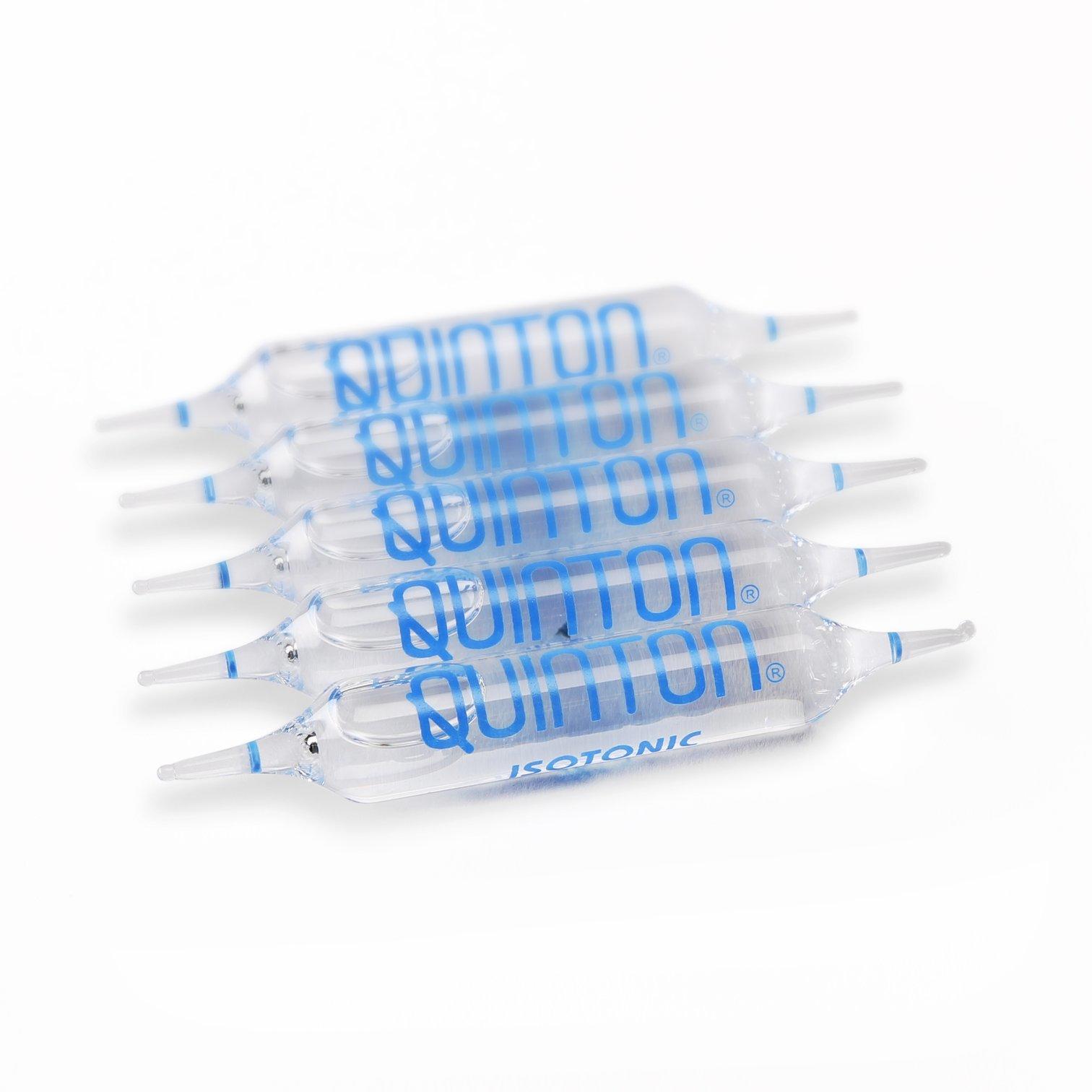 ---
Recommend this product to a friend or loved one
You will receive 400 Reward Points when your friend spends £40 or more on their order.
Your friend will get £4 off their first order.
LOGIN TO REFER YOUR FRIEND
by Quinton®
Code: QUINTONISO
Product Description

Ingredients

Reviews

Hypertonic Vs Isotonic


Quinton Isotonic Ampoules. Help your body to regain and maintain optimum health
Quinton Isotonic is cold-filtered marine plasma diluted with carefully chosen spring water to match the concentration of elements within your blood and extra-cellular fluid and keep the correct pH.  It is ideal to help your body regain and maintain optimum health.
Quinton Isotonic has been demonstrated to have anti-inflammatory and calming properties so is the ideal choice for anybody with any type of inflammation, including allergies, and to reduce anxiety.  Sea-water research has shown that certain immunoglobulin (IgE) levels that are raised in people with respiratory allergies are lowered.  It can help with conditions such as asthma and hay fever.  Being isotonic, it can be used anywhere in the body and is completely safe with no known contra-indications or adverse reactions.
It is suitable even for the most sensitive systems and can enable gentle detoxification, and restoration of our key minerals and trace elements. It can support deeper sleep, emotional and physical balance and relaxation. It is ideal for long term use and should be part of your daily health routine.  Supplied in a box of 30 x 10ml ampoules.
✓ We're Here To Help!  0345 60 61 301 Mon-Fri (10am-4pm)
✓ FREE UK SHIPPING ON ALL ORDERS OVER £30!
✓ 5* Reviews Our Customers Love Us!


Mineral Rich Sea Water 29% and Spring Water 71%
No Preservatives
No Sweeteners
No Sugars
Keep glass ampoules  out of reach of young children
To be used as part of a balanced and varied diet and a healthy lifestyle
Maximum daily intake: 6 ampoules.
Do not exceed recommended dietary allowance -RDA-
"For me, Quinton marine plasma is a true Youth Plasma.  It is the elixir of life both at the cellular level and at the macro level for the body
MARIE-JOSE STELLING PhD., DIRECTOR OF THE HAEMATOLOGICAL INSTITUTE OF SWITZERLAND


Make Quinton the foundation of your health and support
"You can trace every sickness, every disease and every ailment to a mineral deficiency.
Dr. Linus Pauling Twice Nobel Prize Winner
BRING YOUR BODY BACK INTO BALANCE WITH QUINTON!
"Quinton is not only safe for pregnant women and infants, it supports a foundation for health and development in children.  All three of my sons began getting straight A's in school and began excelling in sports
-Roy Dittman OMD, peri-natal coach and author of Brighton Baby
GET MORE ENERGY WHEN YOU NEED IT!
"I decided to use Quinton Hypertonic for an energy boost and noticed how much more energy I had.  I was literally on the couch flat out for a week.  I feel more awake - it seems to enliven me.  Having more emotional balance and energy helps especially when you have work, a child and husband to care for
-Robyn Bingham, Norfolk
Hypertonic Vs Isotonic 
Cellnutrition Quinton is an entirely natural product. There are 78 minerals and trace elements found in this seawater. The minerals include calcium, phosphorus, magnesium, sodium, potassium, chloride and sulphur. The trace minerals or trace elements include iron, manganese, copper, iodine, zinc, fluoride, and selenium.
Cellnutrition Quinton Isotonic is natural, mineral-rich seawater. It is cold-filtered and diluted with carefully chosen spring water so that it matches the concentration of elements within your blood and extracellular fluid allowing it to maintain the optimum pH level for your body.
Cellnutrition Quinton Hypertonic is a nutritional supplement made from pure, mineral-rich seawater. It contains all of the minerals, trace elements and micronutrients that your cells require in organic, bioavailable form, but at three times the mineral concentration of your blood and extracellular fluid.