Vitamin A Drops | 600 Servings | Seeking Health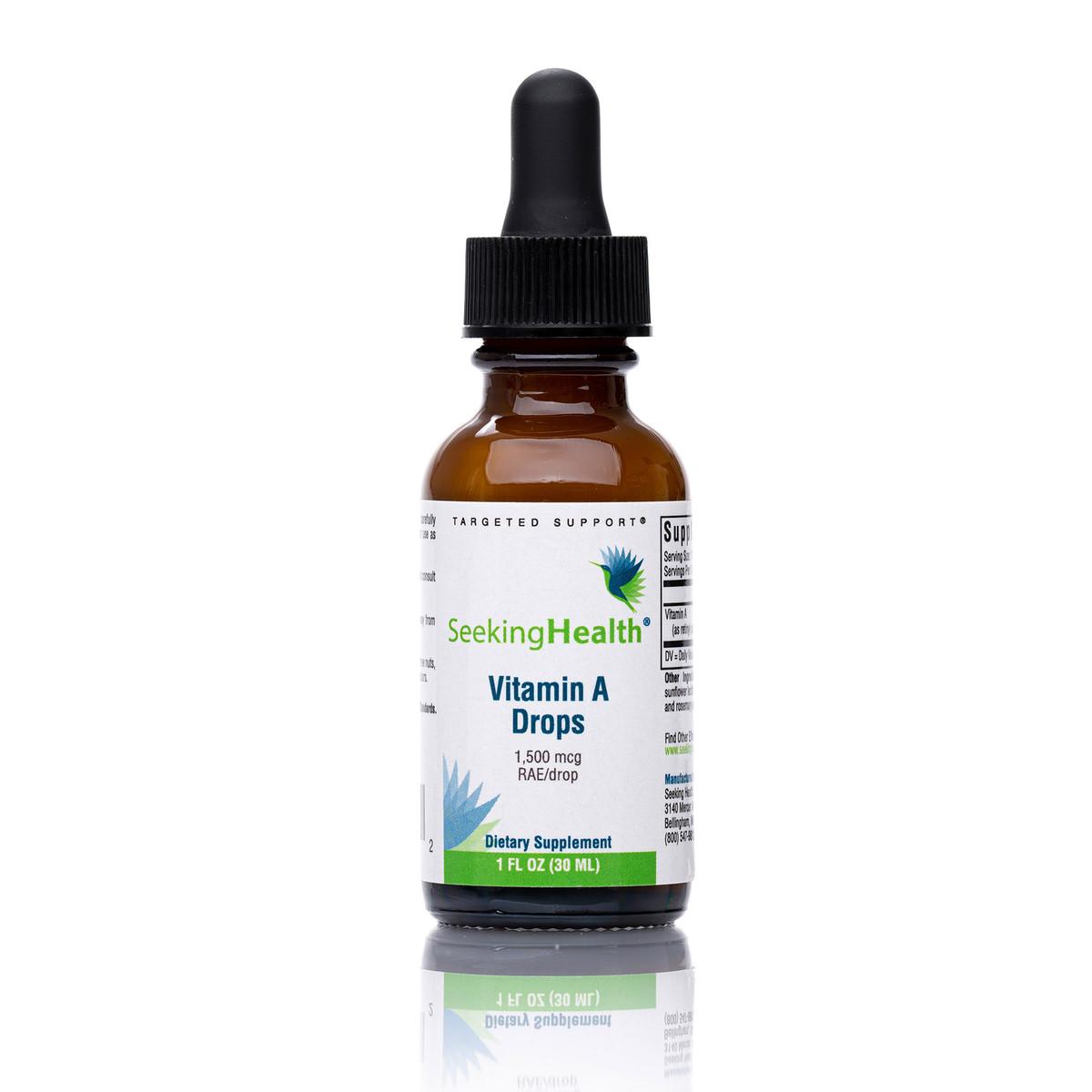 ---
Recommend this product to a friend or loved one
You will receive 400 Reward Points when your friend spends £40 or more on their order.
Your friend will get £4 off their first order.
LOGIN TO REFER YOUR FRIEND
by Seeking Health
Code: VITAA1OZLIQUID
Product Description

Usage Guide
IMPROVED FORMULA - Vitamin A Drops is now FREE from polyethoxylated castor oil, citric acid, and potassium sorbate. This new formula contains 100% retinyl palmitate, with added rosemary extract, MCT oil and sunflower lecithin.
Vitamin A Drops by Seeking Health is a vegetarian liquid supplement providing 1,500 mcg RAE of vitamin A per single drop. This important nutrient plays an essential role in healthy immune function and vision, normal growth and development, and the health of skin and mucous membranes. Vitamin A Drops can be taken by anyone wishing to optimize their vitamin A intake or requiring supplemental vitamin A, especially those who have trouble swallowing traditional pills or capsules.*

As a fat-soluble nutrient, vitamin A may be more difficult for some individuals to absorb than water-soluble vitamins. Fat-soluble nutrients require a complex series of reactions, involving bile and pancreatic acids, enzymes, and transport proteins for absorption and utilization within the body. Unfortunately, these body processes may be less efficient in individuals with certain health conditions, and also depend on individual enzyme activity levels and dietary considerations. To support optimal absorption in light of these challenges, this product provides vitamin A in micellized form, using a unique process to create extremely small, water-soluble arrangements that may be more easily absorbed and assimilated.*

Vitamin A Drops can be conveniently mixed with foods or liquid and allow maximal control of dosing to meet individual needs. Each single drop provides 1,500 mcg RAE (5,000 IU) of vitamin A palmitate. This preformed vitamin A includes retinol and retinyl esters, which naturally occur only in animal products. The vitamin A palmitate used in this product is synthetic and suitable for vegans and vegetarians.
✓ We're Here To Help!  0345 60 61 301 Mon-Fri (10am-4pm)
✓ FREE UK SHIPPING ON ALL ORDERS OVER £30!
✓ 5* Reviews Our Customers Love Us!
✓ Same Day shipping on orders placed before 1pm
Suggested Use
As a dietary supplement, carefully dispense one drop and take by mouth daily or use as directed by your healthcare professional. Do not put in eye.
Warnings
Children and pregnant or lactating women should consult their healthcare practitioner prior to use. Do not use if shrink band is broken or missing. Bottle band is separate and can be left on the bottle to protect from leakage.
Storage
Store in a cool, dry place below 85 degrees F away from direct light. Do not freeze. Keep out of reach by children.