H2 Elite tablets - Quicksilver Scientific - 30 or 60 tablets
---
Recommend this product to a friend or loved one
You will receive 400 Reward Points when your friend spends £40 or more on their order.
Your friend will get £4 off their first order.
LOGIN TO REFER YOUR FRIEND
by QuickSilver Scientific
Code: H2ELITE
Product Description

Ingredients

Suggested Use

Features
Quicksilver Scientific's H2 Elite tablets are a ground breaking supplement for adding the benefits of high-dose Hydrogen to water and any non-carbonated beverage. As the tablet reacts millions of tiny Molecular Hydrogen bubbles infuse and saturate the liquid. 
Quicksilver Scientific's H2 Elite conveniently provides a high dose of the key active ingredient, Molecular Hydrogen, making it superior to other formulas. Quicksilver Scientific high-dose H2 Elite is safe to use in an open container, no sealed bottle with pressure is required. H2 Elite activates in the least amount of time with the most ease of use.

Features: •100% natural •3rd Party Testing for purity & safety •Free from antibiotics, colours and preservatives •Better used in open container; no sealed bottle with pressure required •Time to dissolve: less than 2 minutes •Max H2 ppm (in 500ml): over 10ppm H2 •Magnesium per tablet: 80mg


Hydrogen, one of nature's purest and gentlest antioxidants, is created by the natural reaction of magnesium with water. This advanced formulation can deliver the free radical quenching power of molecular hydrogen to any non-carbonated beverage. 
Molecular hydrogen can promote healthy metabolism and can encourage a healthy allergic response. It can also support energy metabolism.               
Molecular hydrogen is mild enough not to disturb the body's normal molecular processes. Nonetheless, it is thought to be capable of efficiently quenching highly reactive free radicals.
Bottle Size: 30 or  60 tablets
Serving Size: 1-4 tablets
Age: 4+
✓ We're Here To Help!  0345 60 61 301 Mon-Fri (10am-4pm)
✓ FREE UK SHIPPING ON ALL ORDERS OVER £30!
✓ 5* Reviews Our Customers Love Us!
✓ Same Day shipping on orders placed before 1pm
Label below is for 60 capsule pot - please see images for variation labels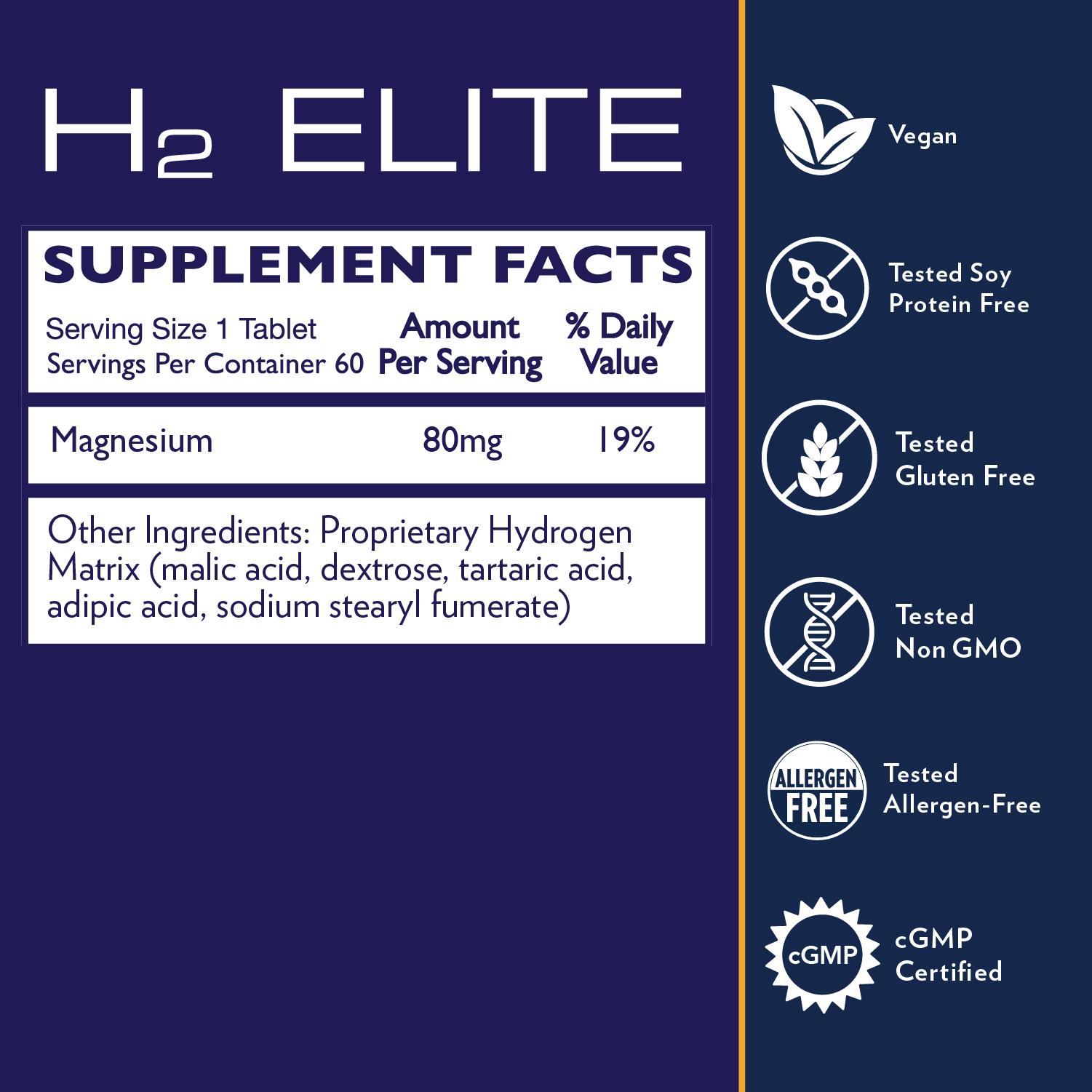 Drop tablet in any 12-16 oz non-carbonated beverage. Wait until tablet has completely dissolved before consuming. Suggested use on empty stomach, repeat up to three times daily based on individual needs. Drink as soon as possible for best results. Do not swallow tablet.
100% natural

3rd Party Testing for purity & safety

Free from antibiotics, colors and preservatives

Safe to use in open container; no sealed bottle with pressure required

Time to dissolve: less than 2 minutes

Max H2 ppm (in 500ml): over 10ppm H2

Magnesium per tablet: 80mg

 
One of nature's simplest and most effective antioxidants

Can promote healthy metabolism


Can increase energy