H2 Elite tablets - Quicksilver Scientific - molecular hydrogen
by QuickSilver Scientific®
Code: H2ELITE
Love Proactive Healthcare. I think they sell some of the best supplements on the market. Some of these products cannot be bought anywhere else in the UK and you certainly won't find Quicksilver Scientific products at a better price. There delivery is always fast and problem-free and the one time they sent me the wrong product, their customer care team were easy to get hold of and sorted the issue straight away. They cannot be faulted.

I encountered some minor problems before ordering and staff kindly helped me to place order for my favourite items.

Very reliable,trustworthy company. Only one little detail- delivery could off been quicker

I purchased Gaba and Lymphomyosot and was impressed at the speed of delivery, the packaging and the price. Packaging is an issue if mine - when goods come in inappropriate boxes. Your system is perfect. Good show.

Excellent customer service

Have been buying my Megaspore and other products from Proactive Healthcare regularly for a couple of years. Extremely efficient service, delivery always prompt and lovely people to deal with. Just wish other supplement suppliers were as good.

Excellent service

Great products and cheapest I've found on line. I particularly love the Biocidin range, these are amazing and really work. Would highly recommend these and this site. Quickly delivered and very helpful. 5 * service.

The great range of great quality products, makes Proactive Health an excellent company to do business with

Wide offer with affordable prices. Great customer service and also fast delivery. Highly recomended. Thank You.

Really good company. Good selection of products, prompt delivery.

fantastic product and service - will be ordering again

I bought biocidin liquid and biocidin LSF while fighting candida, lyme and parasites. It helped a lot. Change wasn't instantenious, but I progressed well. No reaction accoured while maximazing the dosage.

It was very easy to open an account and the order placed was promptly delivered.

Excellent well researched and well priced range of products. Quick delivery and always helpful if ever I have any questions pre purchase. Would highly recommend!

Helpful, quick replies when I was wondering which Quicksilver products to order, thank you.

Really like the science behind the products.

Supplements not available elsewhere in the UK. Prompt service. Will reorder from this Company.

Proactive Healthcare sell top of the range products which I have personally have benefited from, I have recovered totally naturally no drugs from aids. The deleveries and care of delivery are very good, eve packing them with freezer packs in height of summer. I also enjoy their updates

Superb selection of top quality supplements and always delivered promptly.
Product Description

Ingredients

Suggested Use

Features


Hydrogen, one of nature's purest and gentlest antioxidants, is created by the natural reaction of magnesium with water. This advanced formulation can deliver the free radical quenching power of molecular hydrogen to any non-carbonated beverage. 
Each tablet of H2 Elite delivers 80 mg of magnesium malate in a proprietary hydrogen base. A serving size is 1 tablet. Each bottle contains 60 80-mg servings.
Molecular hydrogen (H2) is a unique free-radical quenching molecule. In this formulation, millions of tiny molecular hydrogen bubbles dissolved in liquid are thought to rapidly diffuse into tissues.
Molecular hydrogen can promote healthy metabolism and can encourage a healthy allergic response. It can also support energy metabolism.
Molecular hydrogen is mild enough not to disturb the body's normal molecular processes. Nonetheless, it is thought to be capable of efficiently quenching highly reactive free radicals.
Because some hydrogen-generating tablets require a closed container, Dr. Christopher Shade, PhD, developed this advanced formulation of H2 Elite, which does not need a closed container and dissolves in less than two minutes. H2 Elite generates about 10 ppm of molecular hydrogen in 500mL of water with each tablet – the highest concentration of hydrogen available in supplemental form that we're aware of. 
Bottle Size: 60 tablets
Serving Size: 1-4 tablets
Age: 4+
✓ We're Here To Help!  0345 60 61 301 Mon-Fri (10am-4pm)
✓ FREE UK SHIPPING ON ALL ORDERS OVER £30!
✓ 5* Reviews Our Customers Love Us!
Ingredients: Proprietary Hydrogen Matrix (Magnesium, Dextrose, DL Malic Acid, Tartaric Acid and Sodium Stearyl Fumarate).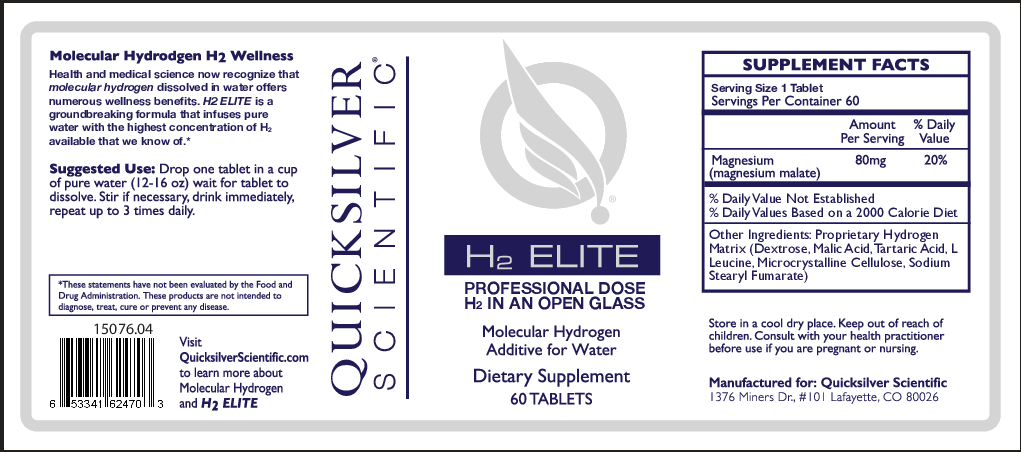 Drop tablet in any 8-12 oz non-carbonated beverage. Wait until tablet has completely dissolved before consuming. Suggested use on empty stomach, repeat up to four times daily based on individual needs. Drink as soon as possible for best results. Do not swallow tablet.
100% natural

3rd Party Testing for purity & safety

Free from antibiotics, colors and preservatives

Safe to use in open container; no sealed bottle with pressure required

Time to dissolve: less than 2 minutes

Max H2 ppm (in 500ml): over 10ppm H2

Magnesium per tablet: 80mg

 
One of nature's simplest and most effective antioxidants

Can promote healthy metabolism


Can increase energy
---
Recommend this product to a friend or loved one
You will receive 400 Reward Points when your friend spends £30 or more on their order.
Your friend will get £4 off their first order.
LOGIN TO REFER YOUR FRIEND