Stop America's No. 1 Killer by Thomas E Levy MD, JD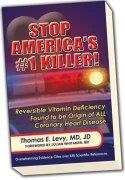 ---
Recommend this product to a friend or loved one
You will receive 400 Reward Points when your friend spends £40 or more on their order.
Your friend will get £4 off their first order.
LOGIN TO REFER YOUR FRIEND
by Health Books
Code: BOOKSTOP
In the next 24 hours, over 2,500 Americans will die from Coronary Heart Disease (CHD). 
STOP AMERICA'S #1 KILLER! provides overwhelming evidence that most conditions which we now consider as risk factors for CHD: all start with the depletion of arterial vitamin C levels (arterial scurvy) and are often just the body's way of compensating for the weakness in arterial walls caused by arterial scurvy.This book also offers a protocol for preventing and reversing the arterial blockages that cause heart attacks. 
✓ We're Here To Help!  0345 60 61 301 Mon-Fri (10am-4pm)
✓ FREE UK SHIPPING ON ALL ORDERS OVER £30!
✓ 5* Reviews Our Customers Love Us!