Probiota HistaminX - 60 Veg Caps - Seeking Health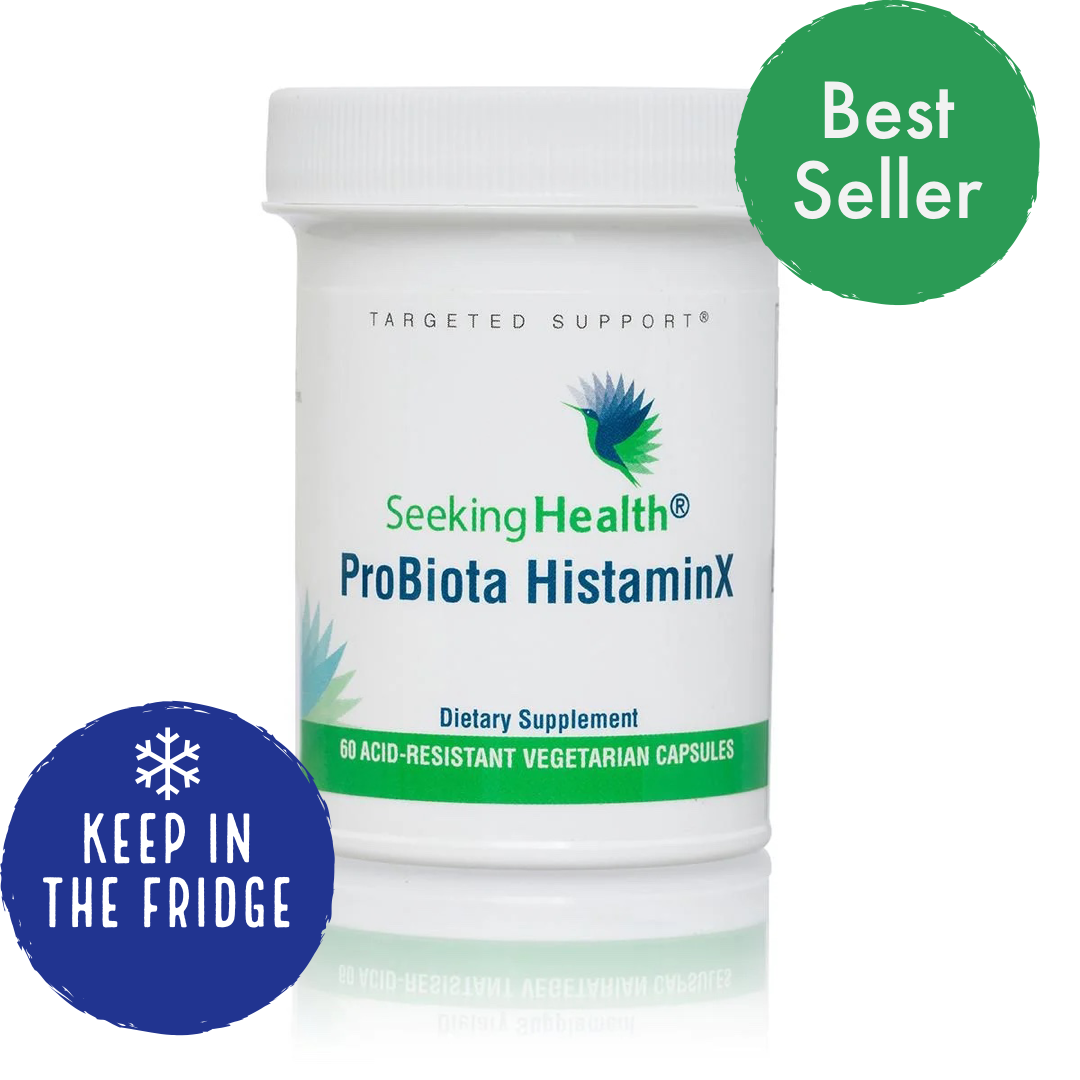 ---
Recommend this product to a friend or loved one
You will receive 400 Reward Points when your friend spends £40 or more on their order.
Your friend will get £4 off their first order.
LOGIN TO REFER YOUR FRIEND
by Seeking Health
Code: PBHIS60CAPS
I struggle with histamine reactions. I minimise a lot of higher sources but don't want to limit my diet of all the healthy foods that have histamine or are histamine liberators. I also have digestive issues & finding a probiotic that doesn't add to my histamine bucket is key. So far doing well with this. Started with half a capsule as I always start with a smaller dose to allow my body to adjust.

I've been using the ProBiota HistaminX for several months, and I really notice better healing of my skin rashes plus better sleep. I'm high for histamine intolerance, and this product plus the Histimine Block seem to really help.

This probiotic has been a huge help to my family with histamine issues. It has been a game changer and brought enormous relief especially when we have eaten something that doesn't agree with us. Love it and can't be without!

A probiotic that doesn't cause me more belly pain! Until I read the book Dirty Genes by Dr. Ben Lynch, I did not understand that certain probiotics should be avoided because some strains aggravate histamine intolerance. This product, along with Histamine Block, has been very helpful on my journey to health. I highly recommend both products if you have MCAS and/or your AOC1 gene is "snipped".

I am able to enjoy the occasional glass of wine now with less trouble

I love this probiotic. It really works.
Product Description

Usage Guide

Shipping
ProBiota HistaminX contains probiotic species that have been carefully selected to exclude those that are known to increase histamine in the gut. The histamine-friendly species included in this formula are delivered in a delayed release (acid resistant) capsule to ensure that the probiotics are delivered intact to the lower digestive tract. This formula helps to support the body's microbiome and healthy digestion, and may help support healthy metabolism of ingested histamine.

Histamine, a part of the body's biological defence system, is also found in many common dietary sources: fermented foods, fish, meat, cheese, vinegar, alcohol, and some fruits and vegetables. Other foods contain histidine, which is converted to histamine during digestion by certain bacteria in the gut. At healthy levels and in the right places, histamine is needed for a normal digestive process and sleep-wake cycle, and for a functioning immune system. On the other hand, too much histamine can cause unpleasant side effects like rashes, itching, stuffy nose, swelling, headache and gastrointestinal complaints.

Each person's level of sensitivity to histamine in food depends on the amount of histamine present and the effectiveness of the body's natural histamine-metabolizing mechanisms. It may seem like the only way to avoid the unpleasant side effects of histamine sensitivity is to eliminate high-histamine foods altogether, but such a restricted diet can deprive the body of balanced nutrition and make it difficult to enjoy meals. A healthy gut is a key factor in normal histamine metabolism and healthy histamine levels throughout the body.

Cells in the gut produce DAO (diamine oxidase), an enzyme that breaks down histamine in the digestive tract. In healthy individuals, DAO is responsible for keeping the majority of ingested histamine from ever reaching circulation in the body. A healthy gut microbiome containing a balanced variety of "good" bacteria (i.e. probiotics) is essential for maintaining a healthy gut barrier, and healthy cells in the gut barrier are needed to maintain normal DAO levels

The bacteria that make up the microbiome in the human gut serve many specialized purposes. It is thought that selectively supplementing the populations of certain probiotic species can alter the levels of fermentation end-products in the gut and support specific health goals. While it is true that certain bacteria found in a healthy gut are responsible for converting histidine to histamine, which can be problematic in individuals with histamine intolerance, others may help to break down histamine and other biogenic amines, and reinforce a healthy gut barrier. This can be of special interest for those with histamine sensitivity or intolerance, as increased intestinal permeability can allow more of the ingested histamine to pass from the gut into circulation. ProBiota HistaminX contains only probiotic species that are considered "histamine-friendly" and excludes those known to produce histamine in the gut.
✓ We're Here To Help!  0345 60 61 301 Mon-Fri (10am-4pm)
✓ FREE UK SHIPPING ON ALL ORDERS OVER £30!
✓ 5* Reviews Our Customers Love Us!
✓ Same Day shipping on orders placed before 1pm
PLEASE READ THE SHIPPING TAB BEFORE ORDERING THIS PRODUCT
Product will ONLY be shipped with an ice pack if requested by checking the box on the product page or as a shipping note 
Take one capsule any time of day with or without food or as directed by your healthcare professional. 
Refrigerate and keep tightly closed to maintain maximum potency. 
Probiota HistaminX does not need to be shipped with an ice pack as Seeking Health performed testing on the products, please see official statement below - 
" Testing was performed on our ProBiota line to determine how long probiotics could be exposed to high temperatures and remain at label claim. Our probiotics are able to withstand temperatures of 104 degrees Fahrenheit for up to 6 days without losing label claim potency...  Warm Temperatures: We recommend refrigerating the ProBiota products to ensure maximum potency and shelf life, however the ProBiota products may be left at room temperature for days and even weeks without a great loss of viable organisms.  If kept at average room temperature, ProBiota products will remain potent for 4 - 6 months. At higher temperatures (86 F), they will maintain potency for 1 - 2 months"
We recommend customers select an expedited shipping method to avoid delays in delivery times to countries outside the UK & Ireland if they are concerned about travel times of this product
Product will ONLY be shipped with an ice pack if requested by checking the box on the product page or as a shipping note