Prenatal Essentials Chewable | 60 Tablets | Seeking health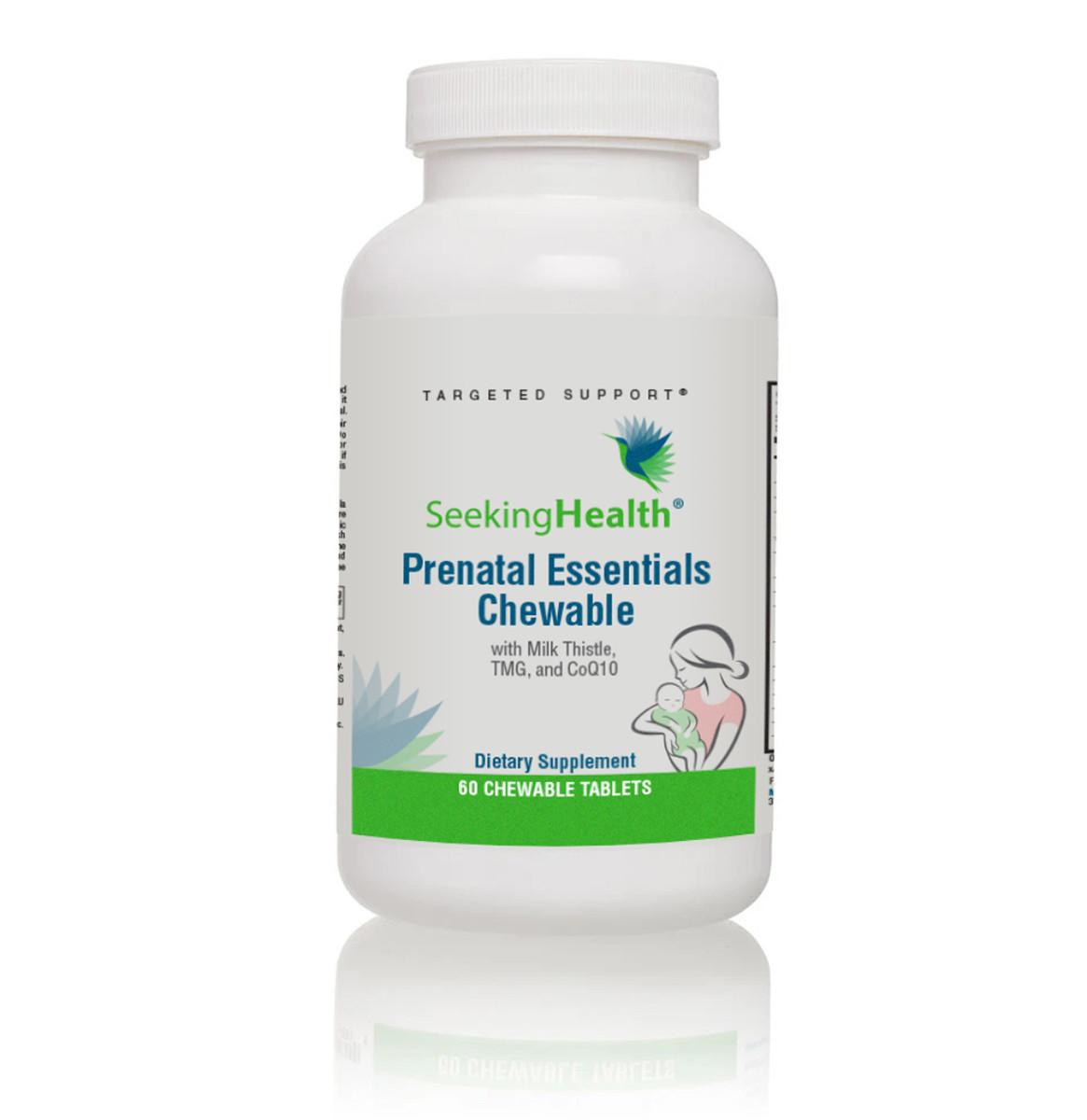 ---
Recommend this product to a friend or loved one
You will receive 400 Reward Points when your friend spends £40 or more on their order.
Your friend will get £4 off their first order.
LOGIN TO REFER YOUR FRIEND
by Seeking Health
Code: OP60TAB
Overview

Ingredients

Precautions

Usage Guide

Further Information
Prenatal Essentials Chewable offers a specialized prenatal formula designed to help meet the high nutritional needs of women who are pregnant or preparing for pregnancy, or anyone looking for a well-rounded multivitamin in an easy chewable format. This formula contains both folinic acid and L-5-MTHF, the most biologically available forms of folate, which are essential during pregnancy to support healthy brain development. L-5-MTHF works in conjunction with chelated minerals and coenzyme forms of B vitamins to support cardiovascular, neurologic, and immune health and normal cell growth. This formula is iron-free for maximal versatility. . Pregnant or lactating women should consult their healthcare practitioner prior to use of any prenatal multivitamins.
UPDATE: New name, same trusted nutrients! Slight improvements to formula and flavour. Optimal Prenatal Chewable is now Prenatal Essentials Chewable.

✓ We're Here To Help!  0345 60 61 301 Mon-Fri 
✓ FREE UK SHIPPING ON ALL ORDERS OVER £30!
✓ 5* Reviews Our Customers Love Us!
✓ Same Day shipping on orders placed before 1pm
Nutritional Information

Serving Size: 2 Chewable tablets
Servings Per Container: 30

 

Amount Per Serving

%Daily Value*

Vitamin A [750 mcg RAE (50%) as beta-carotene and 750 mcg RAE (50%) as retinyl palmitate]

1500 mcg RAE

115%

Vitamin C (ascorbic acid)

350 mg

292%

Vitamin D3 (cholecalciferol)

25 mcg (1000 IU)

167%

Vitamin E (as d-alpha tocopheryl succinate)

67 mg

353%

Vitamin K2 (as menaquinone-7)

80 mcg

†

Thiamin (as thiamine hydrochloride)

4 mg

286%

Riboflavin (as riboflavin 5'-phosphate sodium)

4 mg

250%

Niacin (as niacinamide)

25 mgNE

139%

Vitamin B6 (as pyridoxal 5'-phosphate)

5 mg

250%

Folate [50% as Quatrefolic® (6S)-5-methyltetrahydrofolate, glucosamine salt and 50% as calcium folinate]

1360 mcg DFE (800 mcg)

227%

Vitamin B12 (80% as methylcobalamin and 20% as adenosylcobalamin)

100 mcg

3571%

Biotin

500 mcg

1429%

Pantothenic Acid (as d-calcium pantothenate)

25 mg

357%

Calcium (as Dicalcium Malate§)

100 mg

8%

Iodine [from potassium iodide and organic Icelandic kelp (Laminaria digitata)(stem and leaf)]

150 mcg

52%

Magnesium (as DiMagnesium Malate§)

100 mg

25%

Zinc (as Zinc Bisglycinate Chelate§)

7 mg

54%

Selenium (as SelenoExcell® High Selenium Yeast)

70 mcg

100%

Copper (as copper gluconate)

0.5 mg

38%

Manganese (as Manganese Bisglycinate Chelate§)

2 mg

77%

Chromium (as Chromium Nicotinate Glycinate Chelate§)

120 mcg

267%

Molybdenum (as Molybdenum Glycinate Chelate§)

75 mcg

150%

Betaine Anhydrous (trimethylglycine)

150 mg

†

Milk Thistle Extract (Silybum marianum)(seeds)

75 mg

†

Coenzyme Q10

50 mg

†

Lutein (from marigold extract)(Tagetes erecta)(flowers)

5 mg

†

Zeaxanthin (from marigold extract)(Tagetes erecta)(flowers)

2.5 mg

†

Boron (as Bororganic Glycine§)

1 mg

†

† Daily Value not established.
Other Ingredients: Xylitol, microcrystalline cellulose, stearic acid, natural flavors, monk fruit extract, malic acid, potassium chloride, xanthum gum, silica, magnesium stearate, and licorice root powder.
Children and pregnant or lactating women should consult their healthcare practitioner prior to use. Do not use if tamper seal is damaged. Consult with your healthcare practitioner before use. Keep out of reach of children. Avoid if allergic to any ingredient. Do not exceed 1500 mcg intake per day of preformed vitamin A (retinol or retinyl forms). Evaluate total vitamin K intake from food and supplements if you are taking blood-thinning medications. Consult a healthcare professional prior to use if you are taking any medications or if you are undergoing treatment for any medical condition.
Keep tightly closed in a cool, dry place out of reach of children.
Chew 2 tablets daily after breakfast or lunch and follow with a glass of water, or use as directed by your healthcare professional. Do not take within 5 hours of bedtime as it may interfere with sleep.

Prenatal Essentials Chewable also contains two active coenzyme forms of vitamin B12: methylcobalamin and adenosylcobalamin, which may help support healthy fetal development, energy metabolism and the methylation process. The well-balanced vitamin B complex is complete with active forms of riboflavin and B6 to support healthy growth and development.*

Vitamin A is included in two forms: beta-carotene and retinyl palmitate, to help support those who have trouble converting "provitamin A" compounds (such as beta-carotene) into the active retinyl/retinol forms. Vitamin C and coenzyme Q10 provide antioxidant support, supporting a healthy immune system and cellular integrity. Trace minerals are included in their chelated forms, as amino acid-chelated minerals are typically well-absorbed and may be more easily tolerated than alternative supplemental forms. Betaine Anhydrous (TMG) is also added for additional methylation support.*